In Brazil, work on a second Christ monument is underway, with the new statue rising much higher than the famous 'Christ the Redeemer'. While Jair Bolsanaro, the current President of Brazil seems to be placating the religious fanatics with this move, it'll not help his re-election chances if the deaths in Brazil keep increasing.
When finished later this year, the statue, dubbed 'Christ the Protector', will stand 43 metres (140 feet) tall, including its pedestal, making it one of the world's tallest Christ statues. The statue of Christ the Redeemer, which has stood in front of Rio de Janeiro for 90 years this year, stands 38 metres tall with its pedestal and extends 28 metres hand to hand.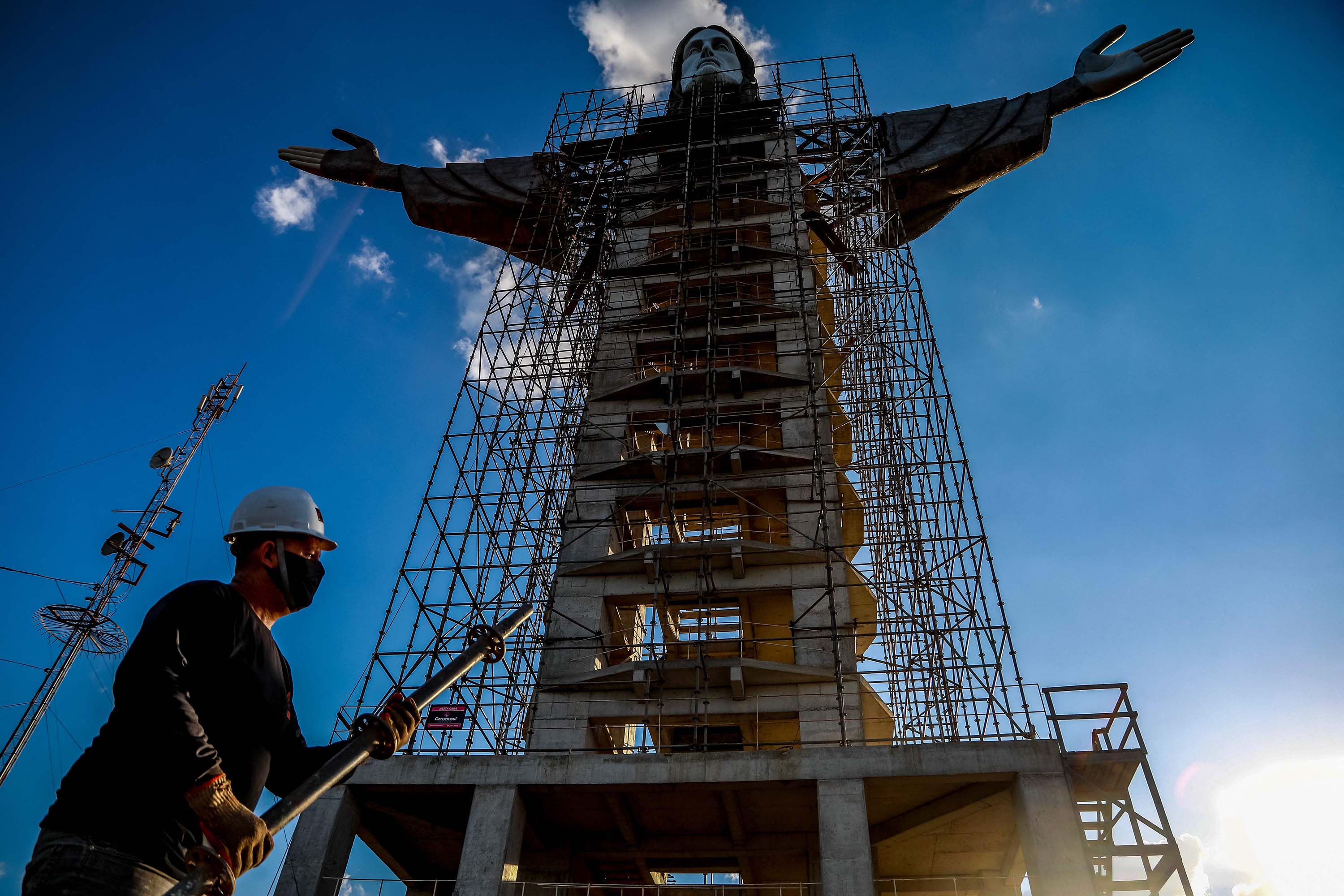 The Association of the Friends of Christ is coordinating the project, which is expected to cost about 2 million reals ($350,000) and is intended to promote tourism to Encantado while also inspiring faith. It comes as Brazil's death toll from covid-19 has risen to 345,000, second only to the United States in terms of lives lost. Brazil has reported one out of every four covid deaths this week, averaging about 4,000 deaths per day.
Bolsonaro is also awaiting a Senate investigation into his treatment of the epidemic, which he likened to a "little flu" last year, despite health experts' calls for social distancing and face masks.
But this is not the biggest of his problems. His politicking suffered a severe backlash last month when the three heads of Brazil's Army, Navy and Airforce, resigned. The decision to resign was taken after the Brazilian President removed nearly a third of his cabinet of which the most controversial was the removal of General Fernando Azevedo e Silva, the minister of defence and a soldier with 45 years in service, which caused the immediate backlash.
Read More: Bolsonaro gets in deep trouble as Brazil's Army, Air Force and Navy chiefs resign
It was believed that Bolsonaro was getting ready to plunge the country into a coup d'etat, to which the commanders resisted and resigned in unison. Brazil has miserably failed to control the pandemic and Bolsonaro was ready to plunge the country into another turmoil. When that plan did not work, Bolsonaro is now placating the religious group in a bid to shore up support before the next elections.
But spending money on a statue of Christ when one already exists in Brazil, that too a wonder of the world, reeks of the incompetence of the highest order. If Bolsonaro aims to be re-elected he needs to stop politicking and actually get his head to get some work done in Brazil, prioritising the pandemic should be the first step.