Taiwan was being cornered by China in terms of vaccines not very long ago, and the government in Taipei was complaining about the same. Taiwan provided the most developed model to deal with the pandemic throughout 2020. Notwithstanding its small size, it was willing to provide humanitarian medical assistance to countries all over the world. However, when Taiwan needed the world to come to its rescue a few months ago, it was left abandoned and in a desperate drought of Covid-19 vaccines. China has been lobbying around the world, especially in vaccine manufacturing nations to block vaccine exports to Taiwan.
China had effectively put in place a "vaccine blockade" on Taiwan. Beijing insisted that Taiwanese citizens be inoculated using Chinese vaccines – an offer which Taipei refused at the very outset, owing to the hazardous nature of Chinese jabs. Further, China would have used its vaccine diplomacy to strongarm Taiwan, and convince the world that Taiwanese people are being vaccinated with China's vaccines because they too are "Chinese citizens". However, Taiwan has now dealt a fatal blow to such plans, by rolling out a domestic vaccine against Covid-19, developed by Medigen Vaccine Biologics Corp.
According to Taiwan Food and Drug Administration director Wu Shou-mei, preliminary data of the vaccine is showing a seroconversion rate in the ninetieth percentile, which is far better than the fatal cocktails which China is parading around the globe as 'vaccines'. More than one million people have signed up for Medigen, and many of them appear to be younger Taiwanese or foreigners. This, despite a misinformation campaign being waged by China against the Taiwanese vaccine, leading to all sorts of rumours circulating within the island nation.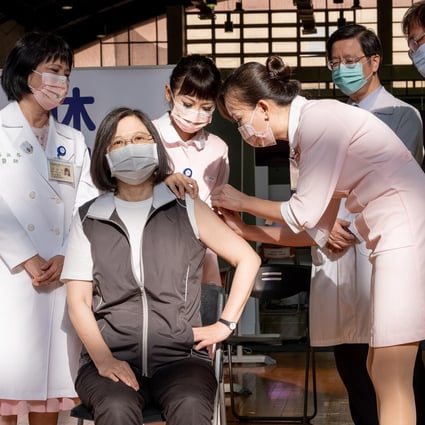 Chinese language press of the country has waged an all-out campaign against the domestically produced vaccine. On Monday, President Tsai Ing-wen led the way in receiving the Medigen jab, a move that has certainly softened public scepticism regarding the vaccine. The domestically developed and manufactured vaccine will help Taiwan not rely on the world to chip in a meagre number of doses from time to time. Taiwan is no longer at the mercy of any foreign nation and has truly achieved vaccine independence.
Read more: Japan steps up for Taiwan when no one else has. Jinping's worst fears are confirmed
For the first time in May, Taiwan directly accused China of blocking a deal with German firm BioNTech for COVID-19 vaccines. "Taiwan was close to sealing the deal with the German plant, but because of China's intervention, we still can't sign the contract," the island nation's President Tsai Ing-wen said in a meeting of the ruling Democratic Progressive Party.
When China implemented a near vaccine blockade on Taiwan, it was Japan that came to the island nation's rescue. In June, Japan delivered to Taiwan 1.24 million doses of AstraZeneca PLC's (AZN.L) coronavirus vaccines for free. Taiwan never wants to be in a position where it relies on other countries for Covid-19 vaccines, and with the rollout of a domestic vaccine that seems to have much better efficacy than Chinese cocktails, Taipei has put all of Xi Jinping's demented plans into a deep pit.
In June, China said it would welcome Taiwanese people to come and get vaccinated against COVID-19 and called on Taiwan to remove obstacles and allow its people to receive the "highly effective" Chinese shots. A month prior, Taiwan's ruling Democratic Progressive Party (DPP) said China's comment that Taiwan would not succeed in using vaccines to seek its independence showed China was the "black hand behind the scenes" preventing Taiwan from getting access to vaccines internationally.
China can do nothing now, as the incredible 'Taiwan model' is brought into use for inoculating Taiwanese citizens with domestic Covid-19 vaccines which are safe and which work.