Ukraine is once again trying to flare up tensions with Russia, despite having been given a stern warning by Moscow earlier this year, when Vladimir Putin showed his ability to mobilise and deploy a large number of forces right on Ukraine's border without the world even realising. The United States, NATO and EU, and of course Ukraine were simply left flabbergasted as Russia showed a kind of aggression against Kyiv not seen since the Crimean annexation of 2014. Mind you, the massive Russian troop build-up earlier this year was also due to the fact that Ukraine chose to poke Moscow at the behest of the newly inaugurated Biden administration. 
One would have thought that Ukraine and its allies would have learnt their lessons. But that is certainly not the case. As it turns out, Ukraine has once again teamed up with Joe Biden to somehow give rise to tensions with Russia, which would help the Democrat-led administration in Washington to justify their coercive tactics against Moscow, apart from stamping authority over their eternal anti-Russia narrative. 
Developments that have Annoyed Russia
On Tuesday (August 31), President Joe Biden met his Ukrainian counterpart Volodymyr Zelensky, and the two issued a comprehensive joint statement aimed squarely at Moscow. The joint statement condemned Russia for its purported aggression against Ukraine, and stated, "The United States does not and will never recognize Russia's purported annexation of Crimea and reaffirms its full support for international efforts, including in the Normandy Format, aimed at negotiating a diplomatic resolution to the Russian-led conflict in eastern Ukraine on the basis of international law, including the UN Charter."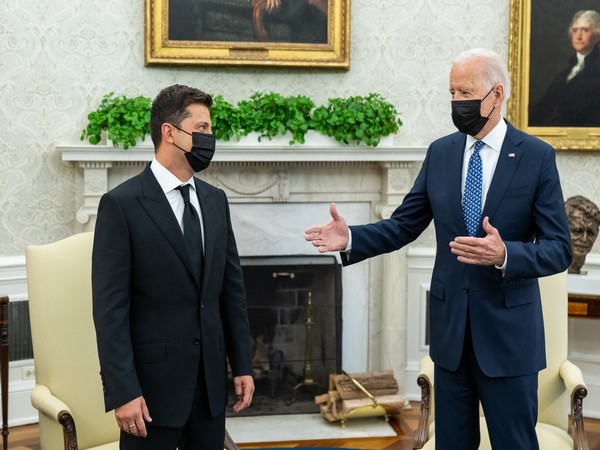 The joint statement added, "The United States supports Ukraine's efforts to use the Crimea Platform to focus international attention and action on the humanitarian and security costs of Russia's occupation of Crimea with the aim of peacefully restoring Ukraine's control over this territory in accordance with international law."
Read more: How Biden used Ukraine to his advantage and then dumped it the moment it served its purpose
And what efforts, pray tell, has Ukraine been taking to focus international attention on Russia's actions in Crimea? Well, Kyiv hosted the maiden 'Crimea Platform summit' on August 23, which saw the participation of senior officials from 46 nations and international organizations including NATO and the EU. At the summit, the one clear message which Ukraine and its Western allies sought to send to Moscow was that Crimea is not the property of Russia, and that it belongs to Ukraine. 
Furthermore, the Biden administration and Ukraine also announced the reinvigoration of the Strategic Partnership Commission (SPC). In a move aimed at further antagonising Moscow, the US and Ukraine also finalized a Strategic Defense Framework that creates a foundation for the enhancement of US-Ukraine strategic defence and security cooperation. 
Ukraine's Brazen Hypocrisy
In talks with Joe Biden, Ukraine's president – Volodymyr Zelensky sought to project Russia as the ultimate evil of the world, which must be countered by the free world order together. Supposed Russian human rights abuses and excesses were also discussed. However, Kyiv gave a convenient pass to the fact that it has, for seven years now, blocked the flow of water into the Crimean Peninsula only because it has fallen under Russian control. 
Ukraine suspended freshwater deliveries to Crimea after Moscow annexed the peninsula in 2014. It started the construction of a dam on the Dnipro River in Ukraine's Kherson region in April 2014. Ever since, Crimea has been facing an acute shortage of freshwater supplies, and the people of Crimea are facing incredible hardships due to the inhuman blockade put in place by Ukraine, even as it engages in moral grandstanding against Moscow. Putting on display a naked show of shamelessness, Ukraine has also said that water deliveries will be resumed after Russia returns Crimea under Ukraine's control.
In June this year, water reserves in reservoirs of Crimea decreased to a critically low 79 million cubic meters, even as the peninsula requires at least 150 million cubic meters of water every year. Ukraine's water blockade led to interruptions in the supply of drinking water to a part of the Crimean population and caused serious damage to agriculture. According to experts, the damage amounted to $2.7 billion in seven years.
Russia has even filed a lawsuit against Ukraine at Europe's top human rights court over Kyiv blocking water supplies to Crimea in complete contravention of the provisions of the 1992 Convention on the Protection and Use of Transboundary Watercourses and International Lakes. This lawsuit came a month after water levels fell to critically low levels in June this year. 
Biden Behind Ukraine's Bullishness
It goes without saying that Ukraine has discovered a newfound bravado against Russia and Vladimir Putin only because it has the complete blessings of Joe Biden with it. That Biden had abandoned Ukraine earlier this year, as Russia mobilised hundreds of thousands of troops is a different matter altogether. 
The fact is that Joe Biden faces a loss of complete confidence domestically. The people of the United States are simply sick of Biden's inept leadership, especially in the backdrop of the Afghanistan debacle. So, to make up for such losses and to somehow resuscitate his fortunes among Democrats' constituents, Joe Biden is back to igniting tensions with Moscow, using Ukraine as a proxy. 
Ukraine was dumped once this year by the United States. It has apparently learnt no lessons, and is well poised to once again be pushed into an unwinnable conflict against Russia, while Joe Biden plays to the liberal galleries back in the United States to shore up support for himself.