The Chinese Communist Party (CCP) yet again finds itself in the middle of a battle with the private sector and tech entrepreneurs. This time over the all-important semiconductors. Tsinghua Unigroup Co., one of China's biggest semiconductor giants and a key server supplier to the Chinese government entities, is burdened with debt defaults and undergoing rescue process. 
Things were going fine for Xi Jinping with JAC, a state-backed semiconductor investment fund, offering $9.4 billion, to pay off debts to Unigroup's creditors. But Unigroup Chairman Zhao Weiguo has red-flagged the rescue proposal and has sought to take the Chinese Communist Party head-on. 
Zhao Weiguo vows to fight "to the end"
Weiguo has vowed to "fight to the end" state-backed JAC Capital's takeover proposal. Zhao wants to unearth the backers behind JAC, a low-profile fund held by reclusive financier Li Bin that has suddenly come into the limelight in China with its takeover proposal. 
Without naming the CCP, Zhao is promising to stand up to Communist Party leadership. In Xi's enterprise-hating China, a private entity doesn't simply rise out of nowhere and take over a leading semiconductor giant. And if any entity can dare to do that, it must be having the informal backing of the Communist Party. 
Zhao has singled out JAC's deal for Yangtze Memory, a key product launched in 2017 that competes with world leaders like Micron Technology Inc. and Samsung Electronics Co. The Yangtze Memory project was launched by H3C, a joint venture between Unigroup and Hewlett Packard Enterprise. 
The Unigroup Chairman claims that JAC's deal valued Yangtze Memory at $7.5 billion as opposed to a much higher deserved valuation of nearly $25 billion. 
Now, the Chinese government and court-appointed custodians are trying to downplay Zhao's concerns. But Zhao said, "The proposed deal is an intent to commit a crime." The Unigroup Chairman added, "Even if the creditors' committee approves the deal, I will fight a legal battle until the end."
Xi was trying to sidetrack Jack Ma:
By letting a reclusive fund led by a reclusive owner take over Unigroup, Xi was trying to sidetrack his arch-rival Jack Ma. Ma's Alibaba had proposed $7.85 billion to rescue Unigroup, and it was to defeat Alibaba's proposal that JAC offered a higher bid seemingly with CCP support. 
Ma's Alibaba was about to win the bid to takeover Unigroup. But just at the last minute, state-backed JAC popped up and said– we can offer a higher bid. 
Chinese sources claim they have no hard feelings for Jack Ma. But the e-commerce giant is listed in the US. 
What if tightened US auditing requirements lead to the semiconductor giant disclosing sensitive information if it were owned by Alibaba? You know, Chinese IP could end up getting compromised, even though China is the country that steals and shouldn't technically be worried about disclosure of sensitive technology. 
A CNBC survey in 2019, for example, disclosed that one in five surveyed North Americans said that China had stolen their IP at some point over the past decade.
Why Unigroup mattered for Jinping:
Anyhow, coming back to Unigroup and Xi's obsession with Jack Ma, it isn't as if Xi is concerned by Ma's America connections or the fact that Trump had held a "great meeting" with the popular Chinese billionaire in 2017.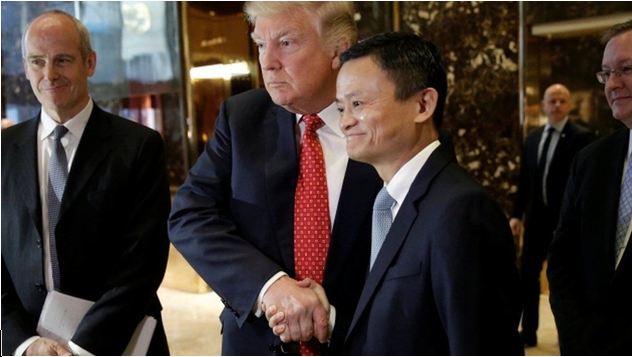 Xi has always hated Jack Ma. You would have already read about Xi's entire campaign against Alibaba's fintech solution venture, Ant Co., whose record $35 billion IPO in Shanghai and Hong Kong was halted by the CCP. 
Now, if Jack Ma's Alibaba manages to takeover Unigroup, it would make the Alibaba founder incredibly powerful in a Chinese economy where semiconductor shortages is already a burning issue. 
Xi simply couldn't let Unigroup that holds control over servers of the Chinese government and State-owned enterprises to be led by Alibaba. 
But now Zhao Weiguo is making Xi's life difficult by promising to unearth JAC's anonymous backers, and threats to block the JAC deal.