It's true that historical differences still dominate the bilateral ties between Japan and South Korea, but that has not stopped the two countries from joining hands to take down their biggest adversary in the EV and battery sector— China. Batteries are an indispensable element for the thriving EV sector.
The global market for EV batteries has grown to the size of $27 billion in 2021 and is expected to continue expanding. China wants to dominate this sector. In fact, it already dominates at least 40% of the global battery market. And if the democratic world doesn't gear up to brave China on this front, the communist nation would soon spread its tentacles all over the EV and battery sector.
Japan and South Korea gear up to end Chinese dominance
But it looks like Japan and South Korea have already sensed the gravity of the situation. Apart from China, South Korea and Japan are the only nations that have considerable battery manufacturing infrastructure at home. They have expertise; they have skilled labour, and they indeed have the political will to hurt China where it hurts unbearably.
Companies like LG, Panasonic and Samsung have already secured more than 40% share in the Global EV battery manufacturing sector; and now they are eying an even bigger share in the market at the expense of their Chinese counterparts.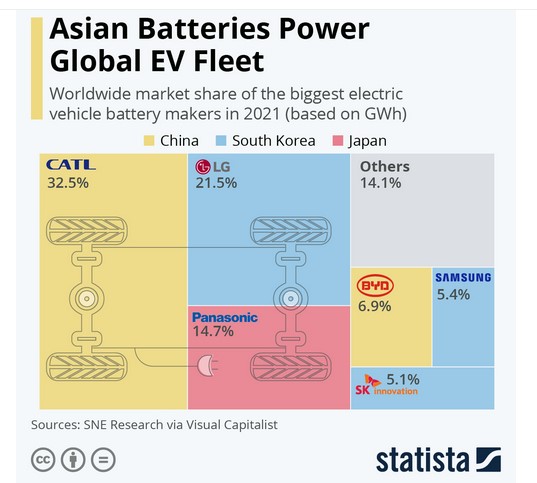 Panasonic's plans to expand operations
Take, Japanese giant Panasonic, for example. Last December, the company had announced that it will expand its EV battery-related operations in Nevada. The Japanese company already produces 2170-type cylindrical lithium-ion cells for Tesla at the Tesla Gigafactory 1 in Sparks, and now would like to add a new campus in Reno. Panasonic aspires to beat all of its competitors in the EV battery sector, and now it is rapidly expanding its production bases. Panasonic's total EV battery manufacturing capacity today stands at 50 GWh and is expected to grow at a furious pace in coming years.
Honda and LG's deadly JV
Similarly, another Japanese giant Honda is partnering with South Korean battery maker LG Energy Solutions, to ramp up their battery manufacturing capabilities. The potential battery JV between LGES and Honda could cost as much as $3.4 billion and have an annual production capacity of up to 40-gigawatt hours (GWh) of batteries, which is enough to power 600,000 electric vehicles.
Earlier this year, South Korean President Moon Jae-in had said that South Korea will strive to become a global manufacturing powerhouse by 2030. In July, Moon had told the Korea Economic Daily that "batteries are the backbone of the Korean industries that hold the future of the country. We should sharpen our competitiveness to overtake our bigger rivals and further widen the gap with our followers."
South Korea's aspirations in the battery sector
The Moon administration has also announced tax relaxations and incentives for domestic battery manufacturing companies. Thanks to the government's pro-battery manufacturing policies, South Korea has so far gained investments worth a whopping $35.4 billion in the sector from giants like LG Energy Solution Ltd., Samsung SDI Co., and SK Innovation Co.
Read More: South Korea and Australia tie up to destroy China's 'Battery' hegemony
Japan's subsidy program
On the other hand, Japan has also announced some radical and bold measures to boost its EV battery manufacturing sector. As per a Nikkei Asia report, the Japanese government is already planning a subsidy program to attract global battery makers to set up their production plants in Japan. Mind the fact that subsidy programs vehemently help Chinese producers price their products at a lower value than their foreign counterparts. Japan is now targeting this Chinese model and replicating it to boost its own EV and battery industry.
Read More: Japan joins hands with Taiwan to develop its own semiconductor industry
Japan and South Korea are now working hand in glove to defeat China at its own game. The two countries have already launched their multi-billion-dollar subsidy programs to attract global Semiconductor giants. And now, they all look set to ravage China's hefty dreams of ruling the global EV battery sector.