Former US president Donald Trump is a master negotiator. "Trade wars are good and easy to win" was his mantra during the years of his presidency. His strategies would be straightforward, but difficult to execute for those lacking confidence and courage. China came to realize this only after the 15th of January in 2020 when the phase-1 trade deal between the US and China was finally hammered out after months of negotiations. The trade deal made China commit to purchase $200 billion of additional US exports before December 31, 2021.
How China flouted the Trump-era deal under Biden's watch
The deal was designed to fuel the manufacturing sector in the US. It was supposed to bring millions of jobs to Americans. It would have been a milestone towards materializing Trump's 'Make America Great Again' campaign. Guess what? 79-year old Joe Biden came and killed the deal altogether. He did nothing to make Chinese importers fulfil their commitments. He refrained from making pro-business policies that led to an exodus of manufacturers from the US to China. And unsurprisingly, China ended up buying none of that extra $200 billion of US exports it had promised to purchase.
We must admit that the deal was really tough for China. Some say the $200 billion target was quite unrealistic for the communist nation, but such was the fear of Trump that China somehow agreed to it. To make things worse for the Jinping regime, Trump even boasted that the deal could even force China to buy goods worth $300 billion when it finishes, which was $100 billion more than what China had actually committed. But why would China agree to such a back-breaking deal in the first place?
Why did China agree to the back-breaking trade deal?
Well, the reason was the trade war that Trump launched on China in 2017. Trump's trade war came as a massive shocker to China's export-based economy. China suddenly realized that its economy was not invincible. China's status as 'the global factory' came under severe threat. Today, even China's top economists agree that decoupling and trade war would hurt China more than the US. So, the phase-1 trade deal came hot on the heels of the trade war that had unnerved the Chinese president in epic proportions.
The deal would have served more than one purpose for the American economy. First of all, it could have boosted US exports to China as the communist nation had promised to remove technical barriers to US farm exports. China had committed that it would respect the intellectual property of American businesses, and open up its financial services sector for the US companies.
Read More: How Trump and Pompeo got influential Chinese policymakers to cut a favorable deal with China
China missed the target by 43% as Biden continues his sleepwalk
China agreed to buy at least $227.9 billion of US exports in 2020 and $274.5 billion in 2021, for a total of $502.4 billion over the two years. In the end, China bought only 57 per cent of the US exports it had committed to purchase under the agreement, not even enough to reach its import levels from before the trade war. Simply put, China bought nothing of the additional $200 billion exports it had committed to the Trump administration.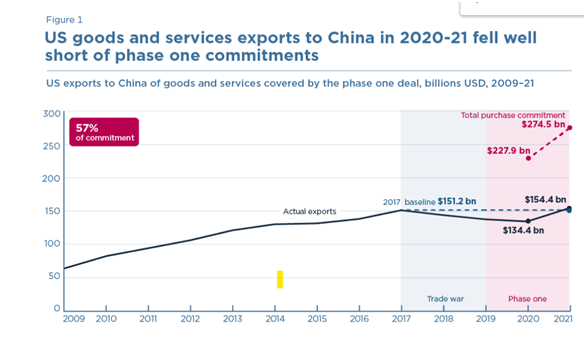 (Source: Piie)
The worst thing is that Biden is not even acknowledging the failures of his administration and is refraining from holding the Chinese government to account for disrespecting its commitments. Biden seems adamant about targeting Russia over Ukraine and helping Iran develop its nuclear program, but he is least interested in shifting his attention to the elephant in the room, that is China. China is today pleased beyond imagination for having a true friend in the White House, who is not only weakening its rivals on the security front but is also helping the CCP "Make China Great Again" by bailing out the sinking Chinese economy with his historical path-breaking friendship gift of worth $200 billion.