Internet sensation Elon Musk, who is also the founder of Tesla Motors, has recently been in the headlines for sparking heated debates over his plans to take over Twitter. Due to this, the liberal hood and Twitter HQ are in grief.
We're all aware of Jeff's dissatisfaction with Elon Musk's Twitter interests. What has happened since then, though, is a little startling. Elon Musk has now used his sarcastic tweets to take on another billionaire on the internet, it is Bill Gates.
Read More: Musk's Twitter bid is giving Jeff Bezos a hard time
Let's find out why. So Musk and the senior billionaire allegedly had a verbal spat. A Twitter user known as Whole Mars Catalog shared the rumored chat between the two billionaires.
Apparently, Gates called Elon Musk to discuss "philanthropy on climate change" but Elon asked if he still had a half-billion-dollar short position on TESLA. Bill said he hasn't closed it out, so Elon told him to get lost.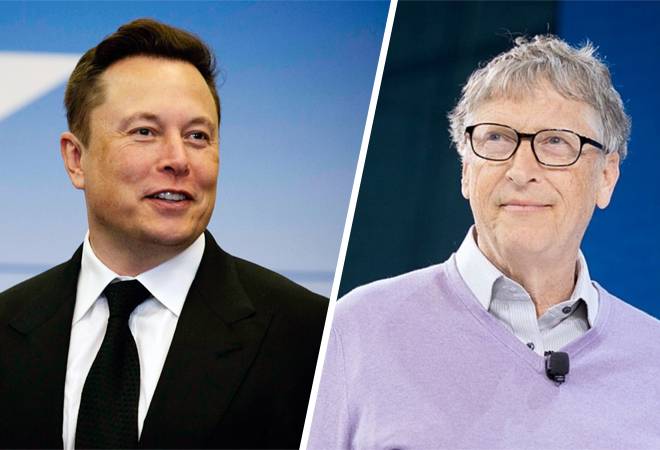 The Distasteful tweet

Elon Musk posted a photo of Bill Gates' belly juxtaposed to an apple emoji of a pregnant man on April 23rd, with the remark 'in case you need to lose a boner fast'. The tweet that (obviously) went super-viral, was clearly a subtle jab at Bill Gates.
in case u need to lose a boner fast pic.twitter.com/fcHiaXKCJi

— Elon Musk (@elonmusk) April 23, 2022
The question of why Elon Musk made a dig at Bill Gates was discussed around the world. Elon Musk responded to his own tweet mocking Gates, by saying the "shadow ban council" was looking into it.
Read More: Muskified Twitter is a death knell for the global liberal ecosystem
Then followed Whole Mars Catalog's tweet, claiming that Bill and Musk had a phone conversation, which later evolved into a furious disagreement between Musk and Bill.
So apparently Bill Gates hit up @elonmusk to discuss "philanthropy on climate change" but Elon asked if he still had a half billion dollar short position on $TSLA.

Bill said he hasn't closed it out, so Elon told him to get lost. No idea if this is true lol pic.twitter.com/iuHkDG3bAd

— Whole Mars Catalog (@WholeMarsBlog) April 22, 2022
The person then tagged Elon Musk in a follow-up Tweet, asking if the discussion was accurate. Musk responded quickly and wittily, as he always does. However, the SpaceX CEO stated that he did not leak the details to the New York Times. Musk speculated that the media outlet may have learned about the conversation from friends of friends.
Musk claimed that he had heard from several people at TED that Gates still owed Tesla half a billion dollars because of this he inquired.
Short selling and Bill vs. Musk
Many people are unfamiliar with this phrase. Short selling is the act of selling a security at a specific price without owning it and then acquiring it at a lower price later. The practice is typically done with the intention of profiting later on by purchasing the shares at a reduced price.
Returning to the Musk vs. Gates dispute. Musk and Gates were also said to be at odds in 2021, according to various publications. Bill Gates, according to SpaceX's CEO, has been wagering on Tesla's stock market performance. The purported shorting of Tesla's stock (TSLA) by Bill Gates has become the talk of the town since then.
Bill Gates' half-billion-dollar short position in Tesla is unfavorable for Elon Musk because significant short transactions by powerful individuals like Bill Gates will certainly cause fear in the market, resulting in a future drop in stock prices. Bill Gates tried to buy Tesla stock for personal gain and control over the company's income.
As a result, Elon Musk tweeted a rhetorical image of Bill Gates, implying that they were at odds. just for the sake of the "market" Bill Gates' short sale of Tesla stocks could result in significant losses for Tesla, that is why Musk is doubled.
Watch –