Russian President Vladimir Putin on Monday said that Russia doesn't have any problem with Finland and Sweden joining NATO. He said that Nordic countries' entry into the Western alliance does not pose any "immediate threat" to his nation. This came as a big surprise since Russia has long been opposing the eastward expansion of NATO citing threats to its national security.
Just hours before Putin's statement, Russia's deputy foreign minister Sergei Ryabkov had said that Finland and Sweden are making "another grave mistake" by aspiring NATO membership. Now, Putin's U-turn suggests Moscow has re-deliberated its counter-NATO strategy for obvious reasons.
Putin sidestepping West's landmines
Firstly, by avoiding entangling itself in a military conflict with Sweden and Finland, Russia is cleverly sidestepping USA's landmine. Joe Biden-led US wants to prolong this war by hook or by crook. NATO's expansion bid is a bait that the US thought Russia would fall for. The US didn't expect Putin to issue a cold reaction to their provocation. But Putin did and sabotaged Biden's efforts to lead the Russian economy to bankruptcy.
Putin made it clear that the enlargement of NATO was indeed a threat to Russia's security. He didn't rule out the possibility of retaliation either! He said on Monday, "NATO enlargement was being used by the US in an aggressive way to aggravate an already difficult global scenario. Bolstering military infrastructure in the new Nordic members' territories would "certainly provoke our (Russia's) response". He further added, "What that (the response) will be – we will see what threats are created for us. Problems are being created for no reason at all. We shall react accordingly."
Putin made it clear that Russia shall react accordingly and avoid helping the US fuel this fire. Putin's assessment that Sweden's and Finland's entry into NATO won't pose any "immediate threat" to Russia is also understandable. Unlike Ukraine, the Nordic nations don't pose any military challenge to Russia's capital.
Finland, a secondary threat to Moscow
Finland is situated 1000+ kilometres away from Moscow. For NATO to launch a military offensive against Moscow would require a military build-up of another level, which will take months to come to the realization and provide months to Russia to bolster its defences.
Read More: Ukraine is now openly engaging in a war of words with the EU
Russia's strategic advances
Notwithstanding what the West says, Russia's security environment has been enhanced after the regions of Donbas and Luhansk got carved out of Ukraine's territories. Moreover, Russia has already accomplished one of the topmost objectives of this war. With Ukraine's surrender of Mariupol, Russia has successfully created a land corridor between mainland Russia and Crimea, which is annexed back in 2014. Now, this wide corridor will serve as a natural buffer zone for Russia to hold back the hostile NATO forces.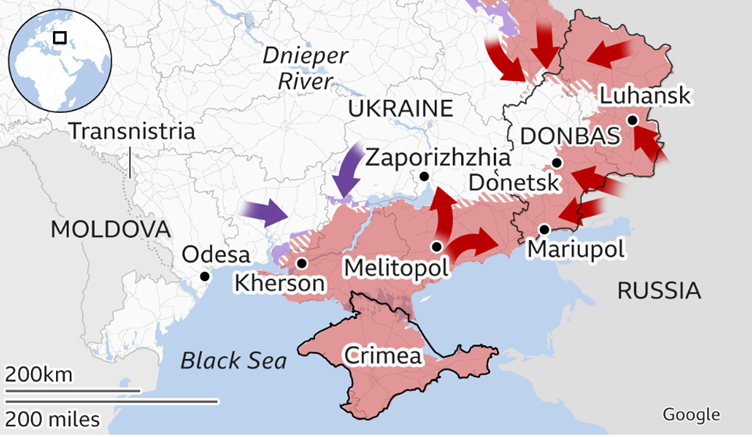 On the other hand, Ukraine's proposed admission into NATO, which Russia labelled as an "act of war", is highly unlikely after the recent episodes. France has already declared that it will take years for Ukraine to join the EU. Ukraine has itself renounced its NATO ambitions and declared its allegiance toward the path of neutrality. So, the original "immediate threat" that Russia cited to order its forces into Ukraine has long been neutralized.
Read More: Zelensky's shenanigans coupled with the gas crisis make Germany go anti-Ukraine
Frankly speaking, it makes no sense for Russia to see its economy being driven into the ground as a result of a protracted war. So, it's wise of Putin to play down the war hype and normalize the security environment. Russia's full control of southern Ukraine and Crimea will help it dominate the Black Sea, which will, in turn, bolster Russia's security environment. So, it won't be really looking forward to spoiling its strategic victories by walking into America's trap of fanning the flames in Ukraine.
Watch –