Thursday morning, Chancellor Olaf Scholz was speaking to the Parliament. In the speech, the German leader unequivocally said that Ukraine won't get an urgent entry into the European Union. Scholz said he was against granting Ukraine a "shortcut" to join the bloc. The leader justified his statement by saying that granting Kyiv quicker access would be unfair on countries in the Western Balkans, who have been waiting years to join.
Scholz turns into a Ukraine hawk
He also plauded French President Emmanuel Macron for suggesting that Ukraine's EU membership bid could take "decades" to realize. Scholz said, "French President Emmanuel Macron is right to stress that the accession process is not a matter of a few months or a few years."
Later on, while speaking to Broadcaster RTL, Scholz also delivered a long-awaited explanation for his refusal to visit Ukraine. The leader clarified that he didn't have enough time for photo ops. Scholz declared, "A trip to Kyiv must be about making concrete progress, and not just a photo opportunity. I'm not going to join a group of people who do something for a quick in and out with a photo op."
Now, these are some really tough words coming from Scholz, considering Germany's long-standing support for Ukraine during the ongoing war. Was he suggesting that UK's Boris Johnson, EU's Ursula von der Leyen, and all other leaders who have so far visited Kyiv, went there only to grab headlines? Maybe yes; Maybe No. But it soon became clear that Kyiv didn't like Scholz's thorny statements.
Kyiv already fuming
Kyiv was quick to hit back at Scholz's "third-class treatment." Tweeting on Thursday, Dmytro Kuleba, Ukraine's foreign minister said "The strategic ambiguity about the European perspective of Ukraine practised by some EU capitals in recent years has failed and must stop." He added the "second-class treatment" of Ukraine had "hurt [the] feelings of Ukrainians".
So, as his statements indicate, Olaf Scholz has become a Ukraine hawk now. And Kyiv is already seething. But what changed his mind? The answer is German voters. German voters, in a state election held recently, expressed their disapproval of Scholz's handling of the Ukraine crisis. Germany has so far actively joined the US-led sanction rally against Russia, which has already rocketed the cost of living in Europe.
Read More: Scholz likely to get replaced in Germany after SPD suffers historic defeat in its forte
Tight slap from German voters
Voters in the country's most populous state, North Rhine-Westphalia (NRW), awarded Scholz's opponent Christian Democratic Party (CDU) a soaring success on Sunday. Election results showed the party of former chancellor Angela Merkel receiving 35.7% of the vote to 27% of the second-place center-left Social Democrats (SPD). In Germany's federal system, state lawmakers hold a considerable amount of power, and the election in North Rhine-Westphalia was considered an important bellwether for Chancellor Olaf Scholz's ruling SPD party.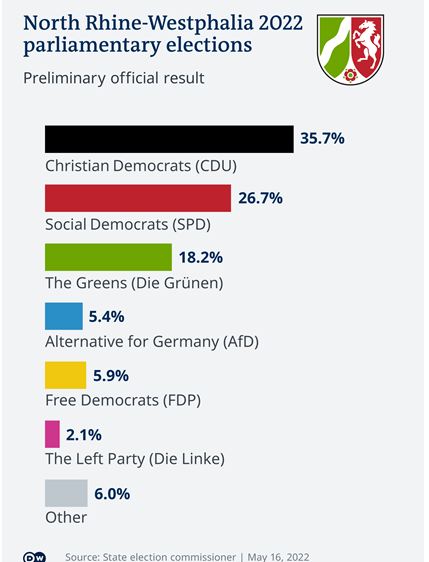 (Source: DW)
This was a mandate against the war; a mandate that opposed Germany entangling itself in the war; a mandate that denounced Biden-led USA's efforts to fan the flames in their neighborhood; a mandate against the risen cost of living and inflation. It seems that Olaf has taken his voters' message with both hands. Olaf Scholz's stance in the war has made people suffer in Germany and it's become quite clear from the results. So, Olaf is changing his stance and has finally begun blowing the trumpet of peace.