The Xinjiang police files leak has made to headlines recently. More and more nations have sounded alarm over the issue and asked for clarification. German foreign minister Annalena Baerbock after the leak had asked her Chinese counterpart Wang Yi for clarification on the issue.
As the war in Ukraine has started to cool down, Germany is now reassessing its ties with China and is vowing to place greater weight on human rights. Other nations have also joined the suit.
Taking a step further, now Germany has started reducing its dependence on China in the automobile industry. China and Germany share businesses when it comes to this industry. Now, Germany is heading out of China in a major blow to Beijing.
Germany indicates move out of China
Germany is known throughout the world for providing quality reliable cars that last a lifetime. Companies like Audi, BMW, Ford, and Volkswagen were born in Germany. Recently, Germany's Economy Ministry has refused to provide carmaker Volkswagen with guarantees to cover new investments in China because of concerns over human rights violations in the Xinjiang region.
And this is not the first time, Germany has already turned down a total of 4 such applications by Volkswagen clearly stating that Germany won't pay the debts or let any company secure more ventures in China.
Earlier it was not clear that Germany has denied guarantees to which company. But, Der Spiegel, a German news portal confirmed that the company is Volkswagen. Furthermore, the German government has therefore decided not to give guarantees for projects in China that are:
in Xinjiang or
have business ties to entities operating there.
Later on, Volkswagen's spokesperson confirmed that the company had submitted applications for investment guarantees in China. But, now the applications have been turned away. This clearly states that Germany is changing its mood when it comes to business with China.
Read More: One tight slap by German voters was enough to turn Olaf Scholz into a Ukraine hawk
End of Decade-old Co-operation
Though ideologically different, Germany and China have shared a major bond when it comes to prospering in the automobile industry. This is even stated by CCP's own mouthpiece Global times.
When most of the global markets declined in 2020, car sales of BMW and Daimler in China increased by 7.4 percent and 11.7 percent respectively, both marking historic sales records during the crisis-ridden year.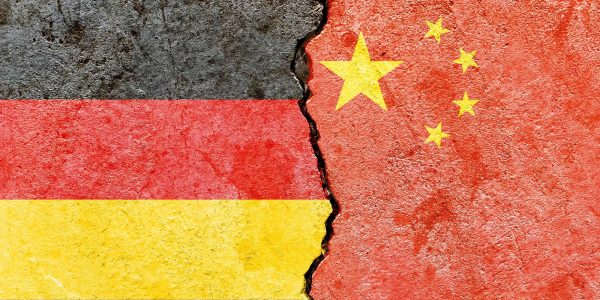 Moreover, German carmakers have remained heavily invested in joint ventures with Chinese companies, such as Daimler with BAIC, BMW with BBA, and Volkswagen with SAIC. Volkswagen has a plant in Urumqi, Xinjiang with a joint venture with China's SAIC Motor.
It is believed that this plant has been targeted by Germany. Though, the Volkswagen spokesperson said the applications were not for direct investments in the group's Xinjiang plant or anywhere near it.
However, it cannot be ruled out that the loan money will end up in the region and Germany does not want that at all.
Read More: Germany brings the focus of the world back to China from Russia  
The auto industry is at the heart of the German economy. China has become a lifeline for Germany's top automakers as profits in Europe have slumped. But, Olaf Scholz and the Baerbocks are now looking to cut the ties and increase reliance somewhere else around the globe.
Xinjiang is just an excuse, this is another action in the chain of Germany's initiative of bringing the focus back on China after the Russia-Ukraine war. Berlin is heading to clarify China as an enemy of the world once again, the shift will be visible once more nations start aiming guns at Beijing.
ALSO READ: