Sweden is tangled with its own internal political matter as it bids for NATO membership. The political crisis in Sweden is threatening to come to a head after Prime Minister Magdalena Andersson warned that she would resign if Justice Minister Morgan Johansson is voted out of office in a no-confidence vote initiated by the far-right Democrats of Sweden.
Sweden and Finland dream to be a NATO member
Nonetheless, Sweden and Finland have been pitching to join NATO for some time. Turkey, on the other hand, has refused to let Sweden and Finland join NATO. Turkey's consent is required for Finland and Sweden to join NATO as members. Turkish resistance stems from the belief that both countries back 'terrorists.' Turkey uses the term "terrorist" to refer to the Kurdistan Workers' Party or PKK. Despite the fact that the PKK is designated as a terrorist organisation by the US and the EU, Finland and Sweden have been hesitant to extradite PKK members to Turkey due to human rights concerns. Many Kurdish and other exiles, as well as adherents of Gulen's movement, have sought asylum in Sweden in recent decades.
But both Finland and Sweden now are trying to garner support from Turkey in their own ways. In what is seen as an effort to persuade Ankara to back its NATO application, Finland suggested lately it may be interested in buying Turkish Bayraktar drones.
"There is some weapon technology from Turkey that could be of interest to Finland. Everyone has followed these drones and other systems," Finland's Foreign Minister Pekka Haavisto told a press conference, cited by the Financial Times.
Whereas Sweden lately in order to seek Turkey's support, is trying to make an effort to move away from its Kurdish alliance. But this may come with a price to pay for present Sweden's prime minister. Magdalena Andersson lately said that she would resign if her Justice Minister Morgan Johansson loses a confidence vote brought by the opposition in parliament, due on June 7.
Also read: Russia's irresistible food offer to Turkey has sounded the death knell for Sweden and Finland  
Sweden is moiled with its internal politics
Nevertheless, the Sweden Democrats party has called for a no-confidence vote against Justice and Interior Minister Morgan Johansson. He has been accused by the parties of ill-handling of gang crimes. Johansson has faced harsh criticism from the opposition, which blames him for not doing enough to curb a wave of crime and deadly shootings that have engulfed Swedish suburbs, where conflicts between rivaling gangs have intensified. The Moderates, the Liberals, and the Christian Democrats parties have also declared their support for the no-confidence vote against the minister. The four parties plus one more member of parliament would be needed for the vote to be passed.
The one additional vote required to approve the no-confidence motions puts Amineh Kakabaveh, a non-affiliated legislator with a Kurdish background, in the spotlight. She is a Swedish politician with Iranian Kurdish ancestry.
She was a member of the Kurdish guerillla Komala in Iran since she was a child, and when she was nineteen, she fled to Sweden and became a member of the Swedish Parliament.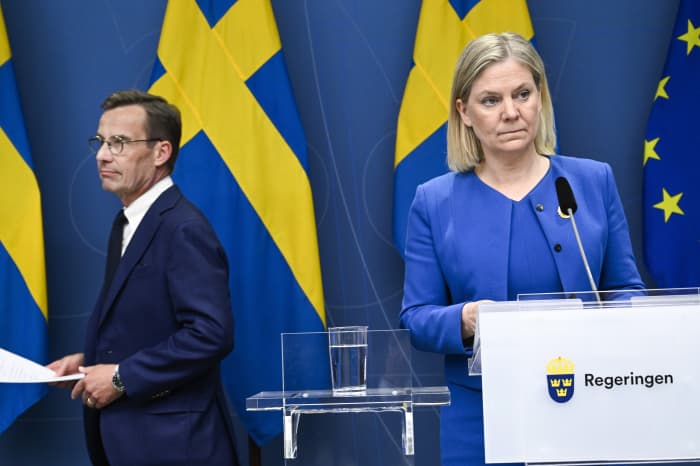 And now that the Swedish government is attempting to win Turkey's support in order to join NATO by severing its ties with the PKK, Amineh Kakabaveh is bound to be irritated.
And, as previously stated, her vote is critical in preventing Magdalena Andersson from stepping down. The government of Sweden is caught between the devil and the dead sea. It must resolve its own issues before submitting a NATO proposal.