This time, Olaf Scholz is on a very unique mission. Olaf Scholz is attempting to entice the Balkan nations and seek their assistance against Russia by following the west's agenda. German Chancellor Olaf Scholz has pledged to assist the Western Balkans in reviving their long-stalled EU membership bid. The first destination of his visit was Serbia. He said that Serbia should join the bloc in its measures against Moscow, which all its members were required to follow.
Serbian president Aleksandar Vuvic is a cool dude
But Olaf Scholz in a sense was humiliated badly by the Serbian president. Nevertheless, Serbia was so far classified in Europe as a neutral country with more of a pro-Russian inclination. The war in Ukraine, however, has drastically changed equations. Serbia has gone from becoming a subtle supporter of Moscow to openly aligning itself with Russia – unapologetically.
In 2012, Serbia was granted full candidate status for admission into the European Union. However, the EU lost its interest in Serbia over time. As a result, Serbia started looking to other nations for alignment, and the interest to join the EU just plummeted. Expectedly, public support for EU membership also waned, with less than half of Serbs voting in favour of membership.
Eventually, Serbia realised it was being neglected by the European Union. So, it teamed up with other countries, that have also been sidelined by the EU. This resulted in Serbia roping in like-minded countries including Albania and North Macedonia with the aim of establishing a region without barriers to trade that included the movement of goods, services, people, and capital. This is what is called The Open Balkan Initiative.
Vucic humiliated Olaf pretty bad
And now when Olaf Scholz is under the compulsion to defeat Russia by every possible means, he tried to convince Serbia to get into the EU. But Serbian president ensured that Serbia is not going to ditch Russia's friendship any way. Vucic said Serbia was in a difficult position and that the EU should consider that Serbia and Russia had long-standing special ties.
"As far as sanctions are concerned we have different position… We remember sanctions (against Serbia) and we do not think sanctions are efficient," Vucic said.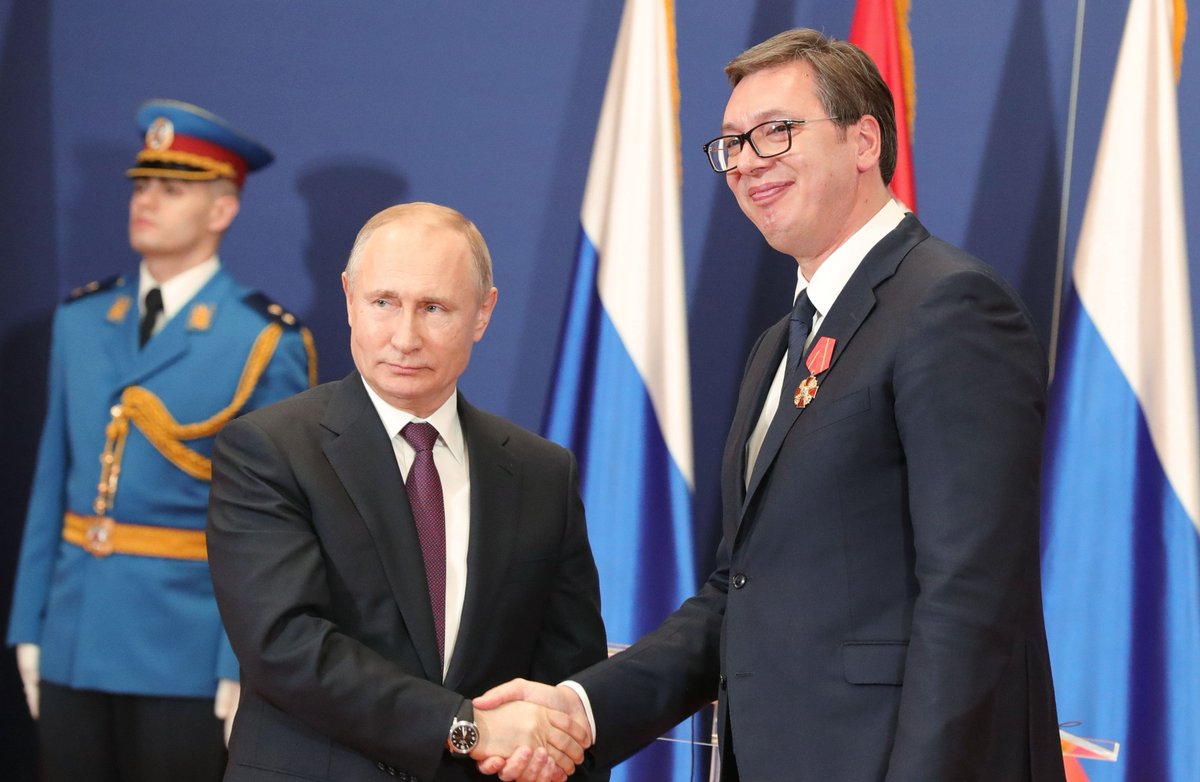 As a result, Serbian President Aleksandar Vukanovic seemed to defy German Chancellor Olaf Scholz's call for Serbia to join European Union sanctions against Russia. And he threw cold water on Olaf Scholz's motives.
Nevertheless, Serbia's unequivocal preference for Russia over the EU will inspire other countries in the area to follow suit. Many European countries have been ignored by the EU. Montenegro, for example, has been striving to join the EU for years. Despite this, the EU has ignored it. And as Serbian president bashed Sholz's hopes, Mr. Olaf will undoubtedly learn his lesson that you cannot utilise these Balkan states as you see fit.