Serbia is an interesting country. It is an applicant to the European Union and wants to join the intergovernmental bloc, and yet, Russia is its closest ally. You see, Serbia is not like any other European nation. In Serbia, Russian President Vladimir Putin is a sensation. He's on the walls of streets, on mugs, and t-shirts. Putin is the man Serbians look up to. He is who they admire, and he is who they desire. Putin's strongman image is what inspires them. His standing up to the West acts as a cherry on the topping. Putin wields power in Serbia.
And then, Russia is among the very few countries – and the only UNSC permanent member with veto powers, that does not support Kosovo's independence. So Serbia doesn't have much of a choice when it comes to dealing with Moscow. It must make it a policy priority to not antagonize Vladimir Putin, failing which, the Russian President could start supporting Kosovo's independence. If that day does come, it will be game over for Serbia.
Serbian President Trains Guns at the West
Serbian President Aleksandar Vucic has said his "guts turn" when he hears Western countries talk about their respect for the territorial integrity of Ukraine, while simultaneously insisting on the independence of the Serbian breakaway region of Kosovo. Vucic claimed there were no principles in modern international politics and accused the West of double standards and hypocrisy when it comes to the Ukraine and Kosovo conflicts.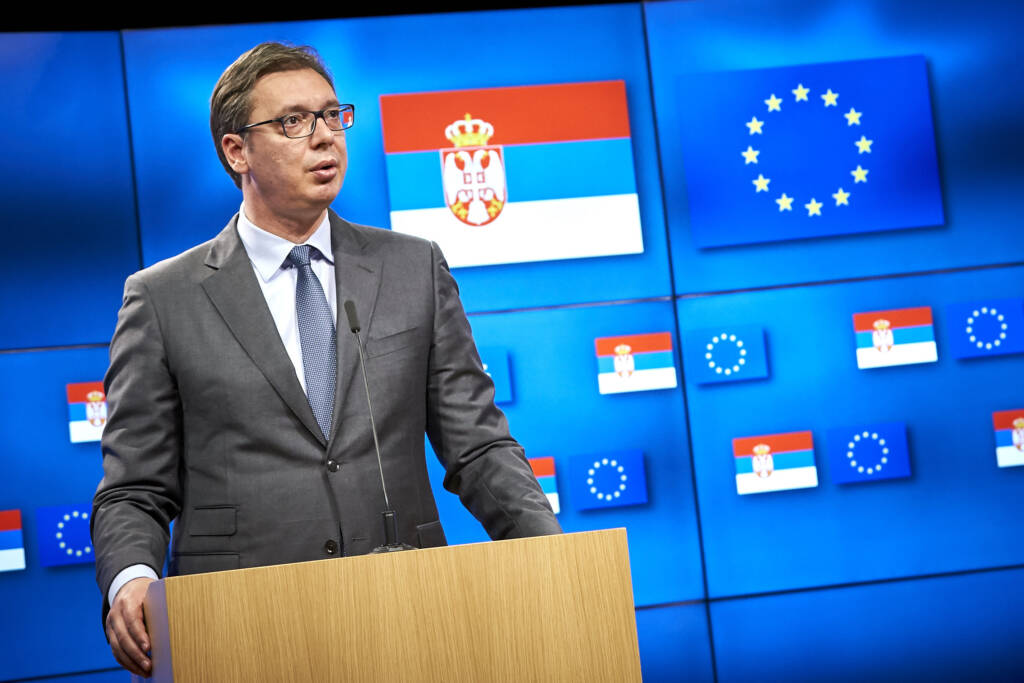 He added, "For Serbia to give up its integrity, it can only happen with a gun to the forehead, and not to us but to our children." Sharpening his rhetoric against the West, President Vucic asked why, if Russia is really committing terrible crimes in Ukraine, NATO is not bombing it as it did in former Yugoslavia in 1999.
Much of the pro-Russia sentiment among Serbs comes from their hatred of NATO; which bombed the country in 1999 to stop a crackdown on ethnic Albanians seeking independence for Kosovo.
Serbia Still Won't Join Sanctions Bandwagon
On Sunday, President Aleksandar Vučić told TV network Prva TV that Serbia will still not join international sanctions against Russia. He revealed that because Serbia refuses to join the sanctions bandwagon, the country currently has no access to the capital market. Loans are more expensive as they are now being offered at a 7% interest rate, and refinancing loans is now difficult. He added that the sanctions against Russia are unfair.
In February, right after Russia launched its invasion of Ukraine, Vucic had said that Serbia has its "vital national and state interests and respects traditional friendships" as he rejected calls by Western nations to sanction Moscow. He said, "This is Serbia's choice, to pursue an independent policy."
Apart from the issue of Kosovo and the importance of Russian backing on the subject, Serbia also depends entirely on Russia in terms of energy, as it imports large amounts of natural gas from Moscow. Beginning this year, under a new contract, Russia will deliver 3 billion cubic meters (bcm) of gas per year to Serbia. Currently, Serbia receives 6 million cubic meters per day from Gazprom at $270 per thousand cubic meters.
Read more: Putin's war in Ukraine will remove every speck of Chinese influence from Serbia
Serbia, therefore, continues to solidly back Russia. Belgrade is refusing to toe the West's line and is also not being bullied around by the Biden administration.
Watch –