While the Indian Judiciary continues to investigate the matter of blasphemous comments over Prophet Mohammad, Islamists on June 10th threw Indian law and order out the window. Images and videos of riots and protests erupted all over the major social media platforms.
This all happened after Qatar and a few other nations such as UAE, Kuwait and Iran came out critical of the remarks of ruling party's spokesperson. Seeing the graphics, it was almost certain that this is a well-oiled system at the action. In addition, the synchronized attacks suggest that there are also some evils within the system.
Here's a complete timeline from the root cause of the issue, till its conclusion.
On May 26, former spokesperson of the ruling party BJP, Nupur Sharma participated in a debate over an ancient temple dispute on Indian television. Nupur Sharma remarked on Prophet Muhammad by narrating what her followers think has been written in Islamic holy scriptures. What she said has often been cited by various Islamic scholars, including Islamic scholar, Zakir Naik.
Her statement on Prophet Mohammad and Aisha was actually an answer to another panelist, who was constantly blaspheming Hindu deities. Her statement was a result of the heat of the moment and nothing else. But, a trimmed clip of only Nupur's remark became viral on social media and the whole world made her the villain. Immediately after, her party critics started chastising the spokesperson and demanded her apology.
Later on, major media houses including international media started covering the issue to tarnish the image of India. Furthermore, opposition leaders and elite liberal journalists started to march around the flag. Major Islamic scholars insisted Nupur to apologize.
Eventually, she did apologize. But, for Islamists, it was not enough. Hence, protests continued.
All this culminated into the ruling party expelling Nupur Sharma on the 5th of June.
Nupur Sharma's sympathizers and supporters were stunned, and they were curious as to why she was suddenly expelled.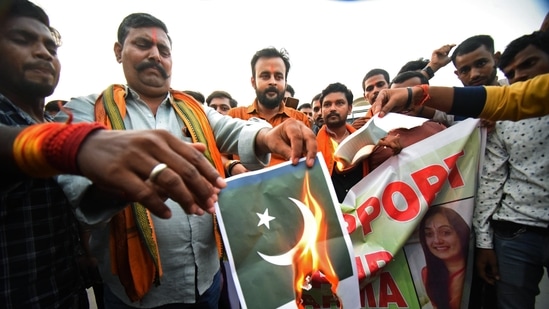 The answer was international attention. Many Gulf Nations condemned Nupur's remarks without even knowing the exact reality. At the same time, protests by Muslims in these countries also started. In addition, the Qatari government summoned the Indian ambassador and stated the "disappointment of the State of Qatar and its total rejection and condemnation to the controversial remarks made by an official in the ruling party in India against Prophet Muhammed"
Moreover, the terrorist organization Al-Qaeda also threatened India. This could have been a major victory for Islamists who were constantly protesting, but even this was not enough. So, what was the last resort? Well on the 10th of June, fourteen Indian states reported massive protests and riots across the streets of the metropolitan areas immediately after Friday prayers. The outraged mob set fire to Nupur Sharma's effigy and posters in some locations, while stones were thrown hurting cops, and the public and causing property damage.
The Riots across India
Prominently, the Indian state of Uttar Pradesh saw heavy stone-pelting on the police forces. The situation was tense despite the use of tear gas and crowd disbursement to control the situation.
Entire India was shocked and angered by the wrongdoing of these notorious elements in society. There was only one demand now from the Indian Prime Minister Narendra Modi, which was to take appropriate action.
Narendra Modi and State Chief Ministers have had enough of these miscreants. Heavy police and other armed forces were deployed to take cognizance of the matter, and the crackdown was evident.  Police started beating and arresting the individuals involved in the matter. In some major cities like Ranchi, the capital of the Indian state of Jharkhand, the police fired in the open to establish control over the crowd of thousands.
Read More: A Castro less Cuba finds a friend in India, and the message
Uttar Pradesh's state government ordered police to continue crackdown on the miscreants until midnight and collect information on those individuals involved in the matter. The very next day, the state government started sealing and demolishing their encroached properties. Such similar suits were also followed in other BJP-ruled states.
More than 400 individuals have been arrested to date, and the law and order situation in the country is also restored.
Handling the International Pressure
Most of the nations that were quite displeased by Nupur Sharma's remarks after this crackdown have got a strong message from India that it won't back off from its position. These nations have now shuddered in embarrassment.
The Kuwaiti government has already understood the message very clearly. The Kuwait government has issued instructions to arrest protesters protesting against Nupur Sharma and sent them back to their respective countries.
Furthermore, Qatar, which became a haven for these criminals, has already come under fire. India's assertive strategy in countering the reactions was noteworthy. India raised concern about 'slave labor like conditions' of migrants working for FIFA World Cup preparations in Qatar.
Read More: India rejects USA's Indo-Pacific Economic Framework and sends a chilling message down Biden's spine
 In just five days, India flattened an Islamist rebellion that was surging in India and the world. This can be surely said to be India's Charlie Hebdo moment.
This has indeed sent a message on the loudspeaker to the world that India, which once upon a time acted under Western pressure has changed. It is a new India where it won't just accept a comment coming from a particular section of people who already stand on slippery grounds.  We can solve our disputes on our own and now, we hold the power to run our country in our way. So, these one-two condemnations or summoning won't work out anymore.