The Biden administration has spoken way too much and way too early. The constant support and backing Biden was so eager to provide to his friend in Ukraine has been fading away. Biden pledged a 40 Billion dollar aid to Ukraine amid skyrocketing inflation and bad economic conditions at home. Now, the American citizens and even the friendly media have started to question him.
Read More: Biden's war in Ukraine has led to an unprecedented nuclear race across the world
Biden's Inability To Control His Juniors
The recent mismanagement on the global stage is an utmost insult to the office of the President of the United States. Sources claim that the statements given by Defense Secretary Lloyd Austin and Secretary of State Antony Blinken in Kyiv in April were not at par with the rhetoric set by the US government.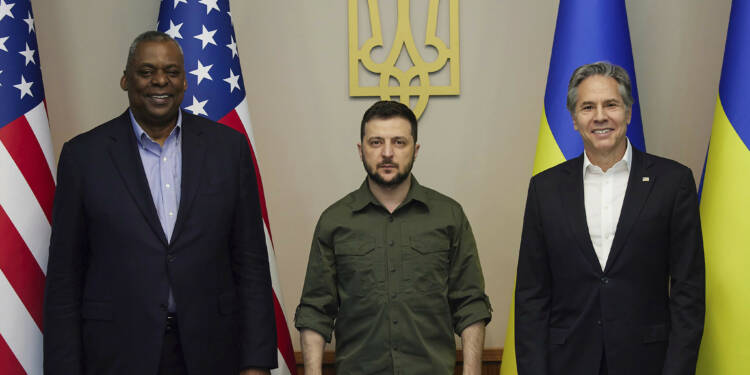 Austin, during his visit to Kyiv gave a public statement concerning the US intentions in the Ukraine war. He clearly suggested that what Biden wanted was for the Ukrainians to win the war and not just defend themselves. He hoped that the Ukranians weaken the Russian force to such an extent, that the Russians are unable to carry out any major operation.
The Secretary of State, unalarmed of the blunder they just made, happily aligned himself with the statements of the Defense Secretary.
Defense Secretary Austin and Secretary of State Blinken had taken off on separate flights from southeastern Poland after their risky, high-stakes visit to Kyiv when they were conferenced into a phone call from President Joe Biden.
Biden believed that the Secretaries came off too strong. The inevitability of Ukraine's defeat in the war that Biden had sensed, made him nervous of the rhetoric his colleagues have formed in Kyiv.
Read More: Biden disowns his soldiers who went to fight in Ukraine and restricts others from joining the war
Biden's Intent To Push The War
Biden intentionally pushed the war using his stronghold in NATO. The humongous military aid provided by Biden to Ukraine out of the taxpayers pocket is not just gross misuse of public office but is also an attempt to sabotage world peace and order.
Years of experience in International politics should have made Biden understand that it is not the easy to beat a professional army like that of Russia, but he still pushed Zelensky to hold up defenses against an unbeatable enemy.
Washington's resistance to openly defy Russia has been made clear after Biden reportedly railed his colleouges on the blunder they commited.
"From the beginning, I've said and I've been — not everyone has agreed with me — nothing about Ukraine without Ukraine. It's their territory. I'm not going to tell them what they should and shouldn't do," Biden said. "But it appears to me that, at some point along the line, there's going to have to be a negotiated settlement here. And what that entails, I don't know."
It looks like the West is slowly coming to its senses with President Joe Biden openly suggesting settlements between the two parties.
Watch –