Even after four months of the Russia-Ukraine conflict, the US-led NATO doesn't seem to halt its agenda. Despite the fact that Ukraine is losing the war, NATO nations are still recklessly providing military and financial help.
Now, NATO leaders are gathering in Madrid, Spain to discuss important issues facing the Alliance. The Madrid Summit will apparently set NATO's strategic direction for the next decade and beyond, ensuring that the Alliance will continue to adapt to a changing world and keep its one billion people safe.
However, Spanish citizens have come forward, quite rightfully, to oppose NATO's plan. Thousands of people demonstrated against the proposed NATO conference in Madrid on Sunday, carrying the hammer and sickle banners of the old Soviet Union.
Read More: Poland has lost hundreds of tanks without firing a single shot
NATO's expansion provoked Russia
The North Atlantic Treaty Organization (NATO), led and funded by the United States, to contain/encircle the then Soviet and Communist power in Eastern Europe was established in 1949. Eventually, NATO expanded by including the Baltic states of Estonia, Latvia and Lithuania — and three members of the former Warsaw Pact: Bulgaria, Romania and Slovakia. With this, the US-led NATO came perilously close to pulling on Russia's door.
This expansionism of NATO provoked Russia to invade Ukraine. Putin called the conflict a special military operation and claimed it was in response to other nations bordering post-Soviet Russia joining NATO in the 1990s.
The US-led West imposed severe sanctions on Russia in retaliation for its invasion. The major goal of the US and other western nations was to punish Russia by sanctioning Russian oil, gas and food grains. But these countries overlooked the fact that their reliance on Russia for its gas and oil supply will result in them paying a heavy price at home for this unwise choice.
Russian oil and gas prices increased dramatically as a result of sanctions in the US and practically all of Europe. For instance, in May 2022, the inflation rate in Germany rises to 7.9%. Energy prices rose by 38.3 per cent, while food costs rose by 11.1 per cent.
However, the naivety of the Western leaders has led to numerous difficulties for their respective citizens. You see, commoners are feeling a hole in their pockets because of their own government's foolish sanctioning of Russia.
Enough is enough
Finally, the Spanish people have come forward in raising their voices against the bogus agenda of US-led NATO. These demonstrators have called to dissolve the military bases maintained by the United States in Spain. They urged the European nations not to pursue the lies of the US-led NATO because that is a real threat to peace.
Banners with the words "No to NATO, No to War, For Peace" were held as they marched through the city.
"Tanks yes, but of beer with tapas," sang demonstrators, who claimed an increase in defence spending in Europe urged by NATO was a threat to peace.
"I am fed up [with] this business of arms and killing people. The solution they propose is more arms and wars and we always pay for it. So no NATO, no [army] bases, let the Americans go and leave us alone without wars and weapons," said Concha Hoyos, a retired Madrid resident.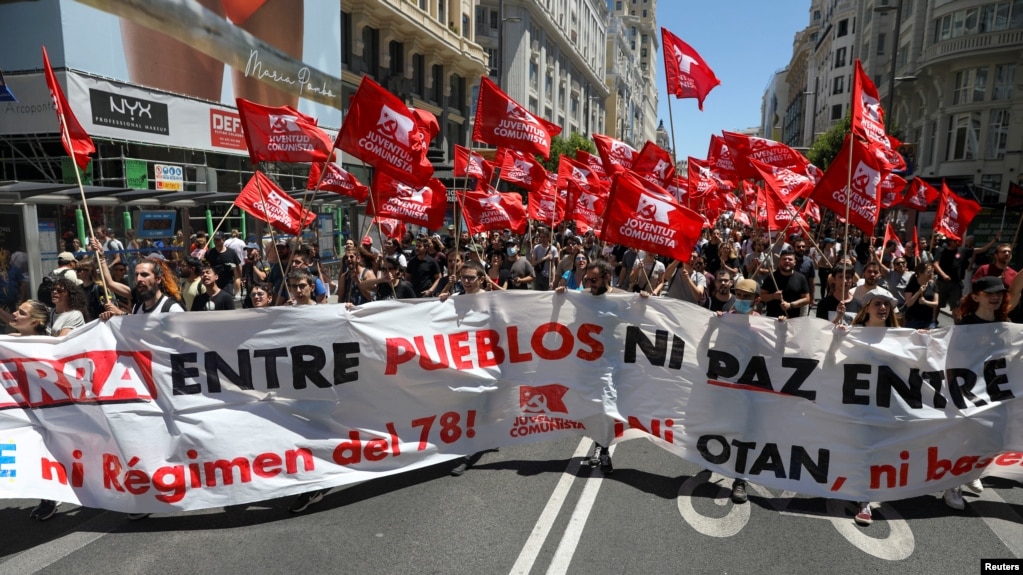 Though the Spanish government has intended to ban a similar gathering scheduled on the first day of the NATO summit on security grounds, they undoubtedly cannot keep people's voices quiet for too long. Spain though became the first country to raise its voice against NATO's expansionistic motives but it is definitely not the last one. Soon, the whole of Europe will see a similar wave of opposition to NATO's so-called peace agenda.