"Russians warships, go f**k yourself", the statement that emerged from Snake Island of a Ukrainian soldier reverberated in Western media to portray the 'grit' and 'determination' of Ukraine against Russia. When the war started, many said Ukraine's victory was a foregone conclusion. Alas! Ukraine's gloating and western media's dwelling didn't last long as it took Russia just four days to lay siege to Snake Island.
Snake Islands, a strategic island in the Black Sea, 30 miles off the coast of Ukraine, has now been vacated by the invading Russian forces. At a briefing, Igor Konashenkov, a spokesperson for the Russian army, stated that Russia's personnel had left the island "as a gesture of goodwill."
Western Media and Ukraine are hell-bent to sketch the withdrawal as "Ukraine's win" or "Russia's defeat". And that's expected of them, after all, they have got something which helps amplify their propaganda warfare against Russia after a very long time.
But the truth is the exact opposite.
Why Russia captured Snake Islands?
To understand why has Russia withdrawn from Snake Island, we need to understand why it captured the island in the first place.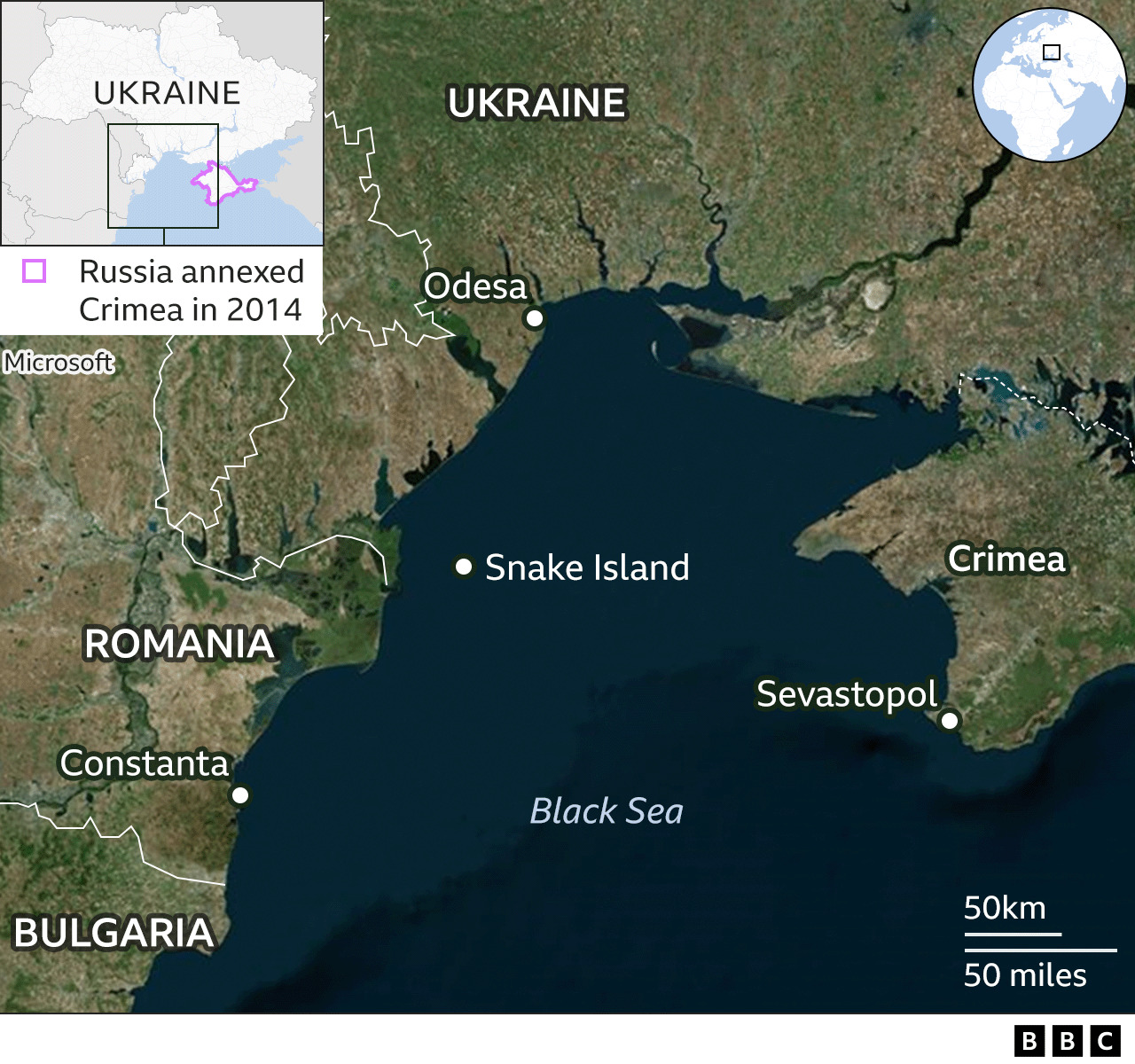 Even though Snake Island is just about a tenth of a square mile in size, its position in the Black Sea makes it an enticing target for Russia. Despite being tiny, the Island is of utmost geostrategic significance. At the start of the war, Russia occupied the tiny stretch of land in the Black Sea to bar NATO from resupplying Kyiv's forces by sea. It also reduced the threat of a direct attack on Crimea, which it annexed in 2014.
We have seen how Ukraine's President Volodymyr Zelensky and his regime have upped the ante for Crimea. It was quite possible that the West in its bid to support Ukraine could have tried to open a war front in Crimea.
Why has Russia withdrawn?
Now there are four major reasons why Russia has withdrawn from Snake Island:
1. Island becoming redundant– When the war started, Ukraine needed the island to control the Black Sea and to support Russian troops at Ozi. And due to Odessa port's close proximity to the island, it used it to strangulate Kyiv. However, now Russia has fulfilled its major objectives to reinforce areas like Donbas and Mariupol, and decimate the enemy in contested regions of Luhansk People's Republic and Donetsk People's Republic. So, it doesn't need the island anymore, as eastern Ukraine is fully under its control.
Konashenkov said, "The Armed Forces of the Russian Federation finished fulfilling the assigned tasks in Snake Island and withdrew the garrison that had been operating there."
2. Soft power– Russia here has acted as a responsible power who is showing that it'll not occupy the lands it doesn't claim. The withdrawal debunks Western claims of Russia being an expansionist power.
3. Exposing Ukraine– Before the conflict, Ukraine exported roughly 80% of its grain through the Black Sea ports of Odessa, Pivdennyi, Mykolayiv, and Chornomorsk, which accounted for around 5 million metric tons of grain per month. Ukraine accounts for 10 per cent of the world's wheat exports.
However, after the war, it stopped exporting wheat to countries, and experts believe that it may lead to starvation, civil wars and migration from Africa and the Middle East to Europe. Ukraine has blamed Russia for not allowing grain shipments to pass through the Black Sea and causing a "food catastrophe" around the world.
But, Russia's President Vladimir Putin himself has clarified that Russia isn't preventing any Ukrainian grain shipments. Putin said, "Russia is not preventing the export of Ukrainian grain from the country's territory and is ready to ensure the free passage of cargo ships with grain into international waters." Instead, Putin accused Ukraine of mining its Black Sea ports and nearby waters.
Konashenkov said, "This solution will prevent Kyiv from speculating on an impending grocery crisis citing the inability to export grain due to total control of the north-western part of the Black Sea by Russia."
Some experts believe that Ukraine is weaponizing its food exports to garner the West's support. It never intended to export the wheat shipments. Its intention was to blame Russia for blocking the grains and seeking weapons from European countries. Thus, giving Ukraine free passage in the Black Sea will expose Kyiv's lies and force it to lift its self-imposed blockade on food grain exports.
4. End to the fear-mongering- After Russia captured Snake Island, Western countries and media propagated that Russia will use Snake Island for attacking other countries. It also claimed that Russia will be occupying Ukraine in its entirety and may attack Balkans after Ukraine. Pulling out of Snake Island will put an end to the fear-mongering being peddled by the West.
So, Russia is killing four birds with one stone by simply withdrawing from Snake Island. This is a smart move that will expose Ukraine's and the West's disinformation warfare. So, Russia hasn't "retreated" from Snake Island, as many claim in media, it has actually pulled a fast one on Ukraine through its tactical move.
WATCH: