The United States is reeling under high inflation rates and gas prices are set to break all-time records. The US President knows very clearly that if gasoline prices are not brought down soon, his political career could get finished which is already visible in his approval ratings.
So, the US decided to release its oil reserves for cooling down the rising prices. But, the plan didn't wield any sort of good results. More than five million barrels of crude oil was expected to be put into use in the US to bring down skyrocketing prices at the pump.
But sadly that oil rather than US pumps was instead sent to European nations, India, as well as China. China and Biden share a very special bond when it comes to sneaky deals and profits. Here, we have a few details about US' strategic oil reserves and how Hunter Biden has deep roots underneath the new deal.
Biden-China Oil Deal
Out of the five million barrels of oil released from America's Strategic Petroleum Reserves that were shipped overseas to China, India, and Europe, an interesting revelation has come up.
According to several media reports, around one million barrels of oil were delivered to a Chinese energy company with which President Joe Biden's son, Hunter Biden was in association till 2015.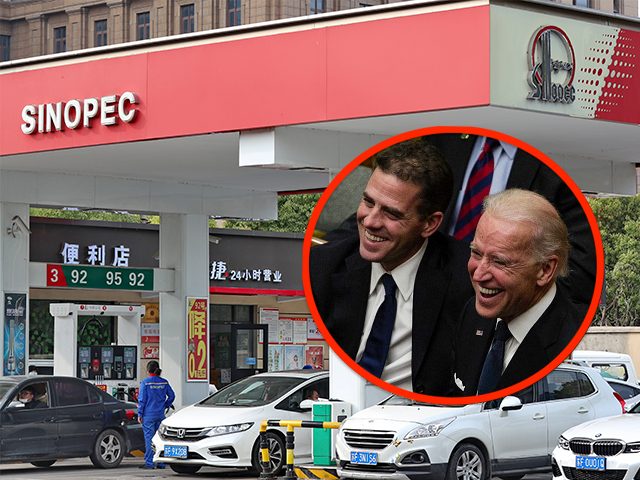 In April, the US sold 950,000 Strategic Petroleum Reserve barrels to Unipec, the trading arm of the China Petrochemical Corporation. The company is commonly known as Sinopec. Sinopec is state-backed and what's even more surprising is that Hunter Biden had stakes in Sinopec till 2015 via private equity.
The Biden administration had claimed the Unipec sale would "support American consumers and the global economy in response to Putin's war of choice against Ukraine" and combat "Putin's price hike." But, has it worked out? Absolutely no.
The White House had stressed that the US would be benefitted from selling crude to China, so it could be refined for gasoline to drive down prices at the pump. This is an absolute lie that the US is stating.
The real reason is that Sleepy Joe helped China because of Hunter Biden's relations and business with China.
Read More: Chinese economic situation is so bad that it is now resorting to selling its strategic oil reserves
Hunter and Sinopec
Make no mistake, the decision to sell to Unipec was solely done because of Biden's family's irrelevant "relationship with China."
Sinopec has ties to Hunter Biden. He co-founded a private equity company that invested $1.7 billion in Sinopec Marketing in 2015. One month after the Biden administration imposed sanctions on the Russian gas firm, Sinopec started negotiating to purchase Gazprom.
Even if Hunter's stakes are no more in Sinopec, this deal makes sense as Hunter would be having a say in deals till now.
Furthermore, Unipec had stated it would purchase "no more Russian oil going forward" once "shipments that have arrived in March and are due to arrive in April" were fulfilled. Till today, the company purchases Russian oil from hired tankers. So, that one million barrels was substantially a gift to China from Biden.
Read More: Russia's secret 'oil-laundering' machine in Saudi Arabia leaves the West baffled
The US has its own refineries and capabilities, so giving China oil for refinery purposes makes absolutely no sense.
Even in midst of a crisis, Biden believes that giving gifts to China is much important. Whereas, US' own residents continue to pay for gas as high as $5/gallon.
WATCH: