As the conflict in Ukraine comes to a conclusion, Ukraine's future appears bleaker by the day. Russia's war strategy to distract Ukraine from the North and South has worked and it has almost occupied the Donbas regions.
Zelensky has given up against the might of Russia and has finally realized that Ukraine's future is doomed. Rather than reaching a peace agreement and guaranteeing the country's future, he is only concerned with himself.
Meanwhile, he is preparing an heir of the dictatorial regime to look after his ambitions after he flies from Ukraine.
Olena Zelenska
The President aka dictator of Ukraine who has dressed in olive-green cargo pants to pretend as a war-time leader is about to play a malicious game with the Ukrainians. He goes to world platforms and delivers speeches to arose sympathy for Ukraine. However, the EU is now growing annoyed with Zelensky's antics.
The West is quickly realising that Ukraine is becoming significant security and financial problem for it. They have thus come up with a strategy to permanently remove Zelensky. Investigations into possible war crimes in Ukraine are now being demanded by more than 40 countries, including the US and many EU countries. According to Reuters, 45 nations signed a political declaration on Thursday to cooperate on investigations into war crimes in Ukraine at a conference in The Hague, the home of the International Criminal Court (ICC).
Now, he is preparing to flee Ukraine and is deriving a way to be in power after he is sacked. He is forwarding his wife to take up the responsibility. Olena Zelenska, wife of Zelensky is emerging as a new face who'll become a voice of Zelensky in the near future.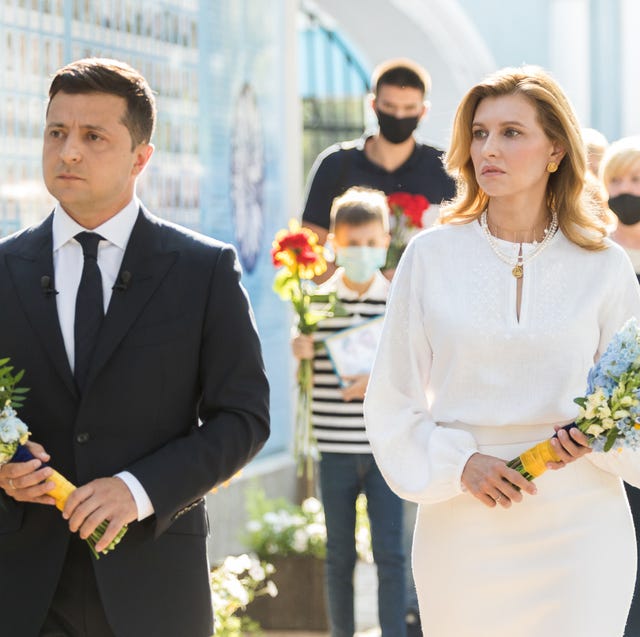 Zelensky has fired a lot of his close aids and charged them with "treason", among them is his childhood friend Ivan Bakanov. He was the head of the security service for Ukraine and was seen as the second most powerful person in Ukraine's government.
But Olena Zelenka's name has suddenly come up. She who was nowhere to be seen in the war for two months is recently being seen representing Ukraine. Her first appearance after a long disappearance was on May 8 when she was meeting Jill Biden.
Read More: The West is finally done with Zelensky, and a change in Ukrainian leadership is on the cards
US visit
Olena Zelenska is now on a visit to the USA where she is meeting with several US representatives. On Monday, she met with US Secretary of State Antony Blinken. According to Ned Price, a spokesperson for the State Department, the secretary of state gave Zelenska assurances about American commitment to Ukraine.
She also met Samantha Power, head of the U.S. Agency for International Development, the same agency which has given billions of dollars to support Ukraine's government. Zelenska would be expecting more money from the US who is already getting tired of Ukraine's whims and fancies.
She will also meet with Jill Biden and will address US Congress. Giving her such a big platform by the US shows that the people are tired of supporting Ukraine's narrative when they themselves are facing huge inflation and a continuous curb on their rights.
So as the West has decided to sack Zelensky, it would deftly shift responsibility for Ukraine's defeat to Zelensky and avoid taking responsibility. Therefore, Ukraine may soon have a new president, but Zelensky has already found a way to play around with it. Olena Zelenska has been given the opportunity by Zelensky as a way for him to control the power realms from outside.