Poland and Germany share a troubled history in Europe dating back to the Second World War. Still, Warsaw's stance had constantly stayed in favor of Berlin for many decades until the Ukraine war.
But not anymore, Poland in a 'heroic move' has decided to rock the boat for Germany and it appears like the economic juggernaut is about to enter troubled waters. The German economy is now inching towards a complete collapse.
According to a report by Reuters, Poland has decided to demand a whopping $1.3 Trillion from Germany as compensation for the losses of World War II. According to the report, Poland has estimated that "Nazi-Germany" caused them a damage of $1.32 trillion in World War II, and Olaf Scholz, the chancellor of Germany, is now obligated to compensate for it.
The country has made an official request to Berlin seeking reparations of such high proportions. Jaroslaw Kaczynski, the head of Poland's ruling Law and Justice (PiS) party and country's 'de-facto' leader, officially announced. With this, the already tense relations between Warsaw and Berlin are destined to antagonize further..
The demand was raised following the publication of the long awaited report, which estimated Poland's cost of devastation during World War 2. Poland's right-wing government stresses that Germany, which is now one of its main allies inside the European Union has never made up for the losses incurred by Poland.
Poland's troublesome demand
 Jaroslaw Kaczynski has made it very clear that the compensation from Germany is nothing in comparison to Poland's suffering. Reportedly, the leader stressed: "The sum that was presented was adopted using the most limited, conservative method, it would be possible to increase it,"
His call was immediately backed by loyalists PM Mateusz Morawiecki and President Andrezj Duda.
On one such occasion, President Andrezj Duda lambasted Germany and stressed: "The war did not just take our freedom, it took our state from us, this war meant millions of victims among Poland's citizens and irreparable losses to our homeland and our nation,"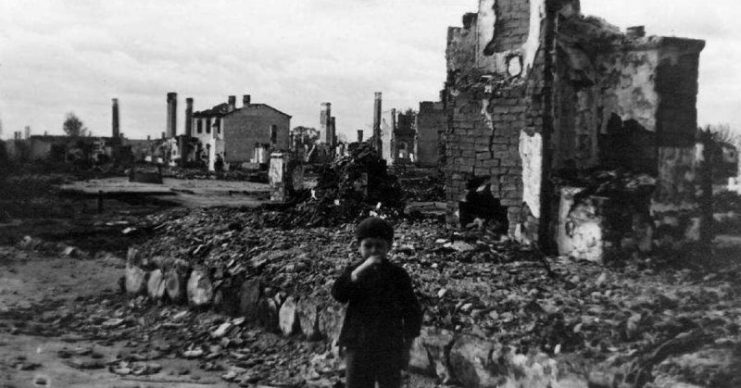 What's more surprising here is the timing of this thunderbolt to Germany. Exactly 83 years ago, on 1st September 1939, Nazi Germany bombed and invaded Poland. In this war, more than six million Poles, including three million Polish Jews, were executed by the megalomaniac Adolf Hitler.
However, Poland's demand for compensation from Germany is not a new thing. Poland has been looking towards Germany since 2017 to make up for losses incurred during World War Two. However, demand was never made officially.
In 2019, Polish lawmakers estimated a compensation of $ 850 million from Germany. But, the official estimate has now crossed $1.3 trillion which unquestionably exceeds the GDP of small nations.
Read More: A dispirited Poland joins hands with South Korea to teach Germany and US a life lesson
Germany short of options
On this, Germany has categorically made it clear that the issue of compensation is all, water under the bridge. The matter is closed once and for all.
Berlin emphasises that post war, compensation was given to the countries of the Eastern Bloc, and Poland was given part of Germany's pre-war territory in addition to the territories Poland  lost when its boundaries were redrawn. However, Poland here has a legal stronghold.
History has it written that Germany had to pay for reparations after the War. During World War II, Germany extracted payments from occupied countries, compelled loans, and stole or destroyed property. In addition, countries were obliged to provide resources, and forced labor.
The Potsdam conference held between July 17 and August 2, 1945, obliged Germany to pay the Allies US$23 billion mainly in machinery and manufacturing plants. Additionally, Berlin was compelled to pay for other material losses.
Despite several claims, the truth remains that Poland has been never paid up to such a large extent, and now, it has demanded one of the biggest amounts ever in the history of war reparations, which the current state of Germany's economy is incapable to endure.
Read More: Poland has lost hundreds of tanks without firing a single shot
 The war in Ukraine has completely destroyed the German economy. The nation has shrunk as a result of falling natural gas supplies, the euro's parity with the dollar, and other challenges.
The Poland-Germany relations are now on the verge of becoming a house of cards. Eventually, Germany has to foot the bill despite wasting its entire wealth in "solidarity" with Ukraine.
The nation was facing trouble bailing out Uniper and now, Poland's legally correct demand may prove to become a death knell for the Eurozone economy.