First the US and the UK, and now India. Relatively smooth relations between India and Canada are about to rock due to an ongoing controversy.
In the last few decades,  Canada has become the destination of choice for Khalistani terrorists and their sympathizers. Successive governments in Canada, either out of unawareness or perhaps deferring to the influential Sikh vote bank chose to turn a blind eye to Khalistani extremism. And see, where it led Canada now.
Khalistanis are shaking Canadian politics now. After creating shockwaves in the US and Uk in the year 2021, the same episode is on the horizon in Trudeau's Canada. According to recent reports, Khalistanis are in a bid to launch the Khalistan Referendum- a community-sponsored plebiscite of an international advocacy group, Sikhs For Justice (SFJ).
Khalistanis get safe haven in Canada
The voting for this Khalistan referendum campaign is all set to begin on September 18. A campaign in which Sikhs are asked to answer the question "Should Indian-governed Punjab be an independent country?" Now, betting dollars on doughnuts won't go wrong if we say that this campaign is sure to receive flak from India. In fact, it has drawn fierce opposition from New Delhi, Indian media and pro-India segments of Non-Resident Indians (NRIs).
Read More: Trudeau's unholy alliance with the terrorist nation of Pakistan
You see, Ottawa and New Delhi share diplomatic ties with one another. And, despite having an inkling of such a campaign about to transpire in Brampton, Ottawa can't be seen taking an action. While the Indian media and NRIs have been opposing the unofficial referendum on Khalistan, the Indian government has been actively branding it as "terrorism" and has designated SFJ, the referendum's proponent, as an unlawful organisation under the contentious Unlawful Activities Prevention Act (UAPA) of India.
Pro-Khalistan activists are actively holding truck rallies with Khalistan banners before the September 18 Khalistan Referendum voting in Toronto. They are also plastering mega billboards, and signs, and distributing promotional materials at Gurdwaras in Brampton, the heavily Sikh town in the Greater Toronto Area. The Gore Meadow Community Centre in Brampton, which is a government-owned and -operated building, will be the location of the vote.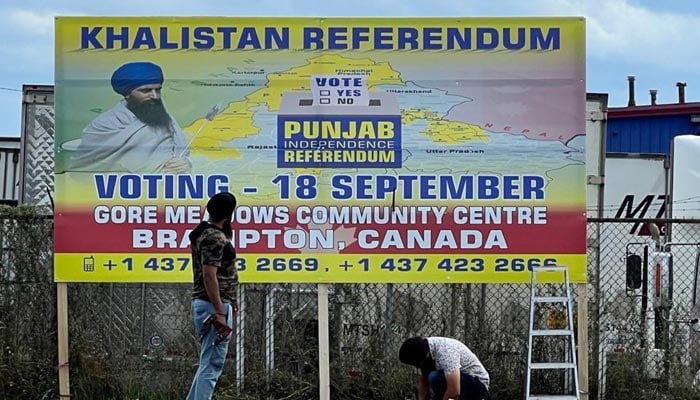 Moreover, to honour the young pro-Khalistan Sikh who returned to India from Canada to take part in the then-ongoing armed struggle for Khalistan in the wake of the Indian Army's June 1984 attack on the Golden Temple, the voting location for the Khalistan Referendum on September 18 has been named Shaheed Harjinder Singh Parha in Toronto, Canada. In 1988, Indian authorities executed Parha in an extrajudicial manner during a fake police encounter.
Trudeau to bring a fissure in India-Canada ties
You see, with the dolt Trudeau at the helm, Khalistani elements in Canada are only gaining strength. In spite of the grave provocations mentioned above, it goes to India's credit that it still counts Canada as one of its friends and allies.
Ottawa has long indulged in actions that are bound to raise India's hackles. Not to mention, this is not the first time Ottawa has indulged itself in anti-India actions. Be it the ill-treatment of Indian armed forces officers or even worse to fractionate the united Bharat.
We might not be mistaken if we say that the incompetent leader at the helm of Canada is the main proponent of the Khalistan referendum campaign that is seeing light in Brampton, a city in Canada.
Read More: Canada has disrespected India and for that it needs to be Punished
Although the referendum has raised tensions among the pro-Bharat Canadians led by Azad Singh Goyat, an established community advocate and a politician. They are distributing fliers at the facades of different Gurdwaras compelling Indians to be a part of the referendum. All this is done to create a separate homeland for Sikhs in Bharat. But, will that happen? Well, certainly not. This is just another manoeuvre to create a cleave in the Republic of India that will never come to pass.