Greece and Turkey are on the verge of engaging in a full-blown war. On Saturday, Turkish President Recep Tayyip Erdogan warned Greece that it will pay a "heavy price" should it continue to harass Turkish planes. He also accused Greece of occupying and militarizing Aegean islands near Turkey's coast.
War between Greece and Turkey: Just an announcement away
Referring to the end of the Greek occupation of Aegean islands after the Turkish assault in 1922, an infuriated Erdogan said, "Hey Greece, take a look at history. If you go further, you will pay a heavy price."
The warring President added, "When the time comes, we will do what's necessary. As we say, we may come suddenly one night."
Erdogan's fiery statements indicate that a military conflict between Greece and Turkey is just an announcement away. It is so because Erdogan used similar terminology before launching military operations, in Syria.
Read More: Russia's strategic encirclement of Europe is complete with Putin's latest nuclear manoeuvre
For Erdogan to push his nation towards war, the time is ripe. General elections are a few months away, and what could be a better excuse than war to invoke emergency powers and extend his rule. Democracy can't save Erdogan now, only a war can. So, don't be surprised if "suddenly one night", in his own words, Erdogan decides to lay siege to the Greek islands.
EU divided and perturbed
Now, that would be a watershed moment for both EU and NATO. Both Greece and Turkey are NATO members. However, colossal fault lines within EU and NATO have only helped this bilateral conflict grow more bitter and worse.
Traditionally, US and European nations like Germany have refrained from furthering Greece's cause in order to not irk Ankara. Instead, the Germans have largely kept arms and military assets flowing to Turkey despite Greece's disapproval.
On the other hand, EU's biggest naval power France has never shied away from backing Greece. In August 2020, when tensions flared up between Greece and Turkey, Paris was quick to reinforce Greece with its two Rafale fighter jets and a naval frigate. The French frigate La Fayette also held exercises with the Greek navy and stayed in the area until the tensions ended.
It's no secret that once military skirmishes and the war of words between the two NATO powers escalate to a full-blown crisis, EU is bound to get split into two rival blocks: the pro-Turkey flank led by Germany and the pro-Greece flank led by France. It's evident that a Greece-Turkey conflict will have long-lasting consequences for NATO. So, Russia, in particular, is monitoring the developments in Greece with keen interest and utmost caution.
Read More: Greece and Russia are just one step away from snatching the Turkish straits
Russia's entry into the big picture
Make no mistake, Greece and Russia are strategic allies and see eye to eye on security-related issues in the Mediterranean region. Last week, when Turkey dared to breach Greek sovereign airspace with its American fighter jets, Greece was quick to deploy the Russian S-300 defence missile system to teach Ankara an unsparing lesson. Subsequently, Joe Biden's poodle Erdogan had to back off with his tail between his legs. Greece's bold move against Turkey had Russia written all over it.
Interestingly, in the backdrop of the rising Greece-Turkey tensions, Putin has directed Russia's navy to deploy a nuclear submarine near Turkey's coast. This is a highly unusual move since Russia generally refrains from deploying its nuclear assets near Europe. Putin's nuclear build-up near Turkish borders could really set the alarm bells ringing in Ankara. After all, Russia's nuclear submarines are armed with 24 powerful Granit (SS-N-19 Shipwreck) supersonic anti-ship missiles.
These are capable of both anti-ship and land-attack missions.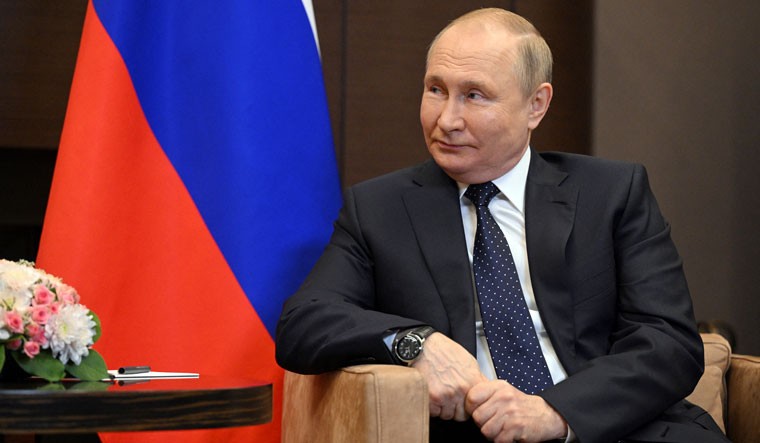 Furthermore, Putin can also activate his Syria module against Turkey. He knows Assad and his Kurdish allies are baying for Erdogan's blood. Once Turkey launches a military invasion of the Aegean islands, the Syrian forces won't waste even a minute to settle the old scores. Kurdish allies from Iraq may also join the fray given the high stakes involved.
Putin killing 2 birds with a single stone
Due to divergent geopolitical interests, European powers like Germany and France may decide against joining the war but, historical tensions between Turkey and Russia would definitely drag Russia into the picture. Russia has had enough of Turkey's interventions in Syria and Iraq. Both Syria and Iraq are Putin's allies. Adding to that, Erdogan's inflammatory actions in the Bosporus and Dardanelles straits have also rubbed Greece and Russia the wrong way.
This week, Turkey announced a four-fold hike in the transit fees for ships passing the Turkish straits. Greece has already declared this move "unacceptable" and sought Russia's assistance.
Russia is definitely playing a long game here. By helping Greece win the war against Turkey, it will be killing two birds with a single stone. Firstly, a down-and-out, tamed Turkey will be easier for Russia to deal with. Secondly, it will break NATO's unity once and for all. NATO is already counting its last breath, and Russia's support for Greece will be the final nail in its coffin.