Europe and its leaders are incompetence personified of the highest order. Their approach to the ongoing Ukraine war has been shrouded in high level incompetence.
The intention was to paint a picture of so called "European brotherhood" ignoring its own selfish interests. But now European citizens are  bloodthirsty for these same European leaders. And this is just the beginning!
EU admits mistake
When the Ukraine war broke out, European countries supported Ukraine by sending financial aid and weapons. This was the same Ukraine which was blot on the name of Europe, one which had a history of rampant corruption and shaky governance.
European countries came together against Russia to support the corrupt regime of Zelensky. Well, the curtain has finally fallen on Europe's solidarity with Ukraine.
EU has admitted that the Ukraine weapons policy has sent Europe in hot waters. EU foreign policy chief Josep Borrell warned on Monday that EU countries' arsenal is severely "depleted" in the wake of sending arms to Ukraine.
Member nations have also issued cautions on empty stocks. German Defence Minister Christine Lambrecht stated last week that Berlin is "reaching the limits of what it can deliver out of the Bundeswehr."
According to the Kiel Institute for the World Economy, the six major nations in Europe have not provided Ukraine with any additional bilateral military assistance since July.
Additionally, the financial and economic burden it has inflicted on the European countries is mind-boggling. The major brunt has been faced by the ordinary citizens.
Civil war in Germany
The ordinary citizens have now taken to the streets to vent out their anger against European Union and NATO. They're tired of being dragged on into the ongoing war.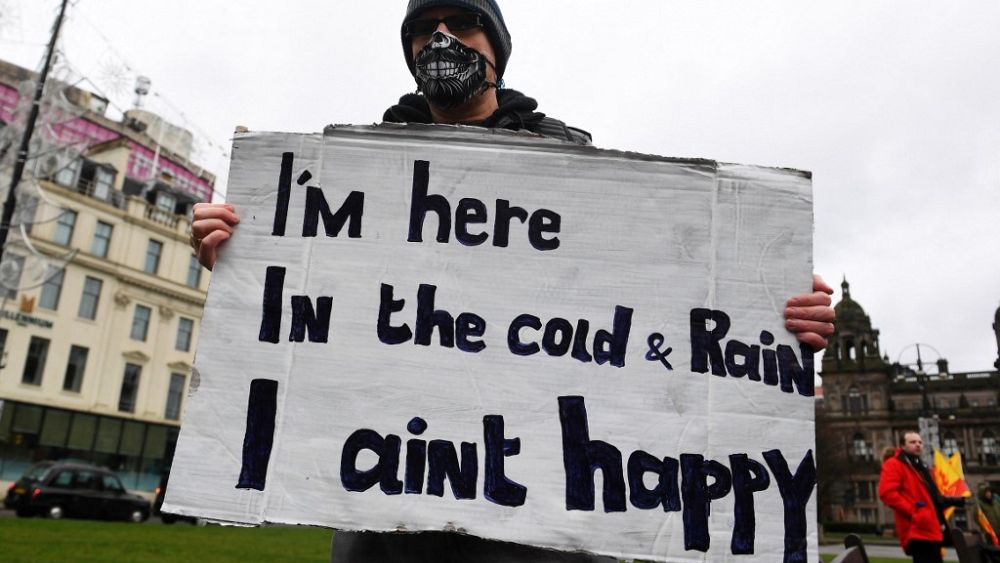 Just a couple of days back, more than 70,000 demonstrators, yes, 70,000 Czechs, expressed their anger against the Czech government in Prague, urging the ruling coalition to take action against rising energy prices and inflation. On Monday, thousands of Germans protested against the Olaf Scholz's government. They demanded the lifting of sanctions against Russia and neutrality in the ongoing  Ukrainian conflict.
https://twitter.com/RadioGenova/status/1566867323465744384
https://twitter.com/RadioGenova/status/1566535851881947138
These demonstrations show how dog-tired the Germans are by the war in Ukraine. The general public is anxious and concerned about their future. German inflation rose to a 40-year high of 8.8 per cent. Just in August, German energy prices rose 35.6 per cent and food prices 16.6 per cent.
The patience of ordinary Germans was tried, tested and finally ran out as a result.  Patience among common citizens has been breathing it's last across major European countries for sometime now.
The European Spring
Apparently, like the Arab Spring, a European Spring has been set into motion. Governments in Europe are falling like a house of cards. Bulgaria came first, followed by Italy. And now, a complete domino effect is about to begin.
The demonstrations in Germany have largely been censored by European media. Furthermore, it's not like that the EU didn't see it coming. Germany's Interior Minister Nancy Faeser had issued a stark warning about potential protests throughout Europe due to rising energy prices.
As a result of the inflation rate reaching its highest level since the 1980s, protests have also been held in Rome, Paris, and Belgium. The leaders that first advocated for Ukraine, such as Mario Draghi and Boris Johnson, have already resigned from their roles due to the already dire circumstances developing in Europe.
Poland and Italy now face impending elections and regime change is a given. Europe has descended into madness. The clownery of their leaders can no longer be tolerated by their citizens. They want a way out of their miseries. And the protests in Czech Republic and Germany are just the trailer.