How would a nation develop when its own leader is embroiled in serious corruption? There is no way that a corrupt leader would think about the nation's growth and development and obviously about its citizens.
South African president, Cyril Ramaphosa himself faces huge corruption charges and hence he is indeed a disgrace to the South African politics.
Cyril Ramaphosa-  a champion of good governance?
On the promise of being honest, Cyril Ramaphosa succeeded the corrupt Jacob Zuma as president four years ago. But hold on! It appears that Ramphosa's hands are now marked with accusations of corruption. He too is neck deep in corruption just as his predecessor.
Ramaphosa's latest corruption issue dubbed as the famous 'farmgate case' got underway recently when Arthur Fraser, a former intelligence director, filed a complaint against the leader. It is important to know that corruption in South African politics is deeply insitutionalised.
Fraser claims in his leaked affidavit to the police that on February 9, 2020, thieves struck Ramaphosa's game farm in the northern Limpopo province and stole $4 million (€3.7 million) in foreign currency that was concealed inside furniture. The affidavit claims that after the criminals were caught and their money was recovered, the men were paid to keep quiet.
Cyril Ramaphosa is charged by Fraser with corruption, kidnapping, and money laundering.
However, Cyril Ramaphosa defending himself stated that he has no wrongdoing and that those funds were not public funds. "I work in the livestock and game industries. In June 2022, Cyril Ramaphosa stated, "I purchase and sell animals. Sometimes, I sell animals for cash or via wire transfer. "So this was obviously a sale of animals in business."
But this raises few questions. One, by mere trading in animals, how can one accrue this amount of income?
And two, if there was trading, and if we accept that this huge amount was accrued to him only via trading of animals, did he declare this income so that he can be taxed appropriately?"
Nevertheless, throughout the majority of the past 350 years, corruption has been a fixture in South African political life. Corruption has now permeated every aspect of life.
Also Read: There won't be peace in Ethiopia until USA's lackey 'AU' gets out
Deeply embedded corruption
South Africans are irate, upset, and dejected over this. And they are justified in being so. South Africa faces various issues, including COVID-19, in addition to crime, unemployment, poverty, gender-based violence, inequality, and low economic growth. The list is endless. Because it affects each one of them and has a varied impact on how serious they are, corruption poses the greatest threat of all.
Though there are sufficient laws to address corruption in the country. The problem therefore, lies elsewhere. And the word that immediately comes to mind is – yes, you guessed it – politics. It is fair to say that most of the corruption in South Africa is political.
According to Tom Lodge, "Corruption becomes systemic when corrupt activity begins to appear at all levels within a political system and when it becomes repetitious, constituting a parallel set of procedures to those which properly constitute the formal functions of the bureaucracy."
In 2021, 9.1% of South Africans believed that corruption was the most important problem facing the country, meaning that corruption ranked second only to unemployment in the priorities of those surveyed. 60.5% believed that the government was doing "very badly" at fighting corruption, and another 15.4% believed that it was doing "fairly badly.
Moreover, Apartheid, a system of discrimination and segregation on racial grounds, though ended officially in 1990s with advent of Nelson Mandela, it still dominates the ideology and political system in South Africa.
White slums in South Africa are a blatant example of how apartheid is still a contemporary phenomenon in South Africa. White Slums have emerged all over the South Africa as the white population is being targeted by the government.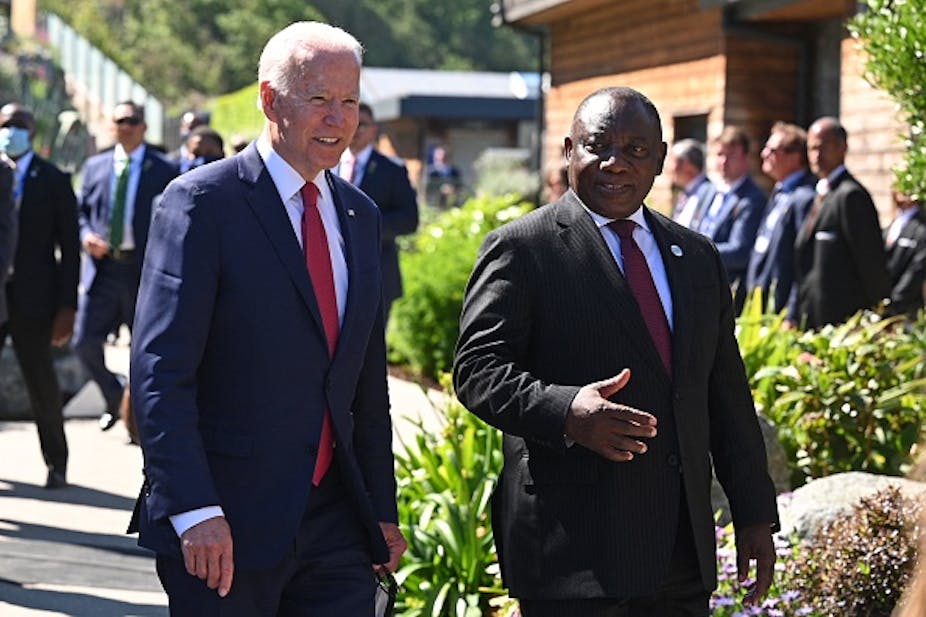 Biden coming to aid Ramaphosa!
Coming back to Cyril Ramaphosa who entered the South African political scene to defeat corruption, has undoubtedly failed to do so. Leave aside ending corruption; he himself is basking under corruption charges.
Mr Ramaphosa is under increasing scrutiny but it seems he has found an escape to from the situation. Guess who is coming to his rescue. The US president Joe Biden it is! Both are due to meet on coming 16th September. We have a strong feeling that Cyril Ramaphosa is meeting Biden so as to seek asylum as he is under increasing scrutiny, and might face arrest. Therefore, in order to escape the wrath of his people and end his days in prison, he is looking for Biden's help.
Nevertheless, as the corruption is deeply embedded in the South African politics, Cyril Ramaphosa is nothing but an addition to country's disgrace.