Global media extensively covered the Modi-Putin meeting in Samarkand. According to the mainstream media, Russian President Vladimir Putin was upbraided over his invasion of Ukraine by Indian Prime Minister Narendra Modi.
"Modi rebukes Putin over war in Ukraine," The Washington Post reported in a headline. "In a stunning public rebuke, Modi told Putin: "Today's era is not an era of war, and I have spoken to you on the phone about this," the daily reported.
"The rare reproach showed the 69-year-old Russian strongman coming under extraordinary pressure from all sides," the Post said. The Telegraph reported, "Narendra Modi's admonishment for Vladimir Putin: 'I told you this was not an era for war'."
Both The Washington Post and The New York Times made it the lead story on their respective websites. "India's Leader Tells Putin That Now Is Not an Era for War," The New York Times said in its headline.
All in all, the conversation between Putin and Modi was portrayed as a confrontation by the global media cabal. However, the report was far from the truth.
What actually happened?
Let's look at the actual conversation between the leaders:
Indian Prime Minister told the Russian President, "Today's era is not of war and I have spoken to you about it on the call. Today we will get the opportunity to talk about how we can progress on the path of peace. India and Russia have stayed together with each other for several decades."
Russian President Vladimir Putin acknowledged the concerns raised by the Indian Prime Minister. "I know about your position on the Ukraine conflict. I know about your concerns. We want all of this to end as soon as possible. But the other party, the leadership of Ukraine has claimed… that they refuse to engage in the negotiation process."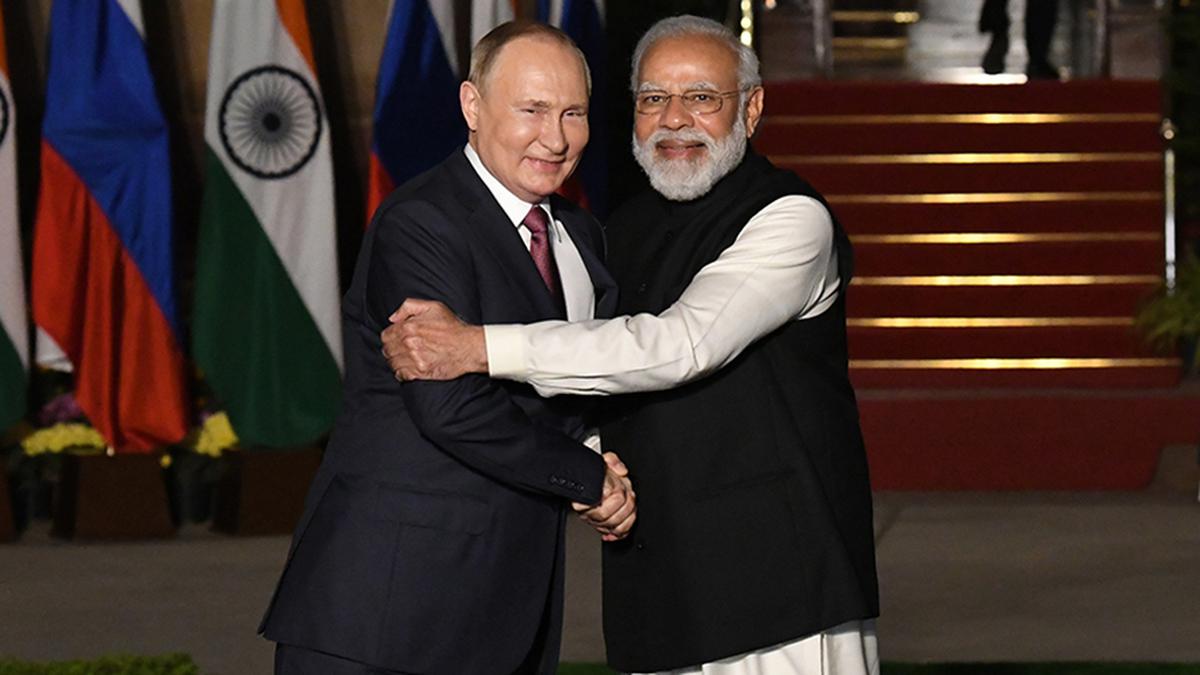 "They said they want to achieve their objectives, as they say, on the battlefield militarily. We will keep you abreast of everything that is happening over there. We are actively engaging on international platforms. We are in discussion on international issues. Sometimes these issues are something that is not very good news…," Putin emphasised.
Also Read: EU is just one step away from peace. Even Putin agrees
The twisted truth
Since the beginning of the Ukraine war, Western media has been trying to pressurize India to support Ukraine. West has also asked India to stop doing business with Russia for the past six months. Even recently, US urged India to join the Western crude price cap coalition against Russia.
These global media portals conveyed to their readers that India is finally giving in to pressure, using the headlines that were explosive.
However, India has adopted a neutral stance on the Ukraine war. It has always asked Ukraine and Russia to do peaceful negotiations. It has not voted in support or against Russia in United Nations resolutions.
However, India has intensified its trade relations with Russia. India's crude oil imports from Russia have risen to historical highs. India has capitalised on the discounted oil imports from Russia.
Read More: Russia crushes Ukraine's 'counteroffensive' with Iran's super-weapon
In the conversation, Modi didn't take a moral stance on the Ukraine war. He adopted the humanitarian stance that the conflict has created sufferings due to the lack of food and fertiliser around the planet. Because of this, Putin responded with care rather than aggression. The tone of the whole meeting was friendly, with both leaders referring to their long shared history.
Putin also attacked the 'Anglo-Saxon' powers for prolonging the war and also, Ukraine for not coming to the negotiation table. Moreover, the response of Putin to Modi's question clarified his stance on war and how he is willing to end it but is facing aggression from the rival party. Saying it on a major global platform by Shanghai Cooperation Organization(SCO) makes it even more crucial.
Therefore, Modi only reiterated India's stand – peaceful resolution of conflict. He neither criticized nor praised Russian SMO. Putin appeared to be expecting it and was prepared with a response. Frankly, the conversation looked choreographed and properly executed rather than confrontational.