In addition to demonstrating the precarious state that Europe could be forced into without Russian oil and gas, the war has also revealed the fact that many countries in the Global South, particularly Africa, prefer not to support the West despite having capitalist economies and democratic political systems and values nearly identical to those promulgated by the West.
The absence of resounding support from many African states has bewildered the leaders of Western nations. Many African nations have underscored their right to uphold their national interests rather than simply following diktats of larger, more affluent states. South Africa is leading the charge in this contemporary struggle for self-determination being waged by the African nations.
South Africa throttles the West
Just a few days after the Russo-Ukraine war broke out; South African President Cyril Ramaphosa blamed NATO for the war in Ukraine.
"The war could have been avoided if NATO had heeded the warnings from amongst its own leaders and officials over the years that its eastward expansion would lead to greater, not less, instability in the region," Ramaphosa said in response to questions in parliament.
Furthermore, much to their chagrin, Ramaphosa outright rejected accepting Western leaders' decrees in criticizing Russia.
"There are those who are insisting that we should take a very adversarial stance against Russia. The approach we are going to take (instead) is … insisting that there should be dialogue," Ramaphosa added.
South Africa has repeatedly criticized the United States for its domineering and paternalistic behaviour towards African countries as well as for attempting to enforce its policy agenda on the world at large.
"One thing I definitely dislike is being told either you choose this — or else," Naledi Pandor, South Africa's minister for international relations and cooperation told reporters recently. "I definitely will not be bullied in that way, nor would I expect any African country worth its salt to agree," she further added.
Recently the South African President also fiercely denounced the United States' proposed Russian Malicious Acts Bill which would oblige Washington to punish any governments in Africa that help Russian malign' activities.
"I think (the Act) will harm Africa and marginalize the continent. We should not be told by anyone who we can associate with, Ramaphosa told the reporters in an interview.
You see, South Africa is confident of its independent, non-aligned foreign policy that avoids getting engaged in conflicts between heavyweights. Additionally, South Africa typically opposes the West imposing unilateral sanctions against other nations, particularly because doing so exposes the West's use of disparate norms to handle various disputes. South Africa likewise perceives the Western usage of the "regime change" rhetoric as extremely troubling and a breach of national sovereignty, whether it be in Libya or Iraq. This is precisely why South Africa has cynicism towards the Western assertion that its mission in engaging with Russia is not regime change.
Also Read: Both Algeria and Morocco along with the strategic Strait of Gibraltar slip out of Biden's hands
Moreover, a core feature of the South African foreign policy is that of solidarity with parties and countries that supported the national liberation struggle against apartheid or that are still fighting for their independence.
The African National Congress, which has governed the country since 1994, had a long-standing relationship with the Soviet Union, which supported its armed struggle and where many ANC leaders were educated or received military training.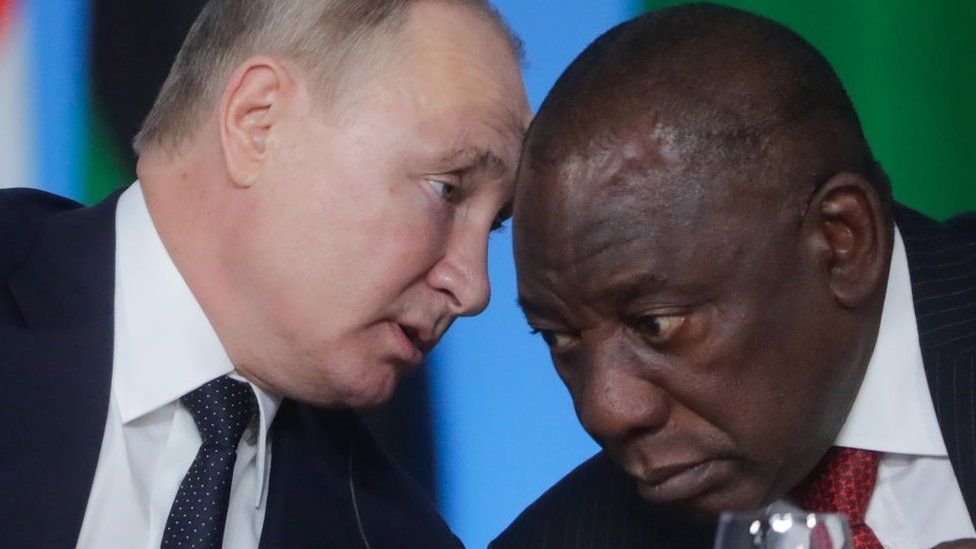 Many commentators contend that the Soviet/Russian backing for apartheid coupled with West's duplicity about multilateralism, the use of force, rule of law, and democracy, encouraged many South African leaders to embrace Russia's justification for its "special military operation."."
African nations no longer readily bow to intimidation from the major powers of the world. They rebel against what they portray as American colonialism and egocentricity. The United States needs to cease taking for granted that developing democracies will embrace them. The time of unipolarity, in which the US could puppeteer other countries' foreign affairs and restrict their sovereignty, has departed. African countries are becoming more self-assertive and confident today. The West cannot thwart them. United States' arrogance and neocolonial language condemning the nonalignment of African countries like South Africa would only push these countries closer to nations like Russia.