South Africa is finally looking to get rid of Chinese influence on its textile sector. South Africa once had a prosperous textile sector which has seen a slow but steady decline over the years due to inexpensive Chinese imports. South Africa's cotton industry was decimated by cheap Chinese imports in the early 1990s-2000s when the country opened to trade with China.
Today more than half of the textiles bought by South African retailers are imported from overseas and 60% of these imports come from China.
Despite South Africa's large supply of underemployed and low-cost labour, imports from China have devastated its textile industry. To give the struggling sector some measure of relief South Africa's governments have from time to time tried to restrict textile and clothing imports from China. But it's been difficult to reconcile the competing interests of clothing makers with those of the country's retailers and consumers.
South Africa's fashion retailers coming together to rescue the textile sector
Only recently, South Africa's major fashion retailers expressed desire to source fabrics locally. They have finally realized how reliance on cheaper imports from China crippled the country's once-thriving farmers and producers.
When retailers started importing fabric and clothing directly from China at a cheaper cost, it reduced the demand for local production. The negative impact of Chinese imports can be gauged from the fact that from the height of production in the early 1990s, when South Africa was producing almost 80,000 tons of cotton lint, by 2012, this output had decreased by more than 90%.
However, now with locally grown fabrics coming back in demand, major fashion retailers like Mr Price, Truworths, Foschini have committed to local procurement which will give a huge boost to South Africa's farmers and manufacturers alike.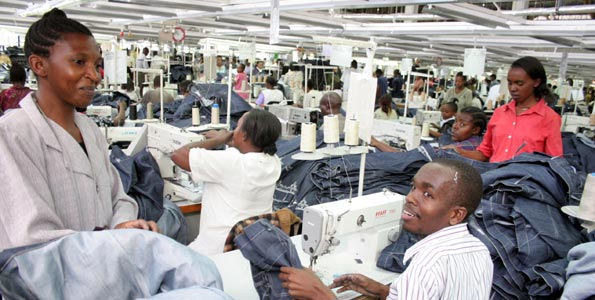 Retailers after almost having wiped out the local manufacturers have finally come together to end their reliance on imports and prioritizing on procuring locally farmed cotton and have committed themselves to the cause of localisation which will immensely benefit and revive South Africa's textile industry. Such a step has adversely effected China, since it dominated the South African Cloth market.
Also Read: South Africa rejects Biden's proposal to oppose Russia
A new hope for South Africa's textile sector
Further in a recent development, South Africa sees a new glimmer of hope as now major retail chains in the country are increasingly putting labels on clothing with images of the South African flag. It's an endeavor to support the textile and apparel industry in South Africa, as well as showcasing to the world the pace of its development.
It will assist the local small companies and retailers have expressed hope that its benefits will not just remain confined to employment generation. "Being able to have the goods created locally means that you can actually adapt to what the client requires more efficiently, which is really what any shop wants to move towards more quickly in response," said Hazel Pillay, general manager of retailer Pick & Pay Clothing.
The retail sector wants to source 60% of all textile products locally during the next five years. And the goal of the South African government is to create 121,000 new textile jobs by 2030.
Even though there will be many challenges that South Africa will have to overcome to achieve the stated targets, however, after decades-long dependence on China, South Africa has finally taken the first step to rid its textile sector off China. Any improvement in the local economy and specifically its textile sector will certainly set the wheels of development in motion for the nation to become self-sufficient.
South Africa's nascent steps towards throwing out China from one of its major sectors is an example of how when one African country decides to steer its own economic growth, there is no stopping it.