China's debt-trap diplomacy, in which the communist country uses debt as a lever to spread its influence abroad, is well established. China's mechanism is straightforward! Flood a developing country with so much debt that it is unable to repay it and is then compelled to sacrifice a vital asset instead. For a long time, the Communist Party of China has used this method to pillage many Caribbean countries. However, Caribbean governments have started to grasp the mounting hazards of allowing the CCP to carry out its parasitic operations on their turf.
Understanding the debt-trap policy:
Debt-trap diplomacy refers to short-term economic incentives that lead to states relinquishing their sovereignty. The term is mainly used to define Chinese diplomacy. Through its Belt and Road initiative (BRI), China has indebted a major part of the Caribbean.
Lacking new major funding sources, several Caribbean countries have signed on to China's Belt and Road Initiative (BRI). Due to the persistent infrastructure deficit in the Caribbean, where energy costs are among the highest in the world, transportation is frequently expensive, and there are significant gaps in services like high-speed broadband, these investments are especially appealing to many of the region's nations.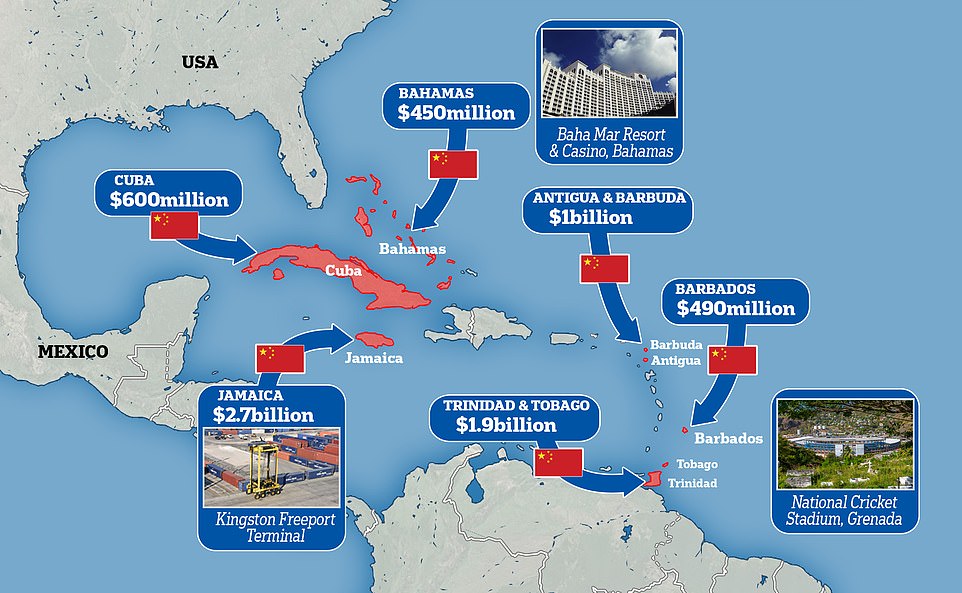 To be clear, the actions are a part of China's quiet but determined effort in recent years to increase its presence and power in the area through loans and grants from the government, investments made by Chinese businesses, and diplomatic, cultural, and security initiatives, and thereby  potentially challenging America's long-standing hegemony in the area.
The US-China geopolitical dispute over Taiwan has also been impacted by the improving diplomatic ties of Caribbean nations with China. You see, the Caribbean Basin is abode to several nations that recognise Taiwan: Belize, Haiti, St. Kitts and Nevis, St. Lucia, and St. Vincent and the Grenadines. These compose a third of the countries globally and five of the nine governments in the Americas that do so. However, as China increases its lending and investment in the area, it will have more clout in deciding important matters like Taiwan's recognition.
Also Read: Greenland will seek independence but only after destroying China's debt trap plan
Caribbean nations fight back:
Of late, there has been tangible evidence to substantiate the rise of anti- CCP sentiments in the Caribbean. Many countries have begun to take steps to limit China's growing influence on their turf. The resource-rich Caribbean nations are waking up to Xi Jinping's neocolonial ambitions. They have come to realise that associating with the Chinese yields no significant benefits to them.
For instance, in Trinidad and Tobago, the government had terminated the $71.7 million project between China Gezhouba Group International Engineering Company and the Housing Development Corporation (HDC).
Even in Suriname, the government has come to realise the grave repercussions of the mounting debt owed to China, spanning over decades it can have an adverse impact on the future development of the country exposing it to liabilities way beyond its ability to pay. Thereby making necessary corrections.
You see, Caribbean nations have started to realise the importance of self-determinism and self-sufficiency in the contemporary politico-economic climate. For a long time, Western nations and rising powers like China have endeavored to plunder the region by stealing its vast natural riches. These predatory nations' affluence has been founded on so called third world countries' debt slavery. However, there are signs of a potential rise in a pan-Caribbean rebellion against this neo-imperialism. With additional Caribbean nations following suit, China's aspirations of commanding the Caribbean would be scuttled.