The era of European colonialism has created eccentric territories all over the world. But nothing is more intriguing than Greenland. The largest island in the world, located in North America, is not a fully independent nation but it isn't fully a part of any country either.
It is a semi-autonomous territory in the Kingdom of Denmark with a right to declare independence from Denmark and a majority of Greenlanders do want independence. But why is the island not claiming independence then? Well, due to China. Long story short- Greenland is worried about Chinese usury and is thus planning to claim independence but only after busting China's debt trap plan.
China's 'debt-trap' plans for Greenland
There was a big controversy over the expansion of Nuuk's airport. When Denmark opened negotiations for the project, the Chinese Communication Construction Company (CCCC), which is a prominent Chinese company involved in BRI projects, stepped in and offered to finance the entire project.
Denmark realised that this was a Chinese plan to tighten influence over the international airport located in Greenland. So, Copenhagen intervened and agreed to for 33 percent of the total construction bill- $109 million. Soon after Denmark's announcement, the CCCC dropped its bid. Beijing didn't find it worthwhile to invest in Greenland if the Denmark government was also involved.
Why China wants to debt-trap Greenland
Clearly, China wants to expand its influence in Greenland at any cost. But why? People view the island as a polar, inhospitable territory. So, why is China interested in this remote part of the world?
Well, just look up Greenland's map. The vast island is located near both the Arctic and the Atlantic Oceans.
This makes Greenland a strategic hotspot of the future. With China trying to stake an illegitimate claim over the Arctic and calling itself a 'near-Arctic State', greater influence in Greenland can help it in controlling the Arctic.
Also, Greenland is located in North America. Chinese presence in the continent will be a major security challenge for the US military. China, therefore, wants to use Greenland can to realise its dream of establishing a military presence in the Atlantic and challenging the United States of America.
And finally, China wants to use Greenland for improving its standing amongst the Nordic-Baltic countries. Rapidly melting Arctic and global warming are expected to make the Nordic-Baltic countries a key transportation hub. The island is located fairly close to the Nordic countries namely Denmark, Finland, Iceland, Norway, and Sweden.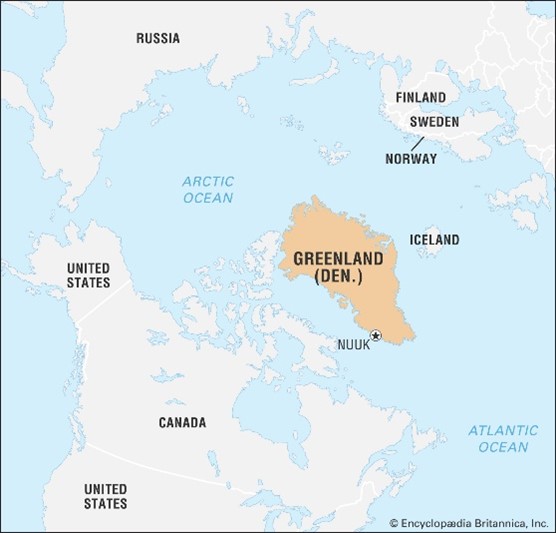 As and when the Arctic melts, and becomes the main global transportation route, China would want to maintain a good stronghold over the Nordic-Baltic nations. This is why it is desperate to debt-trap Greenland.
Greenland delaying independence
Hemmed in by the China threat, Greenland is delaying its independence. In April last year, the pro-independence Inuit Ataqatigiit (IA) party won the general elections and Mute Egede became the island's Prime Minister. However, Egede has avoided declaring Greenland's independence in a haste.
In September last year, he stripped one of his radically pro-independence Ministers of his responsibility for foreign affairs. The said Minister had suggested letting only ethnic Inuit people vote in a future referendum and had said that a discussion to exclude ethnic Danish people and other foreign nationals living in Greenland was needed.
With this, Egede, who is himself in favour of Greenland's independence had signalled that he wasn't in a hurry over the sensitive issue. Egede understands that while Denmark could manage to say no to the Chinese debt trap, a newly independent Greenland would be left in a precarious position.
Greenland is a vast territory. It is spread over 2 million sq. km and is slightly bigger than Austria, Belgium, Denmark, France, Germany, Ireland, Italy, Poland, Portugal, the Netherlands and the United Kingdom put together.
But Greenland is not a huge economy. The thinly populated island has a population of mere 57,000 people and is dependent upon fishing exports and an annual grant of $614 million from Denmark.
So, if Greenland attains independence, it won't be able to resist Chinese money for too long. And once it opens itself to China, the island will get debt-trapped in no time. Soon, you will see China throwing in billions of dollars in commercial loans to build airports and seaports, and with every default, the island will lose its strategic infrastructure to China.
The next thing you know, the Chinese Navy and Air Force would be housed in bases located on the island. So, Greenland is being practical. It is waiting for independence and will deliberately keep waiting until the China threat passes away.