Women in Haiti: Haiti has been embroiled in tremendous political, economic and humanitarian crises over the years. The nation is troubled by criminal gangs which blocked the main oil terminal in the capital Port-au-Prince, which resulted in the nation's oil supply being cut off. It had a major impact on power generation and water supply. Hospitals had been compelled to restrict their services when Cholera spread among communities.
It is estimated that around 4.7 million people in Haiti are struggling with malnutrition and food insecurity. Haiti has been troubled by natural calamities, earthquakes and hurricanes have caused huge devastation. While 21,500 people were displaced by gang violence, 2,500 are forced to live in displacement camps because of the earthquake.Women cannot access basic necessities like food and water and are also the victims of gender-based violence. Victims cannot even report their crimes or seek help. Studies have uncovered that women are forced to adopt sex work to support their families.
Read more: Haiti has abandoned Biden
Crime & Oppression
In Haiti, rape, which is used as a political weapon to crush dissent, was not criminalised until 2005. Following the 2010 earthquake, sexual violence cases rose in the makeshift camps which were established in the wake of massive destruction and mass displacement.
Unfortunately, there is widespread impunity for criminals in the nation which has a broken legal system that discourages victims of sexual assault, domestic violence and exploitation from seeking justice. The condition of Haitian women has deteriorated with years of instability, regime change, coups, embargo, foreign intervention etc.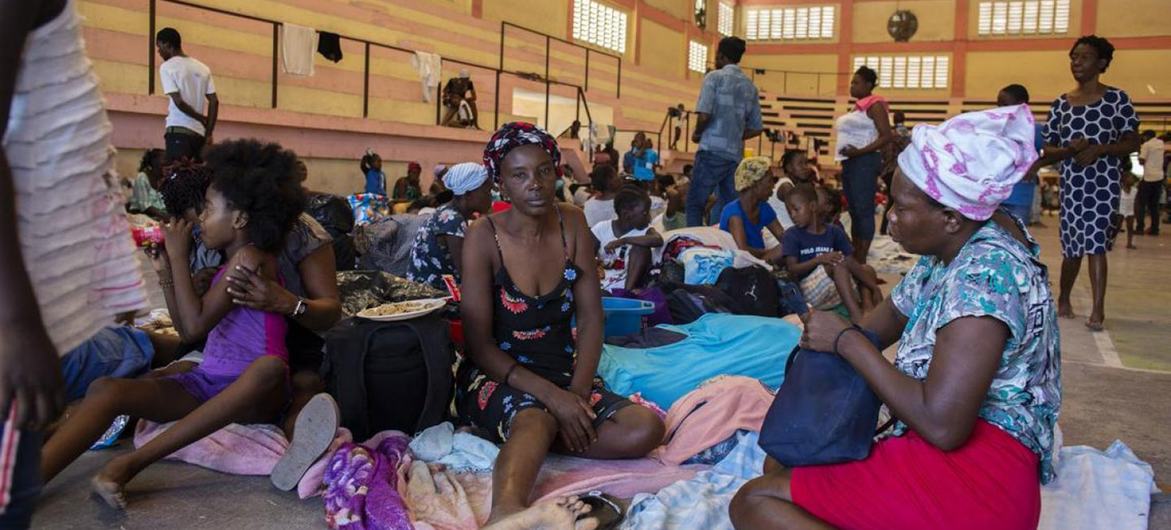 The risks faced by women in the country have risen in the backdrop of the pandemic. Earlier they took to the streets to protest against the decapitation of a 22 year old woman in Torbec as well as the abduction and murder of a 5 year old girl in Port-au-Prince.
Despite the oppression and the presence of a hostile environment in Haiti, women are playing an important role in the economy. Sixty two per cent of them are employed in the informal sector which is plagued with mismanagement and irregularities. In fact, three quarters of those employed in this sector are women, most households are dependent on their meagre incomes.
Will power 
The country is also witnessing the emergence of strong and independent women who are working to set Haiti on a path of progress. One of them is Angie Bell, she is the founder of a movement known as PouBèlAyiti which is based on keeping the streets of the country free from waste. She is also trying to bring attention to the subject of climate change through educational projects.
Similarly, another woman named Kalinda Magloire founded a project called SWITCH which focuses on moving the households in Haiti away from charcoal and adopting cleaner sources of energy. Women have displayed remarkable courage and determination. Bernadette, who lives in the city of Les Anglais, whose house was destroyed in the natural disaster, teaches other women about income-generating activities. She also provides seedlings to those who do not have access to it.
Yuvrose, who lost her belongings in the earthquake and had to sell goods for survival, launched her business with the help of a United Nations Development Programme initiative known as "Women Entrepreneurs", which is giving business management training to Hatiain women. She used the skills acquired from the programme to recover in the wake of Hurricane Matthew in 2016.
Hence, the dominance of patriarchal culture and socio-economic injustice is not deterring women from being on the frontline to liberate the country which is a victim of the foreign interference. For years, the nation has been through a severe turmoil marked by coups, political chaos and financial stagnation. However, none of it is stopping these women who are trying to liberate Haiti from the trauma of war and chaos.
Read more: Biden's plan to pit Haitians against Haitians backfires