Macron peace plan: French President Emmanuel Macron has a plan. A peace plan to save Ukraine. A plan to bring an end to the Ukraine war. A plan for peace. Uh oh, Ukraine President Volodymyr Zelensky isn't ready for peace yet. A Turkish proverb sits well on him, "When a clown moves into a palace, he doesn't become a king. The palace becomes a circus." Makes sense when you look at Ukraine, right?
Given Moscow's worries about NATO, an "essential topic" in any peace negotiations over the conflict in Ukraine should be how to offer security "guarantees to Russia," according to French President Emmanuel Macron. This isn't the first time Macron has said this. But he hasn't repeated this of late. Macron said, "We need to prepare what we are ready to do, how we protect our allies and member states, and how to give guarantees to Russia the day it returns to the negotiating table."
Putin has argued time and time again that NATO's eastward expansion violates a pledge made by Western nations following the dissolution of the Soviet Union. 
In the image below you can see how NATO expanded after the dissolution of the USSR on several occasions. The major escalation was just before the Istanbul summit in 2004, when NATO enlarged its alliance by adding seven nations from Central and Eastern Europe: Bulgaria, Estonia, Latvia, Lithuania, Romania, Slovakia, and Slovenia.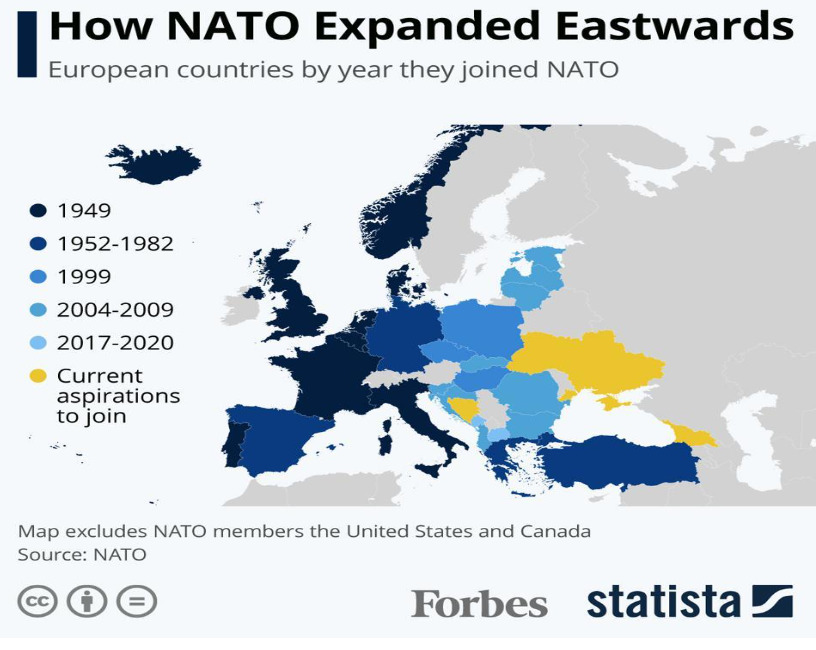 Macron has said, "One of the essential points we must address as President Putin has always said is the fear that NATO comes right up to its doors, and the deployment of weapons that could threaten Russia." And Macron isn't wrong. However, the Macron peace plan didn't go well with Ukraine officials who have rejected the idea. The Ukrainian National Security and Defence Council's secretary, Oleksiy Danilov, questioned on Sunday if it was appropriate to provide security assurances "to a terrorist and killer state."
According to Mykhailo Podolyak, an adviser in the office of Ukrainian President Volodymyr Zelenskyy, the world needs security assurances "from the barbaric intentions of post-Putin Russia" rather than promises to the Kremlin. Ukraine's constant narrative to designate Russia as a "terrorist nation" is tiresome. But it works for the western media and US. It justifies their reason to fuel and prolong the war by sending more and more military and financial aid.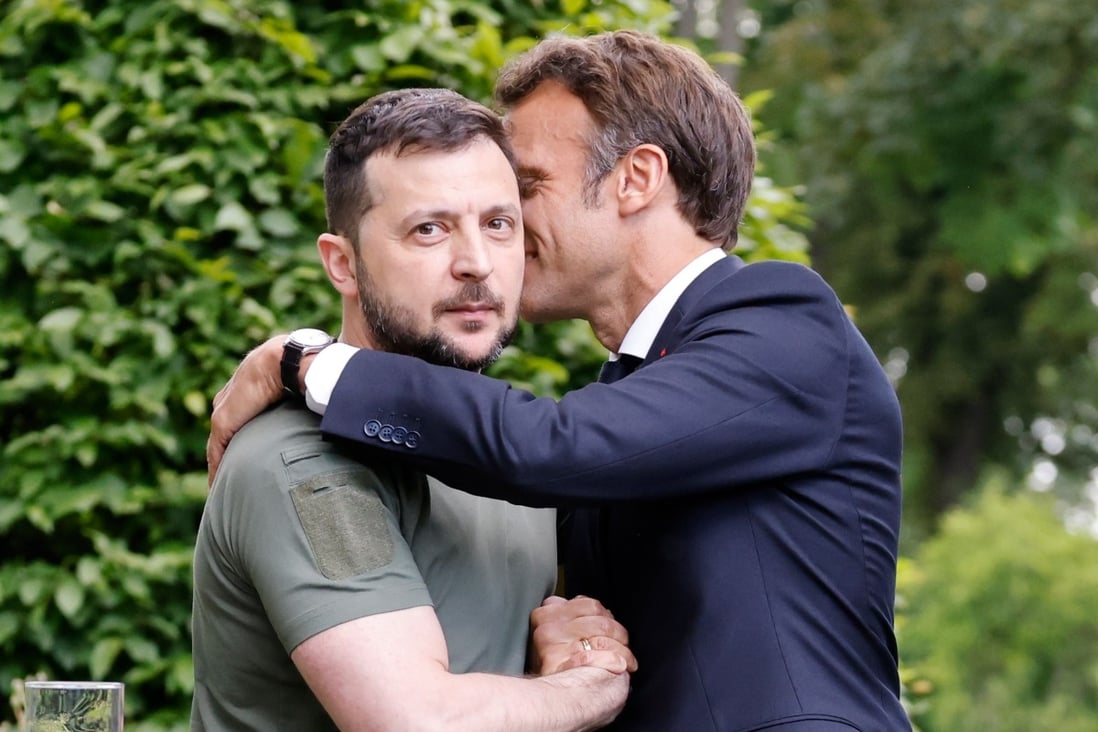 However, it's the Ukrainian soldiers who are stationed near the borders who face the repercussions of the Zelensky regime's stupid actions. According to a statement of European Commission's President Ursula von der Leyen in nine months of the war, "More than 100,000 Ukrainian military officers have been killed so far," adding that some 20,000 civilians had also perished. 
Also Read: Europe closes all its doors for Ukrainian refugees
Yes, that makes up to about 50% of the Ukrainian Army has been rendered decapacitated by the invading Russian forces. Further, the US has been announcing more weapons for Ukraine every week. Clearly, Ukraine is using Western ammo faster than western nations can send. Further, Western nations now are being more and more apprehensive about the war. But Zelensky's continuous denial of the reality is concerning. Macron peace plan is practical as Ukraine can't expect to have a leeway in the negotiation. Further, the assumption that it can defeat Russia is like living in cloud cuckoo land. Senior U.S. general has accepted that Russia still maintained substantial fighting force inside Ukraine and said it was unlikely that Ukraine would achieve a decisive military triumph.
Zelensky must come to realisation and accept the peace offer by Putin and stop following orders from the White House.