Kottiyoor Shiva Temple, Overview
Kottiyoor Shiva Temple, is an ancient pilgrimage site in northern Kerala. This Temple is situated in the peaceful hilly region of the Western Ghats. There are two temples, Akkare Kottiyur and Ikkare Kottiyur, located on opposite banks of the river Baoli.
Akkare Kottiyoor is open only for twenty-eight days during Vaishakhamahotsavam – the annual festival of the temple, which falls in the months of May-June. Ikkare Kottiyoor remains closed during that time.
Kottiyoor Shiva Temple Timings
Kottiyoor Shiva Temple opens at 05.30 am in the morning and close at 08.00 pm in the evening.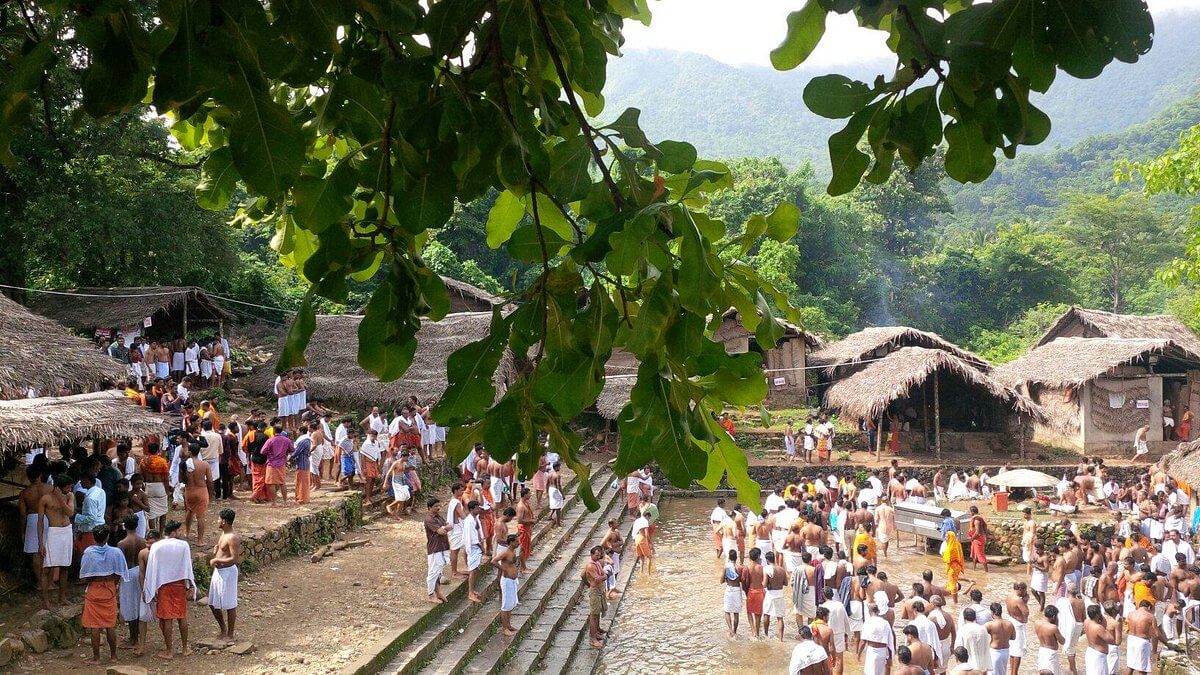 History of this Temple
The history of Kottiyoor Shiva Temple is related to Daksha Yagya. According to Hindu mythology, Daksha Prajapati, not happy with his daughter's marriage to Lord Shiva, decided to perform a yajna at this place without informing his daughter Sati Devi and Lord Shiva.
Sati Devi went to the Yajnabhumi, but was insulted by her father. Hurt and humiliated, he committed suicide by his Yogshakti. Distraught and enraged by this act, Lord Shiva performed Thandavanritam in the form of Virabhadra and beheaded Daksha.
After that Lord Brahma, Lord Vishnu and other deities came to pacify Lord Shiva. Later, Shiva replaced Daksha's head with the head of a goat. Hence this place is said to be the divine presence of Trimurti – Lord Brahma, Lord Vishnu and Lord Shiva. Kottiyoor Shiva Temple was renovated during the time of Shankaracharya, and the rituals of the festival were laid down by him. Ikkare Kottiyur is a formal temple complex like any other temple. On the other side, the Akkare Kottiyur temple stands in the middle of a pond and does not have any formal structure.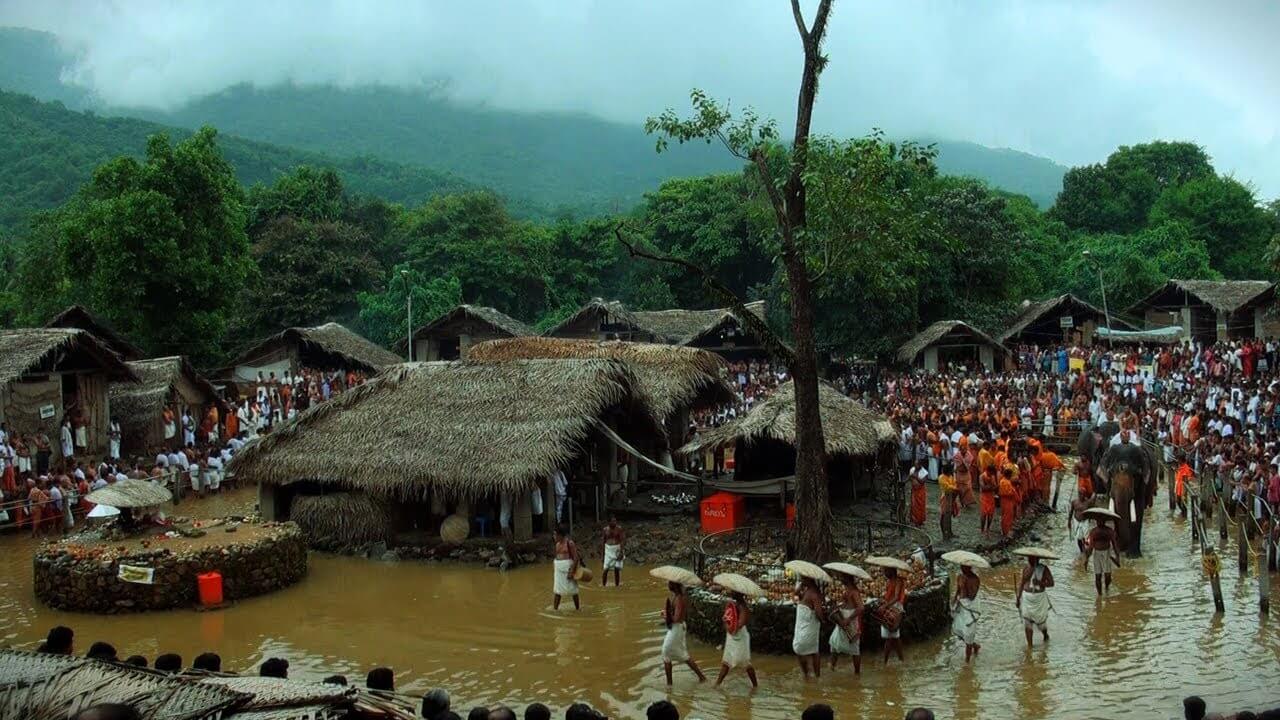 Place to visit near Kottiyoor Shiva Temple
Muzhapilangad Beach
Muzhapilangad Drive-in Beach in Kannur is referred to with many excellences- as the longest drive-in beach in all of India, as one of the cleanest beaches in Kannur and most importantly That's one of the best drive-in beaches. Which the entire Asian continent has to offer.
St. Angelo's Fort
St. Angelo's Fort is definitely one of the most popular and frequently visited attractions in Kannur and there are many reasons why. The polished yet prehistoric structure of this fort has unadulterated elegance and tremendous power. Standing on the edge in the Arabian Sea, it enjoys a panoramic and unobstructed view of the diorama created by the fusion of magnetic waves and azure water. It also overlooks the mesmerizing Mopila Bay, a natural harbour.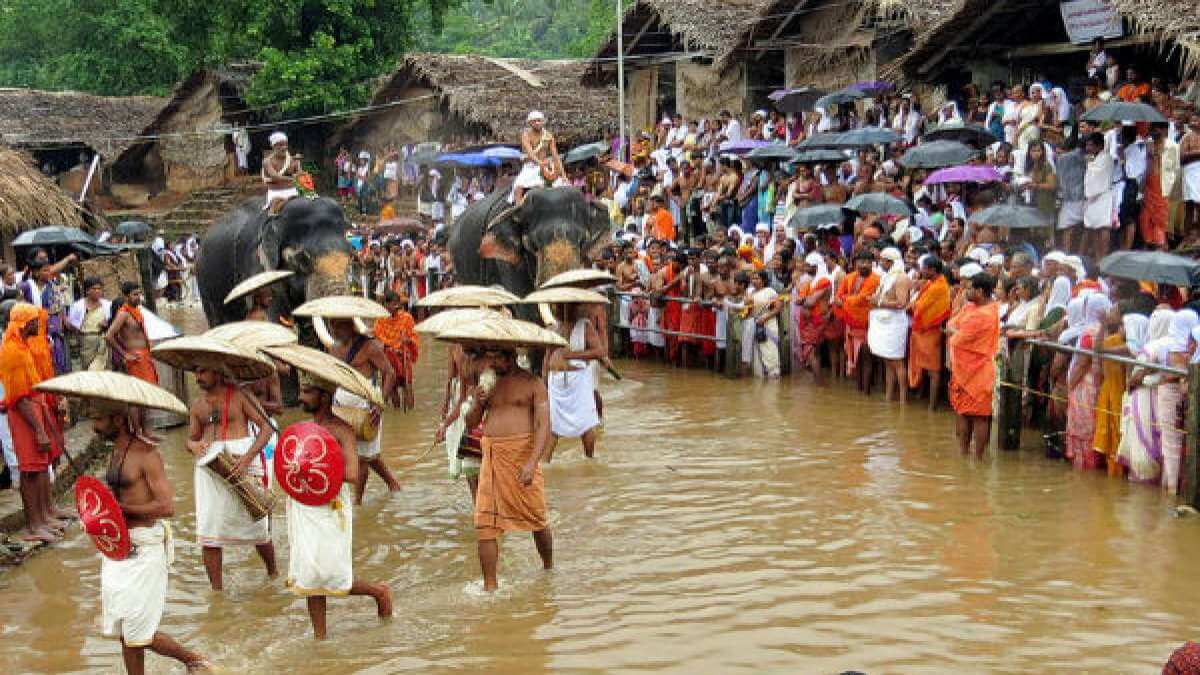 Also Read: Amaralingeswara Swami temple, Amaravathi Timings, and Travel guide
How to reach this Temple
By Train- The nearest railway station from Kottiyoor Shiva Temple is Thalassery Railway Station, which is at a distance of about 65 kms from this temple. From here you can easily reach this temple by using local transport services.
By Air- The nearest airport from this temple is Karipur International Airport, which is at a distance of about 160 kms from this temple. From here also you can easily reach this temple by using local transport services.
By Road- Coming to Kottiyoor by own transport, the drive to Kottiyoor is very scenic and the roads are in good condition. If you are coming from Calicut or Kannur, reach Thalassery and then take the Kuthuparamba, Nedumpoyil, Kelakam road.
Subscribe our TFI Dharma YouTube channel to watch Devotional videos because we are here to serve Sanatana Dhrama: TFIDHARMA