Mumba Devi Temple, Mumbai – Overview
The Mumba Devi Temple in Bhuleshwar is one of the oldest temples in Mumbai. It is dedicated to Mumba devi, who is considered by the Koli fishermen community to be the patron deity of the city. Mumbai City is named after Goddess Mumba.
The presiding deity of Mumba devi temple is equally worshipable. This grand ancient temple of Mumba Devi is situated amidst the crowded lanes of Zaveri Bazar, but people regularly come here to pay obeisance to the Goddess.
Mumba Devi Temple Timings
This temple opens at 6:00 am in the morning and close at 9:00 pm in the evening.
| | | |
| --- | --- | --- |
| 6:30 am | – | Temple opens with Mangal Aarti |
| 7:00 am | – | temple open for Darshan |
| 9:30 am | – | Main aarti |
| 12:15 pm | – | Naivaidya aarti |
| 6:30 pm | – | Dhoop aarti |
| 8:00 pm | – | Main aarti |
| 8:50 pm | – | shayan aarti |
| 9:00 pm | – | temple close |
Darshan for Devotees
7:00 am to 8:45 pm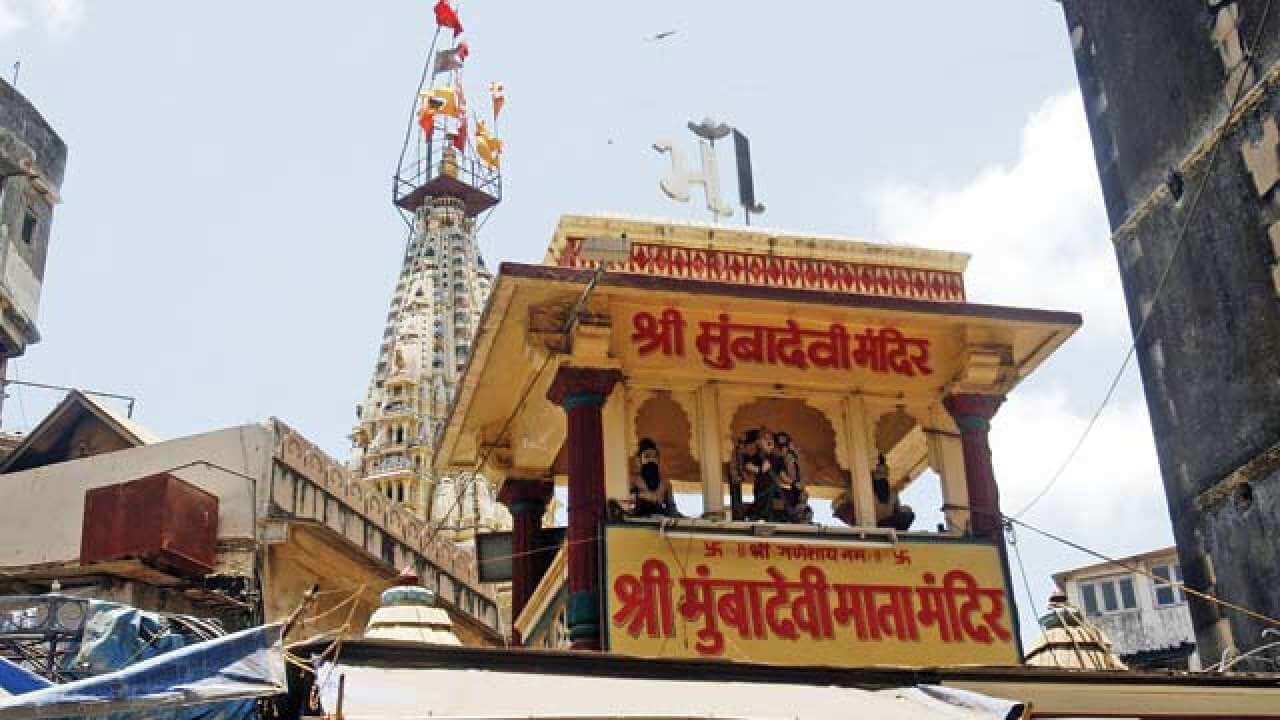 Also Read: Somnath Mandir, Timings, Travel Guide, History, and How to reach
History of this Temple
According to history, a demon Mumbarak used to terrorize the local people. Thus, he prayed to Lord Brahma, who sent an eight-armed goddess to kill Mumbarak. After being defeated, Mumbarak asked for forgiveness and promised that he would build a beautiful temple dedicated to her. But the present temple is not the original.
The first temple was near the present Victoria Terminus, which was destroyed around 1740. But the Koli community and other local people worshiped and believed in Goddess Mumba. So he built another temple, which we see today.
In the classic ancient Hindu temple style Shri Mumba Devi Temple is built. The building has a high spire and a red flag flutter on its top. And the outer walls are decorated with beautiful carvings prominent in Hindu temples. The shrine of the temple houses the idol of Goddess Mumba. Mumba devi represents Mother Earth and does not have a mouth.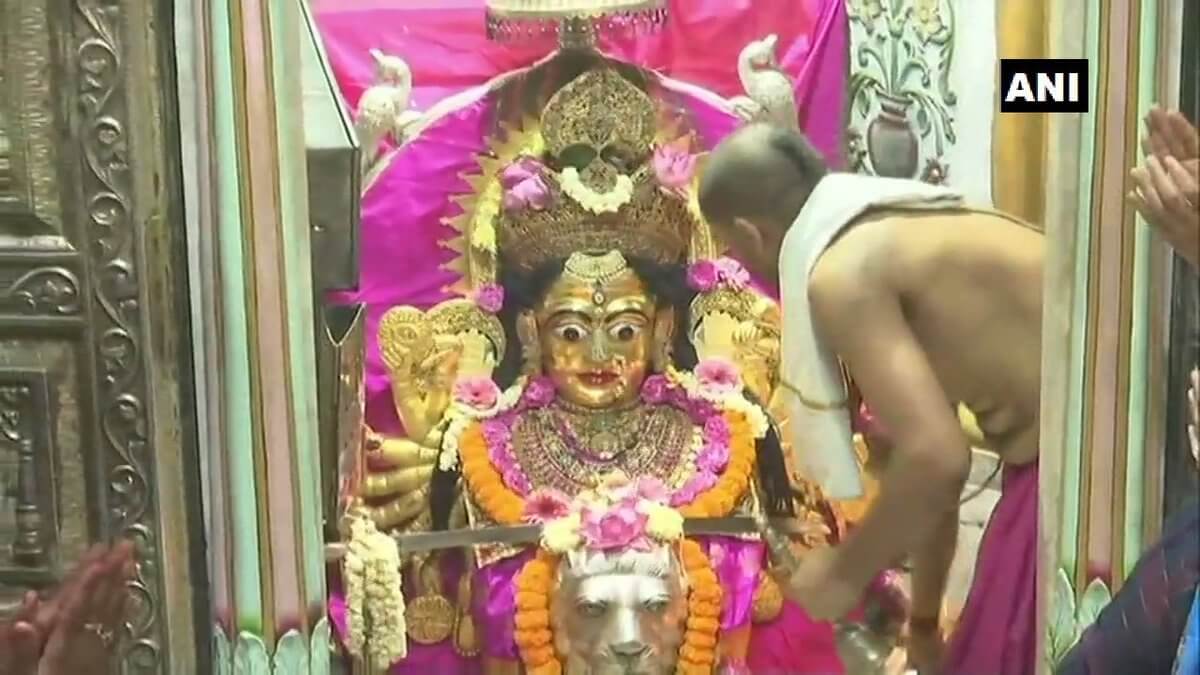 Also Read: Raghunath Mandir Jammu, Timings, Travel Guide, History and how to reach
Place to visit near this Temple
Gateway of India
Gateway of India is among in the best tourist places of Mumbai. Built on the Apollo Bunder beach on the Arabian Sea, this majestic structure reminds us that this city too was once under the British. The 26-meter-high basalt gateway uses traditional Hindu and Muslim designs, along with the triumphal arch of Roman architecture. King George V and Queen Mary visited British India in 1911, and it was built to welcome them.
Juhu Beach
Juhu Beach, it is the most crowded beach in Mumbai. Its length is 6 km and thus it is the longest beach in Mumbai. Apart from relishing scrumptious street food, tourists can also indulge in water sports like banana rides, jet skis and bumper rides here. Apart from this, tourists visiting Mumbai can visit Gorai Beach, Versova Beach, Marve Madh and Aksa Beach. Here, along with fresh air, you can enjoy the view of the very beautiful sea spread all around.
Elephanta caves
Elephanta caves is located at some distance off the coast of Mumbai, it is one of the most ancient places in India. It is made by cutting out of stones. Elephanta Caves is an architectural wonder spread over 60000 sq.ft. This cave has been included in the UNESCO World Heritage Site. There is a wonderful cave at this place which depicts the path of Lord Shiva. The major attraction of Elephanta is the Mahesh idols of the three-headed Shivaji, Ardhanarishvara and Nataraja. You can also do activities like trekking here.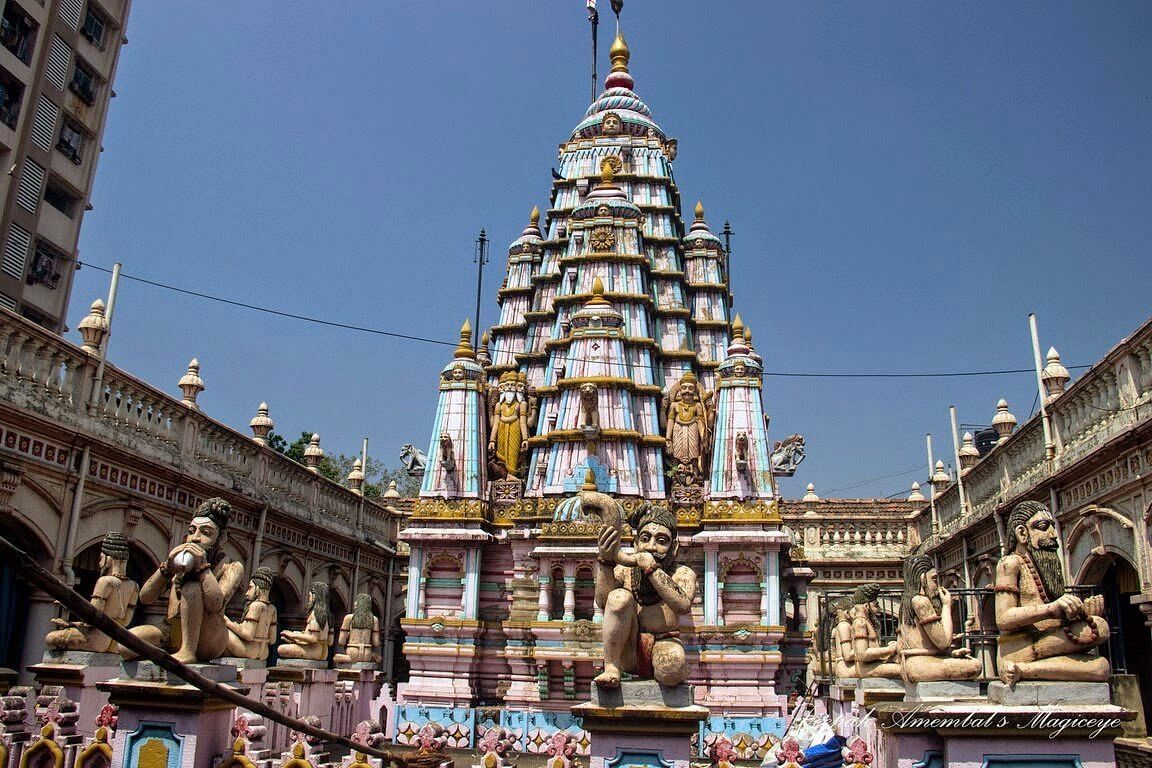 Also Read: Amaralingeswara Swami temple, Amaravathi Timings, and Travel guide
How to reach Mumba Devi Temple
By Air- The nearest airport from this temple is Chhatrapati Shivaji International Airport, which is about 28 km from this temple. From here you can easily reach this temple by using local transport services.
By Train- Chhatrapati Shivaji Maharaj Terminus is 2 km away from this temple and Mumbai Central is 4 km away from this temple. These two railway stations are the nearest railway station from this temple where most trains stop. And there are regular trains available to Mumbai from various cities in India. From here you can easily reach this temple by using local transport services.
By Road- The nearest Buses stop is Mumbai Central Bus Depot, which is only 3 km from Mumba Devi Temple. You can also get cabs from all the nearby cities as well as distant cities.
Subscribe our TFI Dharma YouTube channel to watch Devotional videos because we are here to serve Sanatana Dhrama: TFIDHARMA