Marudhamalai Temple, Coimbatore – Overview
Marudhamalai Temple is located at 15 km from Coimbatore Railway Station. This Temple is a Hindu temple situated atop a hillock near Coimbatore. Situated on a beautiful hillock at a height of 600 feet, the Marudhamalai Temple is dedicated to Lord Murugan and is considered one of the popular Murugan temples in Tamil Nadu.
Built by the Tamil kings during the 12th century CE, Lord Murugan is worshiped in the form of Dandayuthapani in this temple. The main feature of this hill is that it grows important medicinal herbs, which are used extensively in making Ayurveda medicines.
Marudhamalai Temple Timings
Marudhamalai Temple opens from 6 AM to 1 PM in the morning and from 2 PM to 8.30 PM in the evening.
| | |
| --- | --- |
| Timings | Pooja/ Darshan |
| 5:30 am | Temple opening Hours |
| 5:30 am to 6:00 am | Viswaroopa Darshan (Ushakalam) |
| 6:00 am to 8:30 am | Darshan |
| 8:30 am to 9:00 am | Kalasandhi Pooja |
| 9:00 am to 11:30 am | Darshan |
| 11:30 am to 12:00 pm | Uchikalam Pooja |
| 12:00 pm to 1:00 pm | Darshan |
| 1:00 pm | Temple closing Hours |
| 1:00 pm to 2:00 pm | Temple remains closed |
| 2:00 pm | Temple reopens |
| 2:00 pm to 4:30 pm | Darshan |
| 4:30 pm 5:00 pm | Sayaratchai Pooja |
| 5:00 pm to 7:30 pm | Darshan |
| 7:30 pm to 8:00 pm | Ardha Jama Pooja |
| 8:00 pm to 8:30 pm | Darshan |
| 8:30 pm | Temple closing Hours |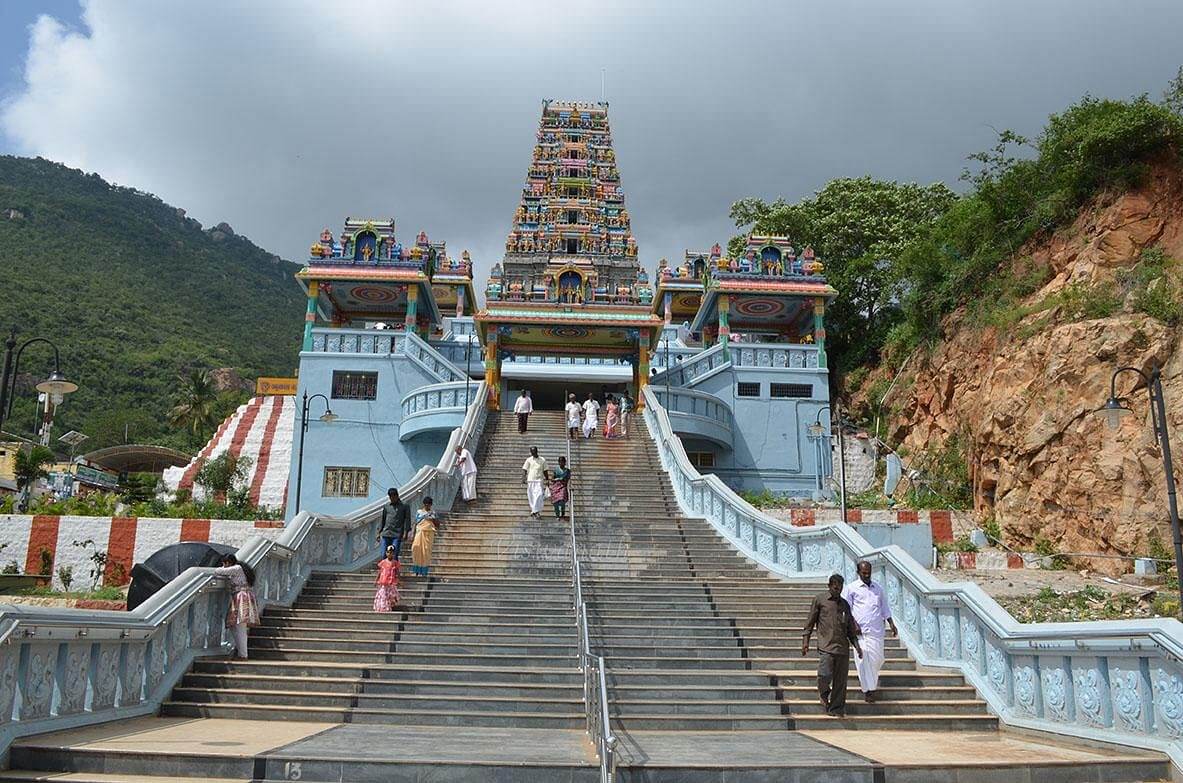 Also Read: Unai Mata Mandir Navsari, Timings, History, Travel Guide and How to reach
History of this Temple
Known as Pambatti Siddhar, at an early age he was involved in catching snakes, breaking down their venom and making medicine for snake bites and hence people call him "Snake Doctor". Once he came to Marudhamalai in search of Nag Ratnam, a snake breed. Sage Sattai Munivar then appeared before him and told him that "the purpose of birth is to find the serpent within the body and wandering in the forest in search of snakes is useless."
Pambatti Siddhar listened to him and gained knowledge and concluded that he would never hurt any life on earth. He started worshiping Lord Murugan at Maruthamalai and engaged in meditation. Pleased with his penance, Lord Murugan appeared before him along with his wives Valli and Deewana and blessed him with knowledge. Devotees fondly call him as Maruthamalai Mamani.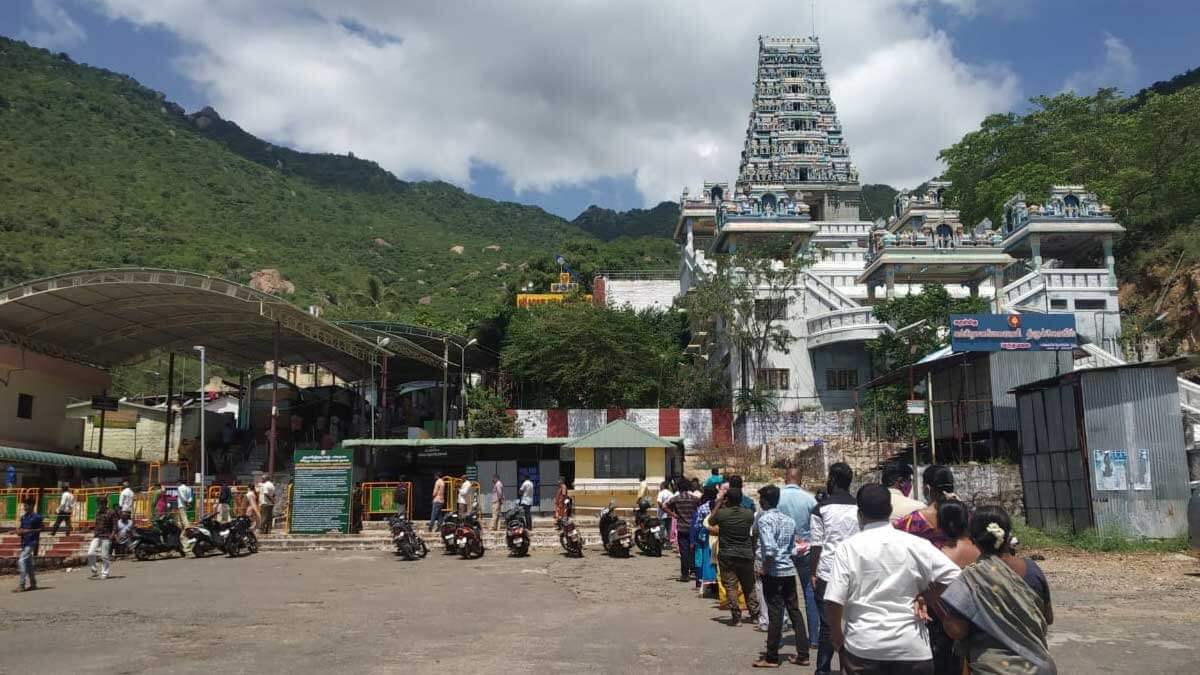 Also Read: Dongargarh Mata Mandir, Timings, History, Travel Guide and How to reach
Place to visit near this Temple
Perur Patteeswarar Temple
This temple is also known as Arulmigu Patteeswarar Swami Temple. This temple is also commonly known as the temple dedicated to Lord Nataraja. The ancient sculptures, paintings, sculptures and carvings here also attract art lovers. The Arulmigu Patteeswarar Swami Temple is also one of the largest temples in Coimbatore.
Kovai Courtallam Falls
Kovai Courtallam Falls is a spectacular waterfall located in Siruvani Scenic Area. It is wonderful to see the falling water cascade. The main supply of drinking water in Coimbatore is by Siruvani. If you have not seen this waterfall in Coimbatore, you have not seen anything.
Isha Yoga Ashram
Isha Yoga Ashram in India is a non-profit and non-religious centre, which has been attracting innumerable people from different parts of the world for a long time. The ashram and yoga centre has been established by Sadhguru Jaggi Vasudev.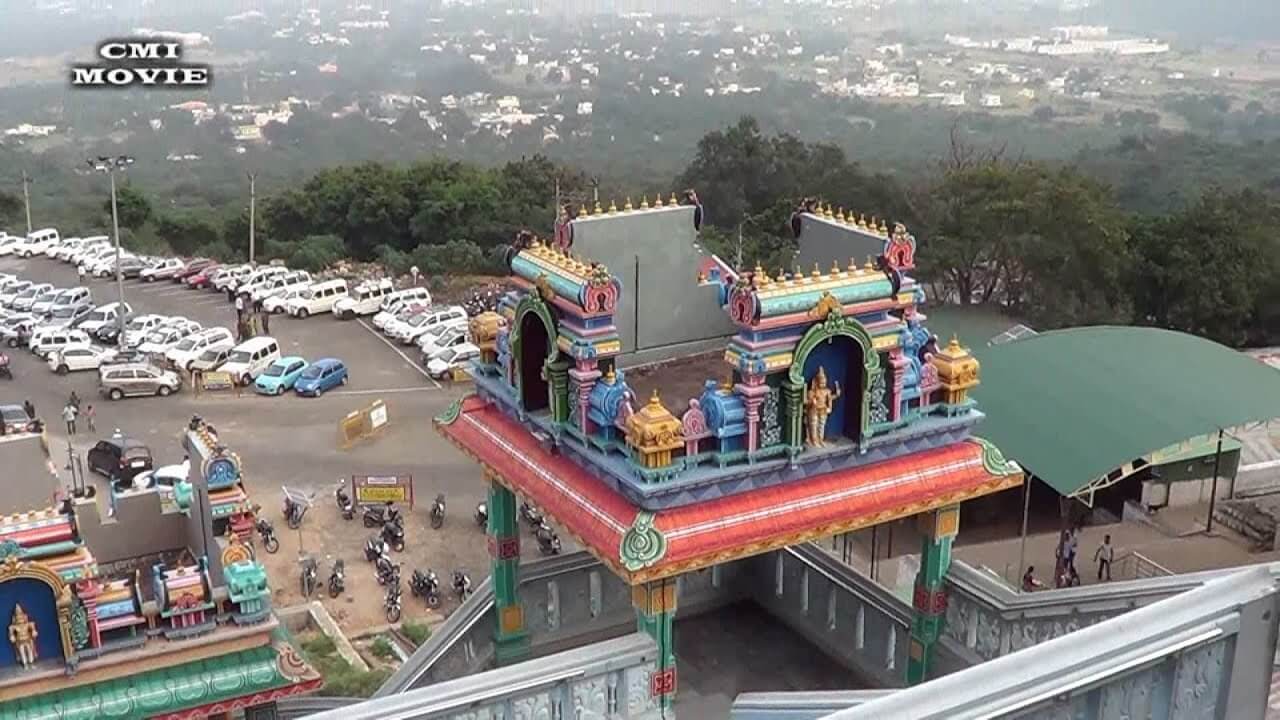 Also Read: Mangadu Temple, Chennai: Timings, Travel Guide, History and How to reach
How to reach Marudhamalai Temple
By Air- The nearest airport from Marudhamalai Temple is Coimbatore International Airport which is at 25 km away from Marudhamalai Temple. You can easily reach this temple by taking a cab from outside the airport.
By Train- The nearest railway station from this temple is Coimbatore Railway Station which is at 16 km away. You can easily reach the temple by taking rickshaw from here.
By Road- You can easily reach the Marudhamalai Temple by taking public vehicles like auto or rickshaw or bus from any part of the country.
Subscribe our TFI Dharma YouTube channel to watch Devotional videos because we are here to serve Sanatana Dhrama: TFIDHARMA