Burkina Faso has seen two coups in eight months. The African country is today caught between Islamic insurgency and a never-ending political instability. To top it all, prolonged Western intervention and a rise in Russian presence has also had its geopolitical implications for Burkina Faso. With no end in sight to its insurgency, the country has witnessed growing anti-French sentiments and is showing signs of moving closer to Russia. In all of this the country is yet to get a grip on its foreign policy priorities.
So, how did Burkina Faso land in this geopolitical turmoil?
Burkina Faso's first coup was staged in January, 2022 and was led by a military officer Paul-Henri Sandaogo Damiba. The coup overthrew Burkina Faso's President Roch Marc Christian Kaboré. He was overthrown amid a deepening security crisis and widespread discontent expressed by civilians, defence and security forces. Many Burkinabe were also frustrated with the political management of Kaboré's regime which was regularly accused of corruption.
When Damiba seized control of power he vowed to make security a top priority and sought to bring stability in the country. As Moscow wanted to deepen its footprints in Africa, Damiba too didn't shy away from seeking to bolster cooperation with Russia for mutual benefits. He met with Russia's top diplomat Lavrov in New York on the sidelines of the 77th UN General Assembly "to strengthen ties and address current challenges".  Speculations began to grow that Burkina Faso may invite Russia's Wagner group to deal with the issues of insurgency in the region which was not good news for France's Operation Barkhane.
France had to also withdraw its troops from Mali, a neighbouring country of Burkina Faso owing to its failure in dealing with insurgency. Anti-France sentiments were also seen in Niger which also shares border with Burkina Faso. Thus with growing anti-France and pro-Russian sentiments in the Sahel region, speculations of Burkina Faso joining Russian camp were bound to rise.
Read More: TFI Global's prediction comes true within 24 hours: Burkina Faso is now a Russian ally
Second coup within eight months in Burkina Faso
Amid all this, Damiba too was deposed in the country's second coup in a year. This time it was led by an army captain Ibrahim Traore who dissolved the transitional government and suspended the constitution. This coup led by a relatively unknown army Captain also saw young people waving Russian flags in the capital city promoting speculation that there might have been Russian involvement. This was enough to convince the West of growing Russian presence in Burkina Faso and the trust gap between the West and Burkina Faso widened.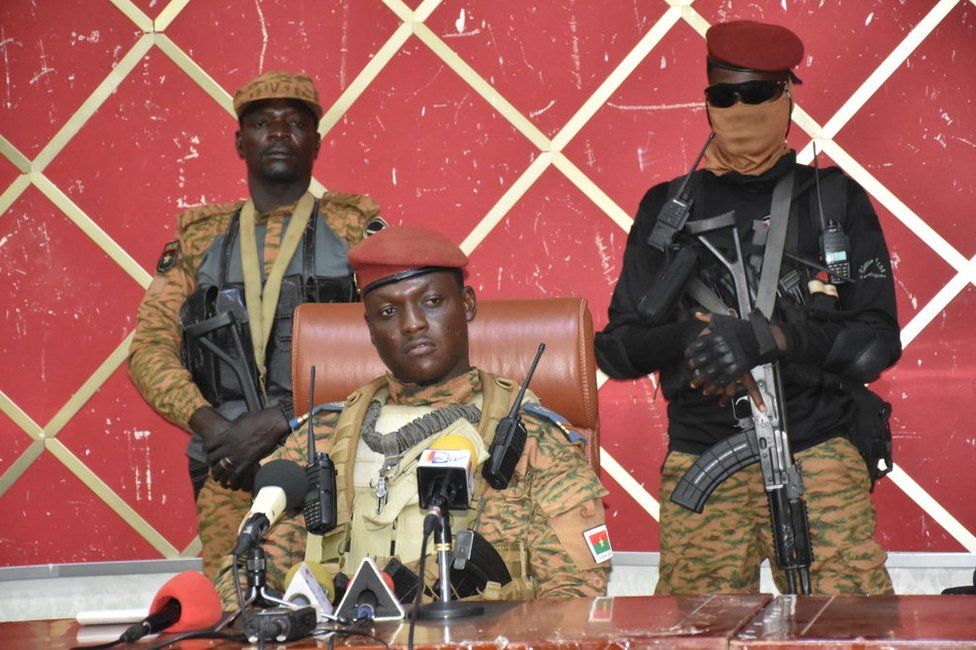 However, amid growing concerns for the US over the possibility of Burkina Faso also following the lead of neighbouring Mali, Traore had assured US diplomats that he had no intention of inviting Russian Wagner forces in the country. With this assurance the US was able to settle its nerves, albeit temporarily.
Traore's inexperience cost Burkina Faso dearly
Traore has been unable to get a grip on his foreign policy priorities and instead sought to keep both sides happy. In this whole geopolitical "mind game", it was the people of Burkina Faso who lost.
With uncertainty over Burkina Faso's loyalty, the US decided to exclude Burkina Faso from its trade agreement with Africa known as the African Growth and Opportunity Act (AGOA) in an attempt to hurt its economy and bully the nation to follow its diktats.
Read More: Biden confirms that Burkina Faso is now on Russia's side
However, despite all this Ibrahim Traore didn't learn his lesson and kept indulging in some more mind games turning a blind eye to its dangers. What else could the people of Burkina Faso expect from an inexperienced leader sitting at the helm, dealing with complex geopolitical challenges!
Read More: Western Africa has truly and completely thrown France out
France was completely driven out of the Sahel region amid rising anti-France sentiments.  At a time, when France faced widespread criticism and was forced to exit the region, Burkina Faso under Ibrahim Traore had asked France "weapons and ammunition" to fight against jihadists. Ibrahim Traore knew fully well how France failed in its mission to end insurgency in the region, which had only worsened. Thus it was perhaps because he wanted to play on France's desperation to stay relevant in the Sahel region.
Read More: Burkina Faso is fleecing France and it's oddly satisfying
This was followed by the US-Africa summit, an attempt by US to bridge the trust gap in Africa, where Burkina Faso was not invited. All of this showed how Burkina Faso had been left out by the US.
After all this, recently just before Christmas, Burkina Faso asked a senior UN official to leave the country. The growing confrontation between Burkina Faso and the West became even more evident now. After all this, the US has now officially dropped Burkina Faso from Africa duty-free trade programme which is quickly followed by Burkina Faso asking French ambassador to leave.
Thus, the confusion over Burkina Faso's stand in this whole geopolitical tug of war doesn't seem to be ending anytime soon. It is time, for Burkina Faso's own national interest, that Captain Ibrahim Traore gets a grip on his foreign policy and fix the issues in his country to give Burkinabe the life which it deserves.