The US and China's participation in Africa is sometimes characterised as a zero-sum game of influence and infrastructural investment in the continent. Increasingly, African countries are being reduced to pawns in the geopolitical chessboard and simply battlegrounds for resurgent great power competition—what has been nicknamed the "Neo-Scramble for Africa". Despite stating their intention not to be exploited as pawns in proxy wars, African leaders are finding it impossible to remain silent and neutral. Divergent voting patterns and reluctance on the part of several African countries to denounce Russian action in Ukraine mirrored this quandary. African countries are gradually finding it difficult to balance and maintain their relationships with both the West and the East.
From an African perspective, the expenses of taking a stand are prohibitively expensive. If China invades Taiwan in the coming days, an African country that supports the US may risk damaging its bilateral relationship with China. This predicament is especially concerning for African countries that are heavily indebted to China. On the other hand, openly backing China risks facing sanctions from the US and other multilateral bodies, given its continual belligerence and challenge to the rules-based international order.
Thus, African countries must exercise extraordinary caution if they are to avoid becoming collateral damage in the US-China confrontation. However, it appears that Zambian President Hakainde Hichilema is oblivious to this critical aspect.
You see, Zambia has followed a long unique trajectory from being under the clutches of the Chinese to openly supporting the US.
China has previously acquired significant state assets in Zambia. In Zambia, China has already taken over an international airport, an electricity company, and a key highway. Many Africans are now concerned that Zambia will become a Chinese colony! According to speculations, the Zambian government and China are discussing the transfer of the country's national electrical business, ZESCO, to China.
However, a ray of hope soon arose in this black debt storm in the form of a $1.3 billion zero-interest loan from the IMF, which Zambia got with a five-and-a-half-year grace period.
An in-depth study of the IMF report reveals that the terms and circumstances of this loan allow Zambia to kick China out of the country. According to the terms, Zambia must adjust its spending priorities away from public infrastructure projects, which is often financed by Chinese players. Zambia has announced the cancellation of 12 planned projects, half of which were co-financed by China Exim Bank and Jiangxi Corporation. Zambia's government annulled 20 undistributed loan sums, ten of which were from China Exim Bank, saving the country $1.1 billion over the following few years.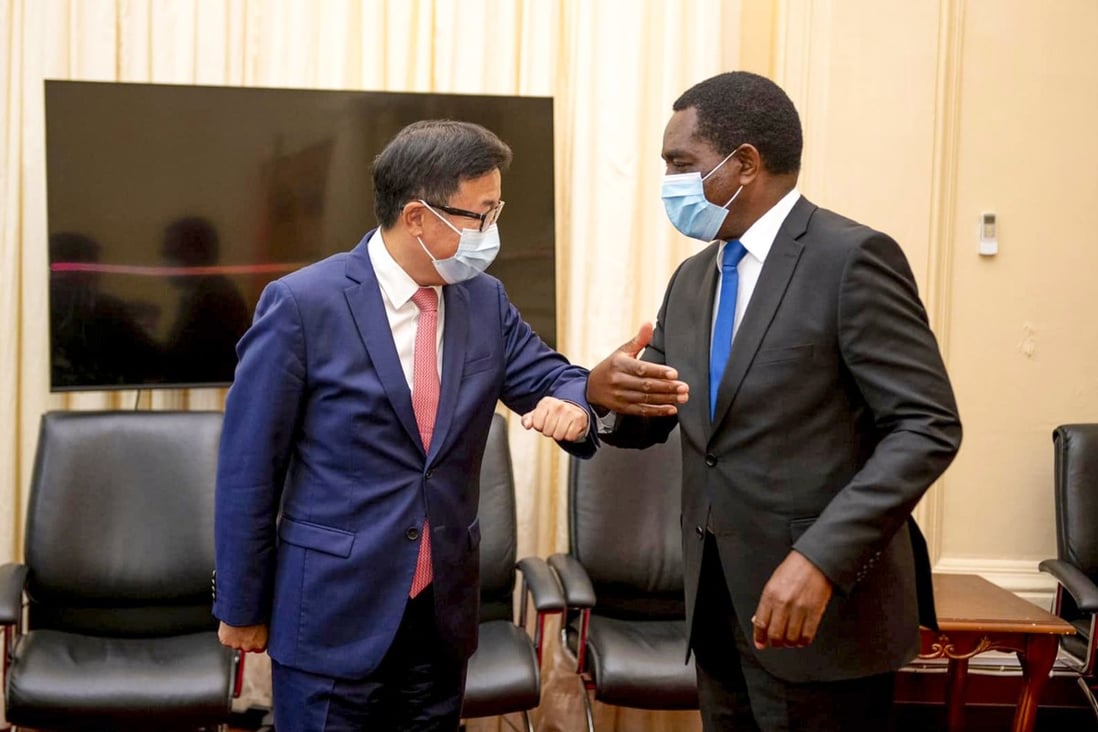 Make no mistake, this was a bait by the United States to bring Zambia under its fold of influence and the African nation fell right under it. After coming to power, Hakainde Hichilema established strong ties with the West. Zambia voted in favour of Ukraine during the UN resolution vote condemning Russia's military operation, held talks with Volodymyr Zelensky, the first-ever in the history of Zambia-Ukraine relations and visited the White House to meet Vice President Kamala Harris. Harris and Hichilema emphasised the strengthening of relations between the US and Zambia.
In a surprising change of events, Hichilema has shown hints of cooperating with both China and the United States. President Hichilema has stated that he is resetting Zambia's ties with China and the United States for the sake of the country. In the geopolitical environment, one should certainly trade cautiously and avoid taking sides. The only thing that matters is NATIONAL INTEREST. However, Zambia's President has long abandoned this principle and sided with the US. So, claiming neutrality after aligning with one extreme would simply antagonise both the United States and China. Zambia would be regarded as an untrustworthy friend by the United States. For China, Zambia will always be a treachery that has come to Beijing for selfish reasons. Thus, only time will tell how lucrative this new geopolitical game of Hichilema would be for his nation.