Mahadeshwara Temple, Karnataka – Overview
Male Mahadeshwara Temple is a popular Shaivite shrine located in the Male Mahadeshwara Hills (MM Hills) in the Chamarajanagar district of the state of Karnataka. Lord Sri Mahadeshwara is believed to be an incarnation of Lord Shiva in the form of a Lingayat saint. The Linga that is now worshiped inside the Garbha Gudi is self-manifested.
It is believed that Sri Nara Mahadeshwara Swami rode on a tiger known as Huli Vahana and performed many miracles around the hill to save the people living there. In Janapada style the miracles of Lord Shri Mahadeshwara are beautifully sung with the help of the village people.
Mahadeshwara Temple Timings
Mahadeshwara Temple opens at 4:00 AM in the morning and close at 8:30 PM in the evening.
Timings
Puja/ Darshan Details
5:00 am
Temple Opening Hours
5:30 am – 7:30 am
Abhisheka
7:00 am – 6:00 pm
Huli Vahana,Basava Vahana

Rudraksha Mantap Seva

7:30 am – 10:30 am
Darshan
10:30 am – 12:30 pm
Abhisheka
10:30 am – 2:00 pm
Maharudrabhisheka Seva on Thursday
12:30 pm – 6:30 pm
Darshan
6:30 pm – 8:30 pm
Abhisheka
7:00 pm
Golden Car procession
8:30 pm – 9:00 pm
Darshan
9:30 pm
Temple Closing Hours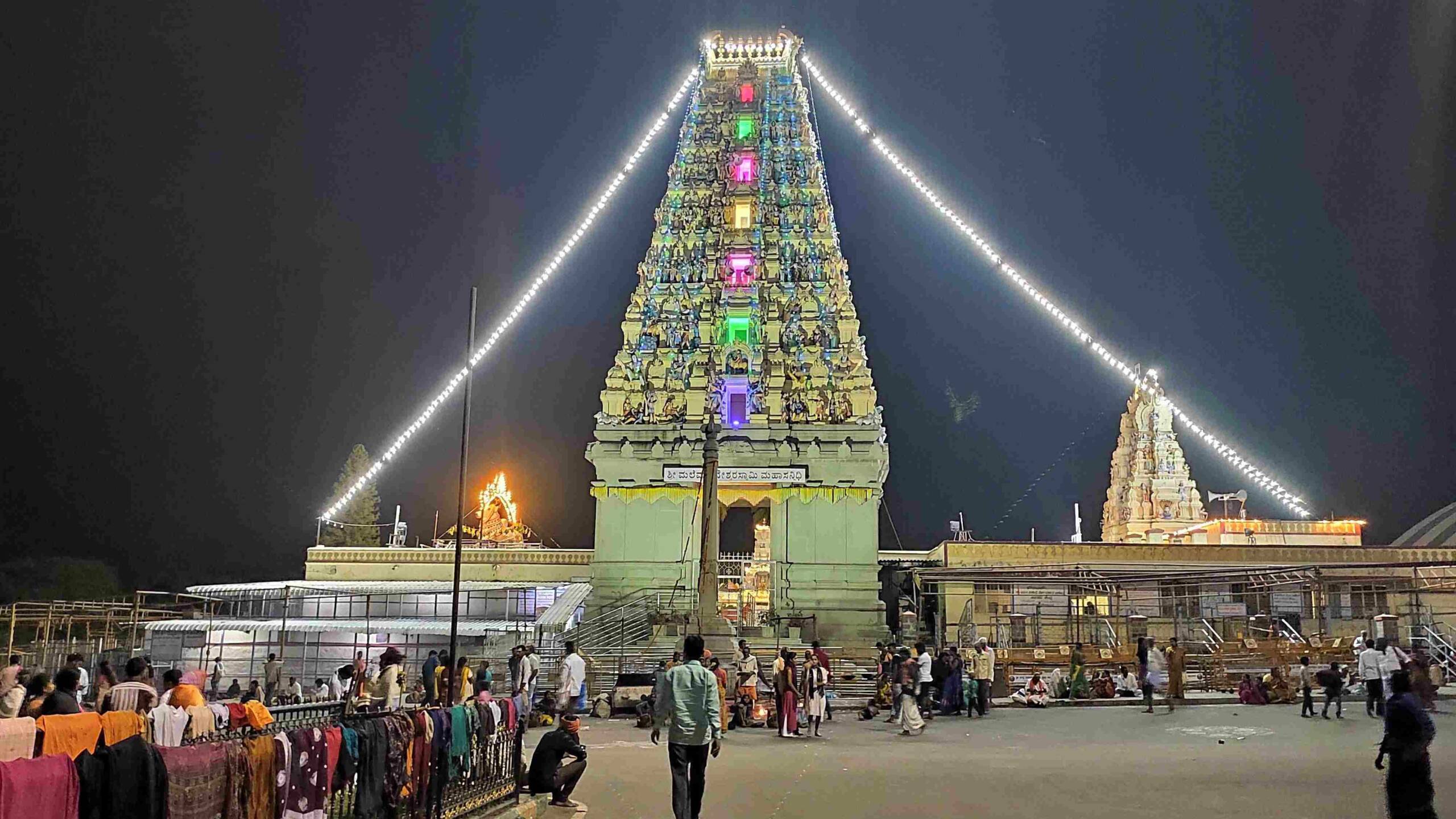 History of this Temple
According to the history, there are seven hills and these seven hills together form the Male Mahadeshwar hill. Those seven hills are Anumale, Janumale, Kanumale, Pachchamale, Pavalmale, Ponnachimale and Kongumale.
It is also mentioned in the history, that he came from Srisailam via Sutheturu, Kunduru, then came to the centre of the Seven Hills and established a monastery to look after the religious affairs of the people and saints. The Mahadeshwara Temple was built by Junne Gowda Rich Kuruba Gowda Zamindar.
It is also said that, through his miracles, he enlightened and uplifted the hill tribes, gave them linga initiation and converted them into Lingayats. People coming from these families have become the hereditary 'Shivarchaka' of the male Mahadeshwara temple.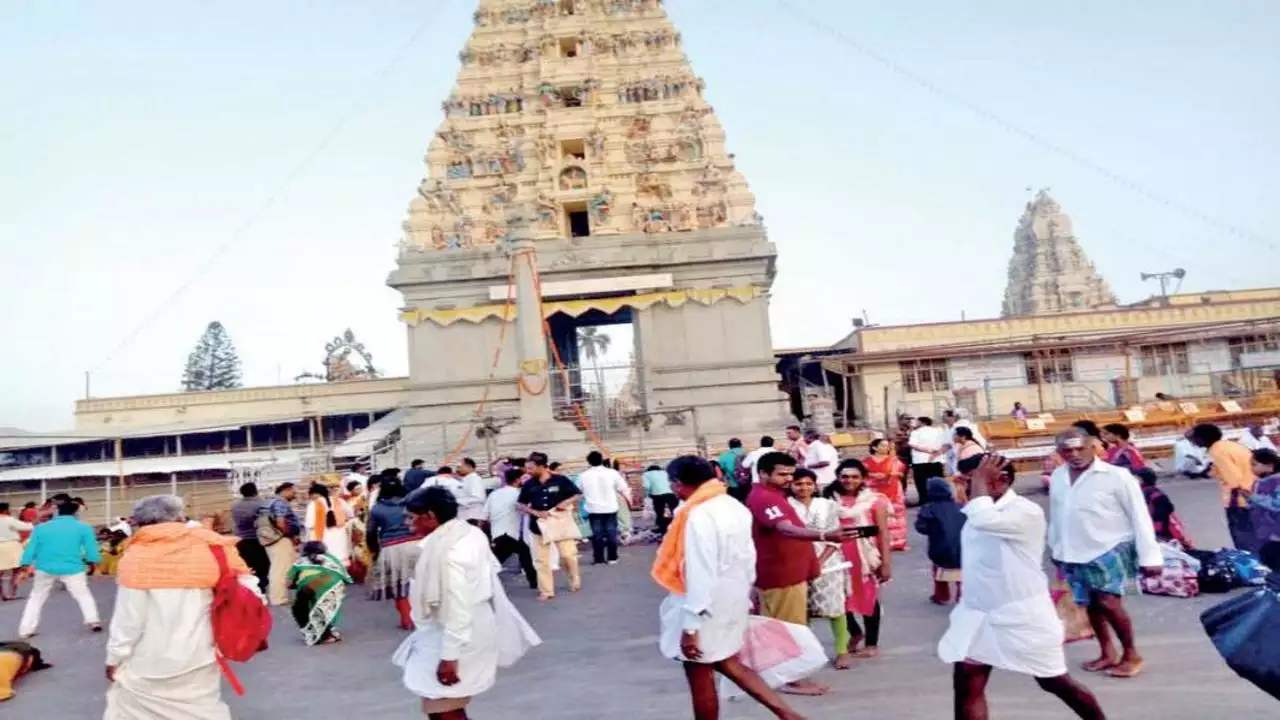 Place to visit near this Temple
Gopalaswami Betta
Gopalaswami Betta is a high hillock in picturesque surroundings, situated about 16 km south-west of Gundlupet. It rises to a height of 4,770 ft. above sea level. It is also known as Dakshin Govardhangiri. The summit of the hill appears to be surrounded by clouds and mist, and hence the name Himavad Gopalaswami Betta. There is an old fort on the hill which is said to have been constructed during the 13th century. Inside the fort is the Gopalaswami Temple dedicated to Lord Krishna.
BR Tiger Reserve
BR Tiger Reserve and Wildlife Sanctuary: Biligiri Ranganatha Swami Temple Wildlife Sanctuary derives its name from the ancient Ranganatha Swami Temple, which is situated on the edge of a cliff and has an extension of 539.52 sq. km. Biligirirangana Betta is at an altitude of 5,091 ft. above sea level, and extends for about 16 km from north to south. It connects the Eastern Ghats to the Western Ghats which in turn facilitates gene flow between the population species living in both the mountain ranges.
Hogenakkal Falls
Hogenakkal Falls is a beautiful amalgamation of rock, water and mist located on the Karnataka-Tamil Nadu border. In Kannada, 'Hoge' means smoke and 'Kallu' means rock. Hogenakkal essentially means the smoke rising over the rocks, which is what it looks like when enough water falls on the rocks when the river Kaveri enters Tamil Nadu from Karnataka.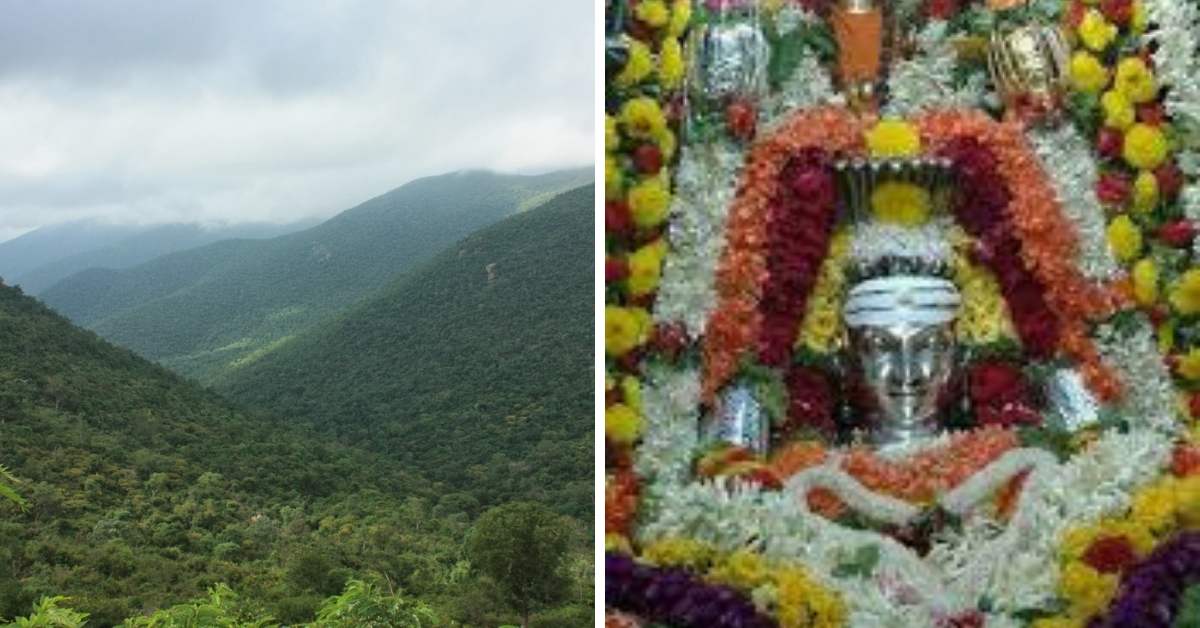 Also Read: Ambalapuzha Temple Kerala: Timings, Travel Guide, and How to reach
How to reach Mahadeshwara Temple
By Air- The Nearest Airport from Mahadeshwara Temple is Bangalore airport which is at a distance of 210 km away from this temple. From here you can easily reach this temple by using local transport services or taxi.
By Train- The Nearest Railway station from this temple is Mysore railway station which is at a distance of about 150 km away from this temple. From here also you can easily reach this temple by using local transport services or taxi.
By Road- The nearest bus stop from this temple is at Kollegal, which is at a distance of about 72.6 km away from this temple. You can also easily reach this temple by using your own vehicle as its roads are well connected with the other cities of the country.
Subscribe our TFI Dharma YouTube channel to watch Devotional videos because we are here to serve Sanatana Dhrama: TFIDHARMA