Burkina Faso has seen two coups in eight months. Burkina Faso's first coup was staged in January 2022 and was led by a military officer Paul-Henri Sandaogo Damiba. He in his not-so-long tenure had sought to build ties with Russia to bring peace and stability to the country. Soon after, Damiba too was deposed in the country's second coup in a year. This time it was led by army captain Ibrahim Traore. Under the rule of both leaders, speculations that Burkina Faso may invite Russia's Wagner group to deal with the issues of the insurgency were rife. Now it looks like the West's puppet ECOWAS has been sent to Burkina Faso to neutralize Russia's rise or to put it in other words, to keep the country from completely slipping out of the West's hands.
ECOWAS Extends Support for Burkina Faso
The head of West Africa's regional bloc has expressed support for jihadist-hit Burkina Faso less than five months after an insurgency sparked by Islamist militants sparked a new coup, the Burkinabe government said. Guinea-Bissau President Umaro Sissoco Embalo, current president of the Economic Community of West African States (ECOWAS), recently made a one-day visit to Ouagadougou, the capital of Burkina Faso for talks with junta leader Captain Ibrahim Traore.
In a statement issued after the talks, Traore's office said Embalo was "reassured by the steady transition" for returning the country to civilian rule. Embalo also "reaffirmed the willingness of the West African organization to support and accompany Burkina Faso in the fight against terrorism." However, what is surprising is that it has taken a relatively hard line with Guinea and Mali over coups there, invoking the threat of sanctions to try to speed up the return to civilian rule.
On the other hand, it has been more supportive of Burkina Faso, one of the poorest and most volatile countries in the world, where two coups erupted last year. In addition, Traore has promised to stand by Damiba's commitment to ECOWAS to hold elections and restore civilian rule by July 2024. Embalo "stressed the need to pursue contacts with ECOWAS heads of state and also with various partners, to provide timely support for our country in the face of security and humanitarian challenges," the Burkinabe statement said.
ECOWAS Playing into West's Hands
However, there could be more to it than what meets the eye. Recently, the US-Africa summit was hosted by Biden to bridge the growing trust gap with Africa. In this scenario, the growing anti-West sentiments in Africa have coincided with growing pro-Russia sentiments which have alerted the West. Further, Burkina Faso is having growing confrontations with the West. For instance, Burkina Faso asked a senior UN official to leave the country in December 2022. The US had then officially dropped Burkina Faso from Africa's duty-free trade program. What followed was that Burkina Faso asked France, ambassador, to leave. This shows how the relations between Burkina Faso and the West have deteriorated recently.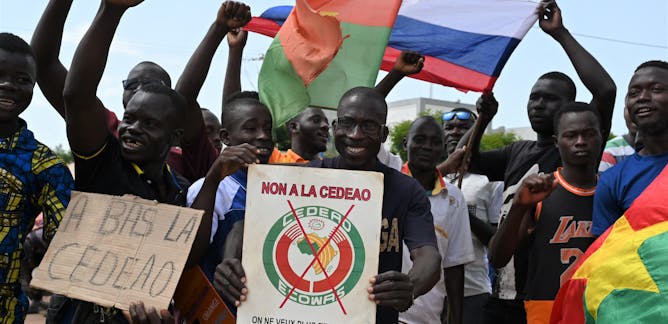 We have previously told our readers how the Economic Community of West African States or ECOWAS imposes sanctions on countries for not following the diktats of the West. It had imposed sanctions on Guinea and Mali on the pretext of coups that took place there. The situation is similar in Burkina Faso too, but the ECOWAS' soft corner for the country and its offering support to fight insurgency in Burkina Faso could be an attempt to stop the country from inviting the Russian Wagner group, the possibility of which could not be denied. The pro-Russian sentiments are already growing in Burkina Faso and there's every possibility that when all other attempts by the West failed, it has finally turned to its puppet ECOWAS to ensure that it doesn't lose the battle to maintain its influence over its rival Russia.