Economic Miracle of Botswana: Botswana was one of the world's poorest countries when it gained independence from Britain in 1966. It is positioned between South Africa, Namibia, Zambia, and Zimbabwe and is a small, landlocked country of two million people, and was one of the poorest countries in Africa with a per capita GDP of about US$70.
From a country that depended on foreign assistance for its survival, today the economy of Botswana is one of the fastest growing economies with strong political and economic institutions and has often been called the "African exception". So, how Botswana has managed to revive its economy, and can be considered an example to be followed by other African countries? Let's discuss.
Botswana's Economic Miracle
When Botswana gained independence in 1966, it was often described as a "vast, trackless wasteland", with no hope and scope for economic stability. Likewise, it was considered the least developed country in Africa and was amongst the ten poorest in the world. With very poor social indicators, it had to face the impact of the worst drought and crop failure that brought havoc and hunger to its inhabitants.
However, the economic situation of the country has changed and in the last five decades, Botswana has transformed itself and moved into the ranks of upper middle-income status to become one of the fastest-growing economies in the world, with an average annual growth rate of about 9 percent. Botswana has also been praised by the African Development Bank for sustaining one of the longest economic booms. Its impressive economic record has been built on the foundation of diamond mining, & prudent fiscal policies, and cautious foreign policies.
Botswana's economy is predominantly dependent on diamond mining which contributes to 50% of the government revenue. Furthermore, it has the fourth-highest gross national income per capita in purchasing power in Africa and is above the world average. According to the Botswana Poverty Assessment, its poverty declined from 30.6% to 19.4% between 2002-2010, which was over 50 percent at the time of independence. It has negligible foreign debt and has maintained budget surpluses and extensive foreign exchange reserves.
Read more: The West is playing the religion card to stop the economic rise of Namibia and Botswana.
Political Stability
Apart from its economic achievements, Botswana also owes its success to its strong political institutions and stability. After independence, it succeeded in creating robust institutions that helped in ensuring a flourishing democracy that has been able to hold free and fair elections since 1966, unlike many other African countries. Further, The Corruption Perceptions Index ranks Botswana as the least corrupt country in Africa.
The identification of high-grade diamonds only eight months after independence enabled it to become a major world producer. Botswana used international aid and growing diamond revenues to invest heavily in social services such as health and education. It led to significant poverty reduction while health and literacy rates improved. To add further Botswana's earnings from its diamond production have also enabled it to fund its development to a large extent. Botswana has largely avoided undertaking prestige projects and has focused on establishing basic infrastructure, social services, and conservative financial management. Although, today it needs to diversify its economy which remains a challenge. The tourism sector does bring some hope for the country in the near future.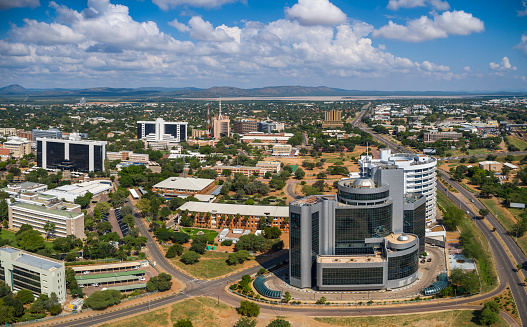 Botswana's Cautious Foreign Policy
The Western interference in the name of economic or military assistance in Africa's internal affairs is well-known. This has created more problems than solving them. The West in its greed for Africa's resources is also known to instigate chaos and conflict in Africa. Further, how the West uses its economic, and political might to arm-twist other weaker countries to align with its geopolitical goals is also well-known. The West also tried its tricks to arm-twist Botswana however its cautious foreign policy has helped it from falling into those traps.
Botswana has focused on building regional cooperation for mutual benefits and kept the West out. For instance, Namibia and Botswana teamed up and lifted passport requirements for cross border movement of people. This was a significant step for the two countries to usher in a new era of economic development as it allowed a landlocked country like Botswana to have access to the Namibian coastline, thereby increasing their revenue through trade. Further, it was an example to other African countries that showed greater regional cooperation without depending on the West can facilitate greater economic prosperity for the continent.
Read more: Namibia & Botswana team up to keep Western pirates away
The West in the past has tried to interfere in its economic affairs. In such an attempt, it tried to halt the Namibia and Botswana oil project undertaken by a Canadian company, Reconnaissance Energy Africa (ReconAfrica) by using their agenda of countering climate change.
Likewise, Botswana also extended its assistance to Mozambique and deployed its military forces in the Cabo Delgado region to fight insurgency and ensure peace in the region.  It also looked for other allies than the West,  for instance, it looked towards  India for mutual economic benefits. It entered a contract with Jindal Steel & Power Ltd (JNSPNS), an Indian company, for the construction of a 300-megawatt (MW) coal-fired power plant. Botswana possesses around two hundred billion tonnes of coal and is rightfully using it for economic progress while forging ties with dependable partners who will not interfere in its internal affairs.
To this point, all these factors have significantly contributed to Botswana's stunning economic progress and have made it an example for other African countries which unfortunately haven't been able to achieve such progress despite vast reserves of natural resources. Therefore, Botswana has truly shown the way forward for other African countries to follow.