Wagner Group Russia: It's now almost 11 months since Russia's invasion of Ukraine began. How many of you are still following the war? We'd guess. Not many. The Ukraine war has lost its sheen because of its prolonged nature. The other reason you would have stopped following it is that the war had come to a standstill.
However, in the last few weeks, things have changed in the Ukraine war. Russia's Wagner Group has moved the immovable.
Since the beginning of July 2022, the Russian armed forces have had nothing to rejoice about and have been forced to withdraw from Kherson in the south and from Kharkiv in the north.
Russia has been actively engaged in fierce warfare in Soledar, eastern Ukraine, in an effort to fully encircle Bakhmut, its larger target for some time now.
Soledar is at the centre of eastern Ukraine's Donbas region. Russia which had annexed the whole Donetsk region is yet to get 40% of the region. Russian soldiers have thus had Soledar on their radar since last May. The city had a pre-war population of around 10,000 and even though it offers nothing of strategic significance, it serves as a stopover on the Russians' campaign westward.
Read More: The death of Russian Oligarchs worldwide raises serious questions
It is only a few miles northeast of Bakhmut, a larger city that has seen some of the most intense combat and has emerged as possibly the most disputed and dynamic section of Ukraine's 1,300-kilometer front line.
Now, why is Soledar important for Russia? Although Moscow has been unable to successfully attack Bakhmut from the east for months, if it were to take Soledar, it would at least be able to approach the city in a new way.
But you know what, things changed after Russia's private army Wagner group entered the battleground.
Wagner wins Soledar
There are three armies fighting on the behalf of Russians in Ukraine. The first is the Russian armed forces, the second are the Chechen fighters and the other is the Wagner Group.
Wagner Group is Russia's private military, which has participated in conflicts around the world. Yevgeny V. Prigozhin, a Russian businessman and personal friend of Mr Putin, provides funding for the group.
After three months, Russian soldiers under Wagner's command were finally able to achieve success in the Donbas; seizing the majority of the salt-mining village of Soledar, north of Bakhmut, providing Russia with a strategic advantage.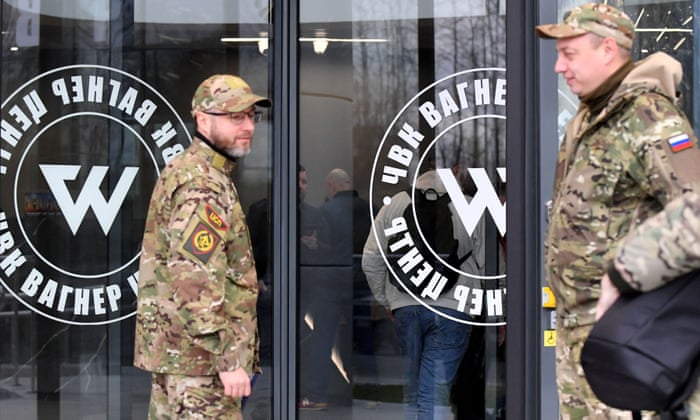 This was Russia's first victory after summer. The takeover of Soledar would grant Russia access to 120 miles of tunnels that might be utilised to transport soldiers and weapons. The benefit of the underground corridors has been underlined by Prigozhin. He said, "They can hold a big group of people at a depth of 80 to 100 metres, and also tanks and infantry fighting vehicles. They can be stored but also be moved through them."
For its mission in Ukraine, Wagner has acquired a wide range of weapons, including Su-25 planes, T-90 tanks, S-300 missile systems, TOS-1A thermobaric rocket launchers, 23mm heavy artillery, and Pantsir air defence missile systems.
Read More: Russia is recruiting Afghan Commandos that the US abandoned
The Wagner Group has been hiring in Russian penal prisons and recruiting significant numbers of inmates for Putin's war in Ukraine, offering male prisoners their sentences shortened and financial incentives in exchange for six months of military duty there.
The recruitment is reportedly not just taking place in Russia but in Turkmenistan, Kyrgyzstan, Tajikistan, Belarus and certain African nations too.
No other private army in the world possesses such a diverse armament, and Wagner Group is anticipated to play a significant role in the upcoming campaigning season that will begin following the winter break. Further, by heightening the importance of Bakhmut, the Wagner Group has played its cards smartly. Now, Ukraine faces a challenge to take control of Bakhmut for symbolic purposes. This has entailed a big obstacle for Ukraine as it was planning a counter-offensive in other regions and Bakhmut is soaking a lot of its armaments and supplies.
The possession of Soledar by Wagner is a symbolic win for Russia. It has opened up its avenues in Bakhmut. Simultaneously, it has also brought up a new and tough challenge for Ukraine and NATO.