Trudeau's lovesickness for green energy is not hidden from anyone. But, this lovesickness has left the Canadian energy sector undoubtedly in shambles. Canada dominates the western world in rare earth minerals but the green madness never let Trudeau realise the true potential of the country. Provinces have long been urging the Federal liberal government to secure financing to mining companies but all went in vain. We know the Canadian prime minister goes bonkers when it comes to his green activism but recent pictures of Trudeau from his tour to Saskatchewan prove otherwise.
Prime Minister Justin Trudeau spent 16th Jan in the province of Saskatchewan touring a rare earths element processing plant in Saskatoon and speaking to media with the city's mayor Charlie Clark. But, this visit sparked concerns within the province's administration. Moe, the premier of Saskatchewan, claimed that he was unaware of Trudeau's visit until it was made known in his schedule. Premier Scott Moe expressed his dissatisfaction on Twitter early on Monday.
"It's disappointing because this is an area that the provincial and federal governments see eye to eye on, yet we were not aware of the Prime Minister's visit," he wrote in a statement.
Read More: Canada's mining industry is officially in the clutches of USA and China
Trudeau continued by saying that Saskatchewan has been pushing for more investment in this field and that he and a delegation from the province had just returned from Washington, D.C., where they had met with representatives from various levels of the American government to discuss opportunities for improving energy security. "It's also not surprising that one of the Prime Minister's first visits following his meetings with the American and Mexican Presidents is to a Saskatchewan facility, as our province is a global leader in critical minerals and rare earth elements," he said.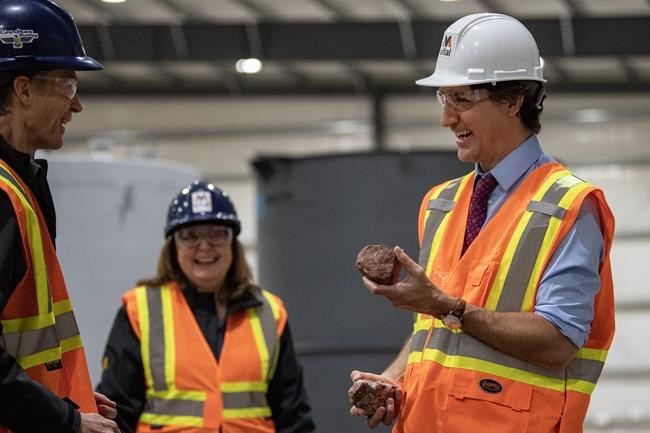 Surprisingly, Trudeau is making frequent public appearances alongside other premiers lately. Last month, he had a meeting with the newly elected premier of British Columbia, David Eby, and attended the groundbreaking ceremony for an Ontario factory producing electric vehicles next to Doug Ford. History tells us that there has always been a race to control valuable resources, and a power struggle over these rare earth minerals is unavoidable in the future. And, Canada being home to 75% mining companies worldwide, has become the centre of this colossal geopolitical struggle.
Firms based in Canada operate approximately four thousand mineral projects abroad. And, as you might expect, many of those projects involve shady corporate practices and violations of human rights and of course against Trudeau's green agenda. Stephen Harper, Canada's prime minister from 2006 to 2015, received harsh criticism for his unrelenting advocacy of Canadian mining interests. Justin Trudeau, who succeeded him, was billed as a breath of fresh air. But since Harper was succeeded by Trudeau, there has been considerably more consistency than change. While Trudeau and his party may give lip service to labour and environmental issues, in reality, they have supported Canada's rapacious, international mining industry, but ignoring the one's back home.
Read More: Saskatchewan turns Trudeau's EV agenda into its biggest economic weapon
Canadian mining firms are mired in corruption and human rights abuses around the world, yet Justin Trudeau has reneged on pledges to regulate them and end the abuses. Multiple accusations of human rights abuses with women accusing companies of gang rape has become commonplace. The Prime Minister always chose to ignore the deplorable conditions of its mining sector, as they are a jewel of the conservative provinces. With his myopic vison Trudeau chose to let the industry bleed, so as to cause damage to the conservative provinces. It is important for you to know that mining industry is primarily concentrated in the conservative provinces which oppose Trudeau.
Justin Trudeau's recent approach intends to quicken critical projects, provide resilient infrastructure, cut down on duplication, and improve evaluations. Brandon Macdonald is the chief executive officer and director of Fireweed Metals, said he'd like the government to extend flow-through tax credits as there is capital scarcity during the lengthy permitting process, as well as invest in infrastructure like roads, power grids, smelters and refineries. Clearly, now Trudeau is left with no answers to justify his ignorance and at the same time needs the rare earths elements to push his green agenda.  Hence he is paying secret visits to mining industries in order to avoid uncomfortable questions. Mr. Prime Minister is now in a bid to save his skin.