Malaysian Islamic Party: The situation in Malaysia is alarming. South East Asia is witnessing the beginning of something dreadful. It's not about China, though. Instead, radicalism is gaining ground.
In the middle of February, a video showing a gathering of young Malaysian Islamists went viral on social media. The Malaysian Islamic Party's (PAS) youth wing hosted a two-day event in Terengganu State that included a procession. It showed men wearing uniforms from the military using dummy swords, spears, and shields. This is causing people to worry about an increase in extremism in a country that has normally been tolerant.
Nonetheless, it appears that the PAS (Malaysian Islamic Party) leaders are arrogant and conceited about their behaviour. The event's organizer, Mohd Harun Esa, the leader of Terengganu's (Malaysian Islamic Party) PAS youth wing, remained unrepentant and justified the procession by comparing it to cosplay. "The event is similar to the 'cosplay' parades and competitions that are held all over the country showing favorite superheroes and their weapons," he wrote on Facebook.
Although the government is showing the necessary concern regarding the whole situation. Na'im Mokhtar, the Malaysian Minister of Religious Affairs, criticised the procession on February 19. He said it wasn't necessary to march in that way. He also emphasised the worry that it would convey negative message about Islam and the nation.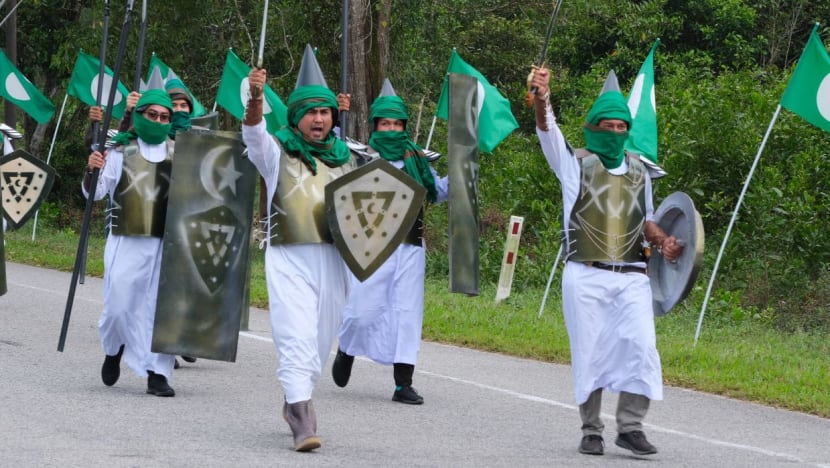 Saifuddin Nasution Ismail, the home minister, questioned the march's purpose after seeing it posted online with Arabic martial music playing in the backdrop. The procession, according to Saifuddin, "had raised political fervour in various states that will shortly have elections, as well as raised anxieties among the population."
In addition, he denounced the contentious public exhibition and encouraged all parties to abstain from actions that would spook the populace or the government. The parade is perceived as a provocative emblem of militancy, intended to terrify the populace with a display of might.
As the country's Muslim majority became more conservative, the opposition's Islamist PAS (Malaysian Islamic Party) party gained significant gains in the general election last November. The Quran should replace the nation's constitution, according to 82% of Muslims aged 15 to 25 who responded to a study conducted by pollster Merdeka Center last year, up from 72% in 2010. These changes only increased worries regarding the viral video footage.
Read More: Heartiest tributes to Pakistan-Malaysia-Turkey Islamic Triangle 
Over the past few years, PAS (Malaysian Islamic Party) has gotten more extreme. It has made an effort to depict the current Pakatan Harapan administration as incapable to defend Islam. It is very concerning for Malaysia's sovereignty that opposition's influence is growing. These changes have raised questions about the viral video footage and the precise direction Malaysia is taking.
We only hope South East Asia doesn't see another threat on the same scale as ISIS.