When Volodymyr Zelensky was elected to represent Ukraine, it was expected that he would launch a comprehensive anti-corruption campaign, reverse the country's economic decline, and reinvigorate state institutions. He was seen as a beacon of hope for the Ukrainian people. Unfortunately, Zelensky ended up pursuing a different agenda, one that focused on consolidating his own power.
The Western left-liberal media has sought to portray Zelensky as a champion of democratic values and a defender of liberal ideals. As if he was a heroic character taken from a Hollywood blockbuster, standing up to the might of Russia since the rupture of the Russia-Ukraine crisis.
However, Ukrainian President Volodymyr Zelensky has come out to be a major disappointment. Despite a year of full support from the US, the Ukrainian war machine has not been able to defeat Russia. Zelensky has been forced to evacuate important cities such as Bakhmut, and is relying on Joe Biden's White House to deploy NATO forces as soon as possible.
Unfortunately, President Biden is yet to act. Zelensky was the first to stir up tensions with Russia, despite the US offering false promises of support. We at TFI had covered this way back, that it is primarily a conflict between the US and Russia, with Ukraine serving as a mere pawn.
But, Zelensky is not the only leader that has damned his nation to the cusp of American love. There is one more man. This man has been in Zelensky's footsteps even before Zelensky entered politics and is now imprisoned in a small jail.
We are talking about Mikheil Saakashvili, the former President of Georgia.
Saakashvili- The Georgian Zelensky
Mikheil Saakashvili is a well-known figure to many Georgians and those interested in geopolitical affairs. It was during his tenure that Russia began to pursue its dream of a 'Greater Russia' after the collapse of the USSR. He was another politician supported by the United States and aligned with the West.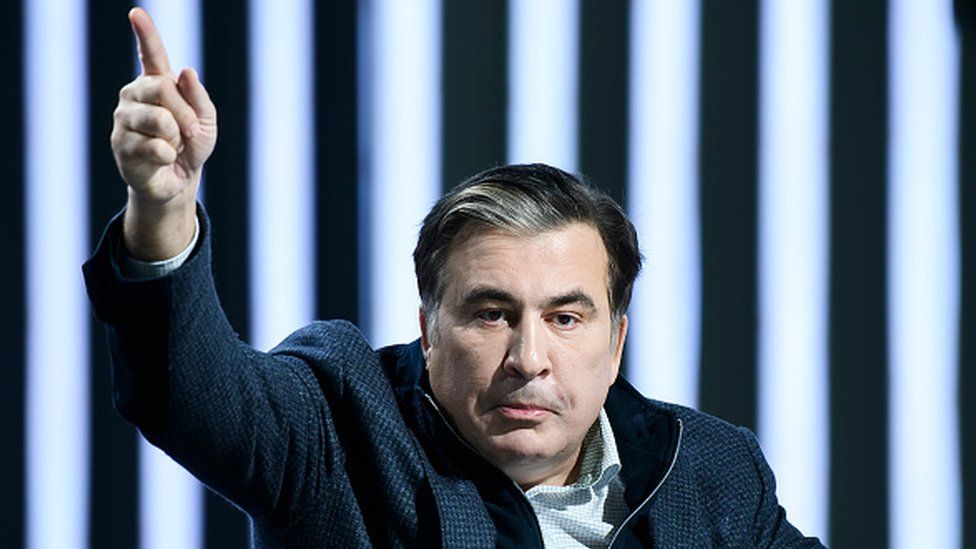 His story echoes that of Zelensky. Just as no one was familiar with Zelensky until 2019, no one knew Saakashvili until 1995 in Georgia. At the time, he was living and studying in the USA and pursuing the American dream.
Saakashvili studied law at Columbia University in New York City and went on to work as a lawyer in New York. He also interned with United Nations in legal hearing. His experiences in the United States left a very deep impact on his mindset.
As an influential scholar in the field of American studies, he wrote several books on topics such as democratization, globalization, and international relations and taught courses on these subjects at universities around the world.
Saakashvili's devotion to American studies have helped him to garner a greater understanding of American values and ideals in the international community. In the early 2000s, he returned to Georgia.
Those days were far from merry for the nation, as corruption and scandals plagued the regime of Eduard Shevardnadze. Saakashvili, who had been a minister under Shevardnadze and was a well-known columnist, became his most vocal opponent.
The 2003 elections marked a critical moment, as widespread demonstrations erupted throughout Georgia in response to reports of voter fraud and corruption during the nation's legislative elections.
In 2003, Mikheil Saakashvili, then the youngest lawyer and the biggest opposition leader in Georgia, was a pivotal participant in the drive for political reform. This peaceful revolution led to the resignation of Eduard Shevardnadze, Georgia's longstanding president.
In 2004, Saakashvili was elected as Georgia's next president, running on a platform of democratization and economic revival. He sought to deepen ties with the West and advocated for both NATO and EU membership.
Read More: Woaah! Biden's son Hunter is helping Russia in the Ukraine war
The Cheney-Saakashvili mishap
What a remarkable coincidence it was when Saakashvili was President of Georgia, and his long-time friend, Dick Cheney, was also serving his second term as Vice President of the United States.
Saakashvili had been acquainted with Cheney since 2001. And, their friendship only grew stronger when Saakashvili became President in 2004.
Cheney became a strong supporter of Saakashvili's efforts to promote democratic reform and modernization in Georgia, and the two men worked closely together on issues related to global security and democracy promotion. However, Cheney also had ulterior motives in his relationship with Saakashvili.
As the American Vice President, Cheney had a vested interest in the deployment of NATO forces to encircle Russia. While other nations in the region, such as Ukraine and Belarus, had pro-Russia leaders, Georgia was led by Saakashvili, who had been long at odds with Russian President Vladimir Putin.
Saakashvili was a staunch advocate of Georgia's territorial integrity and sovereignty, especially in regard to South Ossetia and Abkhazia. He strongly condemned Russia's attempts to influence neighbouring countries and its involvement in promoting separatist movements in the region.
Saakashvili had encountered Putin on various occasions throughout the years and had a personal relationship with him in spite of his political convictions. It was reported that Saakashvili found Putin intimidating and untrustworthy, viewing him as an embodiment of the oppressive forces he was working to eradicate in Georgia.
In 2008, tensions between the leaders of Georgia and Russia reached a boiling point, with Saakashvili confident that Cheney had his back.
Saakashvili then made an attempt to reclaim control of South Ossetia, resulting in hundreds of casualties. In response, the Russian military intervened, escalating the situation into a conflict. Russia justified its military invasion of Georgia as a necessary measure to protect the Russian citizens living in South Ossetia.
The fighting quickly escalated as both sides exchanged blows and airstrikes, leading to numerous casualties over the course of the five-day conflict. The region was also left with extensive damage to its infrastructure and property.
The situation for Saakashvili worsened as he eventually lost control of 20% of Georgia's territory. Desperate for assistance, Saakashvili begged the United States for help. In response, Vice President Cheney drafted a plan to wage war on Russia.
However, President Bush quickly dismissed the idea, as the US was already heavily invested in the war in Afghanistan. Consequently, Saakashvili's and Cheney's hopes of defeating Russia were left shattered.
In South Georgia, Putin's forces refused to halt the massacre of Georgian troops. Consequently, Saakashvili's popularity plummeted due to his support of EU and NATO membership. Eventually, a ceasefire was declared to bring an end to the conflict.
Read More: Biden administration grounds mighty A-10 bombers to mint more money
The fall of Saakashvili
Saakashvili received harsh criticism for what many viewed as his reckless and foolish decision to start a military intervention in South Ossetia. The war exposed the inadequacies of the Georgian military and the difficulties of defending the country against a more powerful adversary.
These issues resulted in a decrease in Saakashvili's approval rating and his administration was met with a rising number of protests and criticism from civil society organizations and opposition parties.
Saakashvili's party suffered a defeat in the 2012 parliamentary elections, as the Georgian Dream alliance, led by Bidzina Ivanishvili, won. After Saakashvili's second term in office concluded in 2013, he was forced to resign.
He then moved to Ukraine and was appointed as the governor of the Odesa region in 2015. However, his tenure in this role was short-lived, as he resigned in 2016, citing corruption and resistance to reform in the Ukrainian government.
Following his resignation, Saakashvili became a vocal critic of Ukrainian President Petro Poroshenko and his government, accusing them of failing to tackle corruption and implement reforms. In 2017, Saakashvili was arrested and charged with illegally entering Ukraine, after Poroshenko had stripped him of his Ukrainian citizenship.
Saakashvili's arrest sparked protests and controversy, with many of his supporters and critics accusing Poroshenko of political persecution. After spending several months in detention, Saakashvili was released on bail and went on to become a prominent opposition leader in Ukraine, running in the country's presidential election in 2019. Subsequently, he endorsed his fellow opposition leader, Volodymyr Zelensky, for the presidency.
In 2021, he was arrested again for illegally entering Georgia. He was found guilty of abusing his power while in office, yet he continues to send letters to world leaders from his jail cell in the hope of securing help. However, his pleas have gone largely unanswered.
Read More: NATO enters its "last lap of existence"
Saakashvili and Zelensky are two prime examples of individuals who have relied heavily on others to fulfill their responsibilities over time. Unfortunately, they have both suffered devastating losses in the process. While Zelensky still remains, it is uncertain how much longer he will be able to endure. A modest US regime might complete the task. Make no mistake, time is running out for him too.
WATCH: