Zambia in recent years seems to be reinventing its foreign policy and focusing heavily on building newer ties in its national interest. There was a time when the country was heavily dependent on China which cost it dearly. Now, things are changing and Zambia has learnt the lesson. The African country today is diversifying its relations and is in its quest to make the most of it.
Zambia's approach to international relations
In recent years, Zambia has changed its approach to international relations. The administration of President Hakainde Hichilema has been trying to revive the country's relationships with key Western partners while also maintaining its ties with China and the wider African continent.
Zambia is also central to a number of global concerns, including as a participant of the G20 Common Framework for Debt Treatments; as a democratic state and potential African ally for the West; and as a valuable producer of natural resources required for the global green transition.
Zambia's struggle against mounting debt
Zambia's economy struggled under Chinese debts as the country at one time heavily depended on Chinese loans. Chinese loans and investments played a major role in funding Zambia's infrastructure projects, including roads, bridges and power plants etc.
China also became the single biggest lender in Zambia and its loans accounted for more than US$6 billion of the country's total US$16.8 billion debt as of December 2021. As it depended heavily on China, it gave rise to Zambia's high risk of debt distress.
Then it was not a surprise when Zambia became the first covid-era debt default African nation. However, with Zambia's inability to repay debts, it lost some significant state assets to China, which had taken over an international airport, an electricity company, and a key highway.
Read More: Zambia decides to get rid of Chinese influence after struggling for 5 years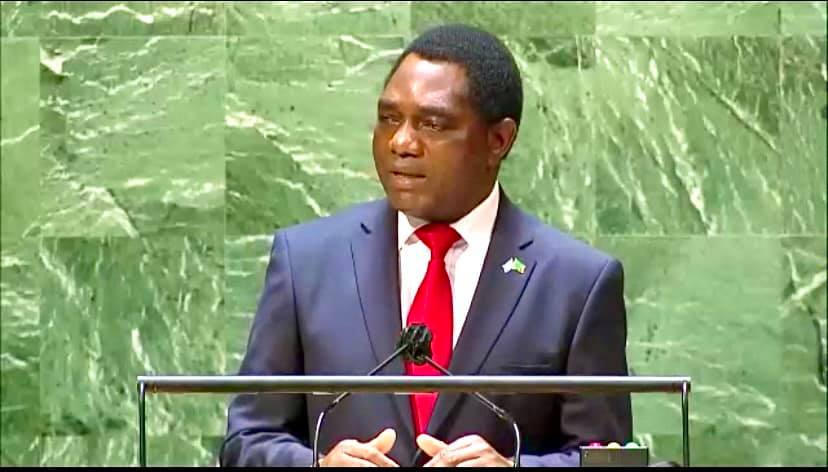 However, after getting neck-deep in debt, Zambia finally decided to bid adieu to Chinese loans and started looking for alternatives. President Hakainde Hichilema, after being elected in August 2021, revived its relations with key Western partners, however, it also didn't mean turning entirely away from China.
In September 2022, Zambia signed an agreement with the IMF. With this, Zambia received a boost through a $1.3 billion loan agreement from the International Monetary Fund.
President Hichilema developing Zambia's international relations
Thus, after Zambia realised the dangers of mounting debts from China, it gradually started establishing strong ties with the West. Zambia even voted in favour of Ukraine during the UN resolution vote and also held talks with Volodymyr Zelensky, the first ever in the history of Zambia-Ukraine relations and visited the White House to meet Vice President Kamala Harris. Harris and Hichilema emphasised the strengthening of bilateral relations between the US and Zambia.
Hichilema ever since coming to power has taken an assertive approach to Zambia's international relations and retained the country's tradition of "positive neutrality".
Hichilema has resuscitated relations with Western partners, especially the US and UK, however, it has not sabotaged its important relationships with China. He also has taken steps to strengthen relations with other African countries. Moreover, new investments and development support from a diverse mix of partners, including Brazil, India, Japan, Saudi Arabia, South Africa, Türkiye and the United Arab Emirates, illustrate the further expansion of Zambia's relations.
As a producer and a transit route for other regional mining deposits, Zambia is also critical to the supply of minerals required for the global energy transition. Zambia aims to produce 3 million tonnes of copper per year by 2032 and use these resources to develop its economy. This will further require significant international and domestic investment in infrastructure to transport the material, and a reduction of non-tariff barriers, such as border-post inefficiency.
Zambia is also looking for strengthening regional partnerships. Recently, we told our audience how Zambia is joining hands with Zimbabwe to end sub-Saharan Africa's energy woes.
Read More: Zimbabwe and Zambia join hands to end Sub-Saharan Africa's energy woes
The proposed US$4.5 billion Batoka Gorge Hydroelectric Power Station on the Zambezi River across the border between Zambia and Zimbabwe is set to transform Matabeleland. It's a showpiece project in the southern African region.
Further, as Zambia reels under a severe electricity crisis, it recently joined hands with UAE to develop solar projects worth $2 billion in Zambia. It has huge solar potential by 2030, and that's why the government of Zambia hopes to increase its electricity generation to 6000 megawatts.
Read More: UAE backs Zambia's Solar Dream
Thus, Zambia today is diversifying its partnerships to improve its economic conditions and set the country on the path of real progress. It is trying to reduce its reliance on only a few countries for trade, investment and development cooperation. Zambia's efforts to diversify its partnerships may also be driven by a desire to mitigate geopolitical risks associated with a few dominant partners. With all this, Zambia can surely hope for a brighter economic future although it must also be careful and tread cautiously as it sticks to its policy of "positive neutrality" in international relations.