Slovakia's political turmoil today has reached the brink of a full-blown crisis putting its sovereignty at risk.
The current politics of Slovakia is in a stage of volatility. The nation currently has no formal government, but, an unpopular interim government. The people share an ideologue which is not in consonance with that of their West European and American mindsets.
Slovaks are perceived as pro-Russians due to their energy dependence on Moscow and its historical ties to the Soviet Union. Additionally, a significant portion of the Slovak population is of Russian or Eastern Slavic descent, contributing to a cultural affinity towards Russia.
Even in the Ukraine war, Slovaks want Russia to win the war. As per a survey, titled "How are you Slovakia?" conducted by MNFORCE and Seesame agencies in partnership with the Slovak Academy of Sciences, over half of the Slovak population surveyed would welcome a military victory for Russia over Ukraine.
Whereas, the government of Slovakia is on a totally different page. The interim government of PM Eduard Heger is known in Europe for his Anti-Russia stance. The current Slovak government has been donating arms to the Ukrainian armed forces while opening its border to refugees fleeing the war with Russia.
Under Heger, Slovakia was the first nation to offer long-range air defense to Ukraine. Slovakia's president joined the ranks of those who argued for Ukraine to be given candidate status in EU and NATO.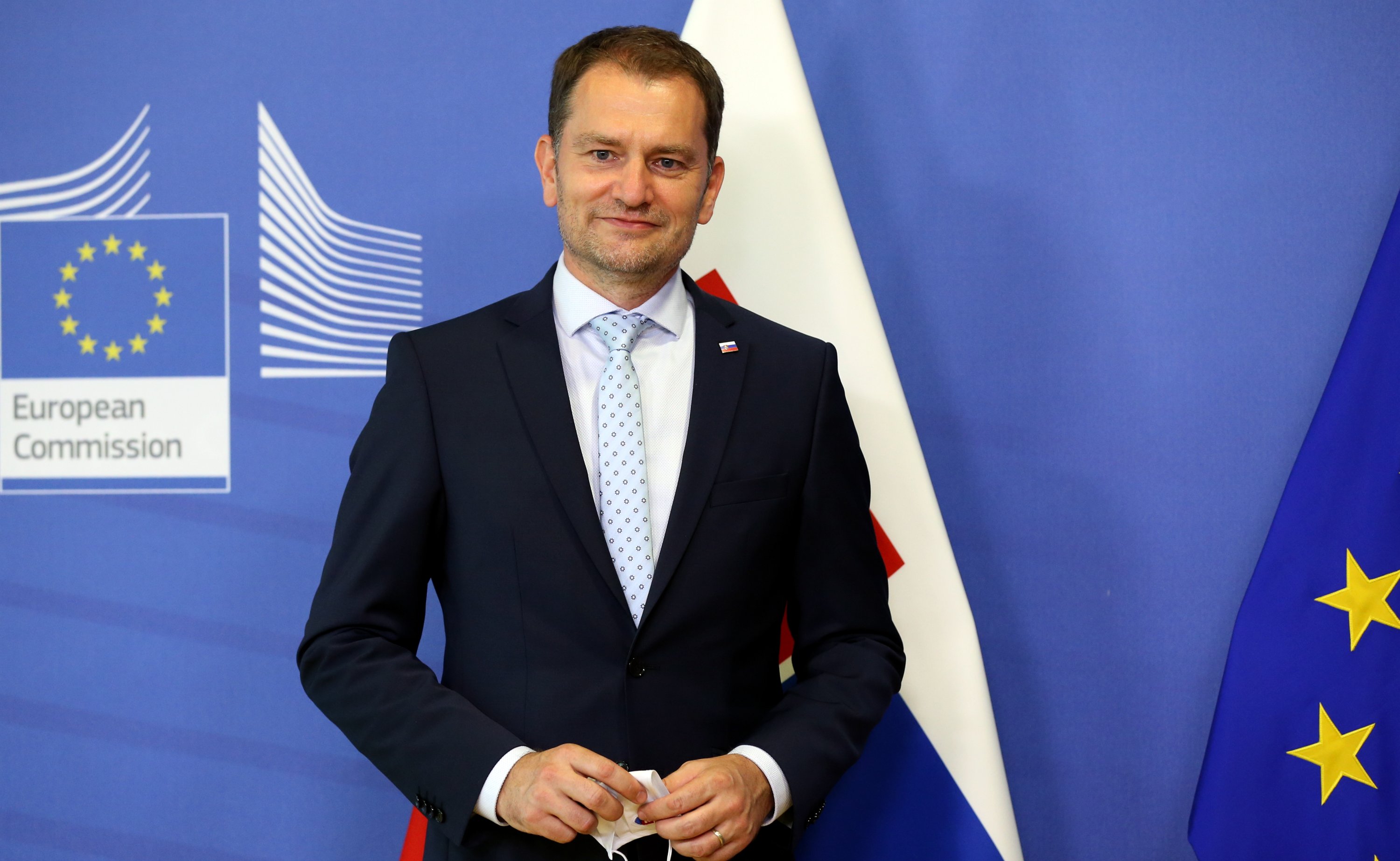 However, the Slovak people did not support this position. Eduard Heger lost the confidence of his people in December 2022, and now the country is preparing to hold elections in September 2023.
In comparison to pro-Russian candidate Robert Fico, his popularity is continuing to decline. Heger has now made the conscious decision to use a pro-West rhetoric in Slovakia, in order to appease western leaders.
Opening Soviet Stronghold for NATO
As NATO continues its call for arming Ukraine. The Slovakian government has suddenly announced that it will be reopening the former Soviet City of Prakovce for Western arms supplies.
The city was an erstwhile soviet arms production hub. Reportedly, the state-owned Konstrukta, which manufactures Zuzana 2 howitzers, is planning to open two new construction halls and hiring 50 workers to restart production in the lost city. Moldava nad Bodvou, a nearby town, now has a brand-new assembly hall and training facility thanks to the company. The general manager of Konstrukta, Alexander Gursky, claims that Western nations are eager to purchase weapons from Slovakia.
This is a part of Slovakia's arms strategy which was introduced back in 2022. ZVS Holding had announced late last year that it would invest $16.1 million to increase its 155-millimeter artillery ammunition production in the city of Snina closer to the Ukrainian border from 19,000 to 100,000 shells annually.
Well, Prakovce is not just a small town located in eastern Slovakia, it has a long history.
During the Soviet era, Prakovce was a crucial armament production center for the Soviet Union, producing components for tanks, airplanes, and other military equipment. The town was strategically located near the Ukrainian border, allowing for easy transportation of materials and finished military equipment.
The armament industry in Prakovce began in the 1950s with the signing of the Warsaw pact. Former soviet nations like East Germany, Poland, Slovakia, Lithuania, etc. used to purchase swathes of weapons from Prakovce.
The golden run continued until the collapse of the Soviet Union in the 1990s.  Today, the town's armament industry has been largely dismantled, but the legacy of Soviet influence is still evident in the town's architecture, infrastructure and people.
As orders disappeared in the early 1990s, production dropped by 90%, leaving tens of thousands of people jobless and sprawling complexes to their demise.
The town's population has decreased significantly since the end of the Soviet era, but there are still some residents who work in small gun factories and remember the town's importance during the Cold War.
Now, the Slovakian interim government has decided to open this city for Western leaders even after acknowledging the fact that Slovaks in the city might not be welcoming enough.
Read More: Hungary has made Slovakians very hungry (for oil)
Calling Russia, a sponsor of 'Terrorist'
Not only that, but the Slovakian government has also made an effort to win over Western leaders by mimicking their every move.
On February 16, 2023, lawmakers in Slovakia declared Russia a state sponsor of terrorism and referred to the country's current government as a terrorist organization. They also once again denounced Russian aggression against Ukraine and backed its independence, sovereignty, and territorial integrity.
The National Council's resolution from February 16 also denounced Moscow's threats to use nuclear weapons during its ongoing invasion of Ukraine, as well as missile strikes against civilian targets, public buildings, and the country's energy infrastructure.
The Eduard Heger administration is currently kowtowing to every point made by western leaders. Considering that all of these actions go against the popular sentiment, they might pose a serious risk to the stability in the region.
Read More: Pro-EU Slovakia suddenly refuses to go against Putin and delivers a stern warning to EU
The changing Political and Geopolitical dynamics
The evolving dynamics of countries bordering Russia are causing concern as the war in Ukraine is spilling over and internal opposition in several nations is growing. Georgia is already facing an escalating turmoil, while Slovakia is experiencing widespread dissatisfaction with its pro west interim government.
Trends suggest that the current administration in Slovakia, led by Eduard Heger, is likely to lose upcoming elections. As a replacement, former PM Robert Fico is likely to return. However, before that, Heger pulled a move that nonetheless could be seen as a provocation by Russia.
It is already being speculated, that it is just a matter of few days before the Russia-Ukraine war spreads over to Western Ukraine.
Just a few days ago, Ukrainian officials reported that Russian strikes hit critical infrastructure in the western city of Lviv. Lviv, despite being located at the opposite end of the country's eastern front, it is just a few kilometers away from the Slovakian Border.
Read More: A BRICSy Middle East! Raisi and MBS join forces leaving Biden out of equation
The latest developments in the ongoing conflict between Russia and Ukraine raise the chances of further escalation, and the recent decision by Bratislava to open the Soviet-era armaments production center in Prakovce for western allies could exacerbate the situation.
While the current interim government led by Eduard Heger may not be in power forever, this move may have long-lasting consequences for Slovakia. The potential impact on the country's stability and security remains uncertain, and only time will tell how things fold out in the future.