Jagmeet Singh latest interview: In a recent interview with CTV's Question Period host Vassy Kapelos, New Democratic Party Leader Jagmeet Singh said "he's really, really proud of the commitments he's secured through his agreement with the Liberals, citing the first phase of a national dental care program as an example."
In his latest interview NDP Leader Jagmeet Singh also says next week's federal budget "must expand dental care in order to maintain the confidence-and-supply agreement his party has with the Liberals."
Jagmeet Singh latest interview
But it has yet to occur.
After more than seven years as Canadian prime minister, Justin Trudeau was blessed with an agreement  – an agreement over dental care to secure him another three years in office.
"I want to be the one making the decisions for the interests of people, and having been in a position where I can actually influence decisions, I've seen how much better we would do if we were the ones calling the shots."
But for what purpose, Mr Singh?
Do you want PM Trudeau to prioritise supporting an independent Khalistani state instead of Islam and China?
Let me tell you that away from the media spotlight, Mr. Singh is putting serious effort into the establishment of a homogenous Sikh state within the borders of India.
"The Khalistan movement is a separatist movement seeking to create a homeland for Sikhs by establishing a sovereign state called Khālistān in the Punjab region.
"After 1971, the notion of a sovereign and independent state of Khalistan began to get popularised among Sikhs in North America and Europe."
In 2023, the leader of a federal Canadian political party is working to establish Sikh state independence.
That's all so "2014" in PM Justin Trudeau's "no core identity" Canada. After all, the Canadian PM is presently working for China. But not a problem, say Canadian media. If they had any, they would have long ago pointed out Jagmeet Singh's ridiculousness and his ability to reduce the NDP's number of seats in the House from 46 in 2015 to its present 25.
Positioned as the golden boy of social programs, voters are deceived regarding the true Trudeau-Singh agenda.
Read More: Jagmeet Singh is burning the bridges between India and Canada
The entire purpose of the New Democrats has transitioned in orientation. Today, the party exists for a singular purpose: to prop up what we, the conservatives and even the Cultural Action Party of Canada have branded a Trudeau dictatorship.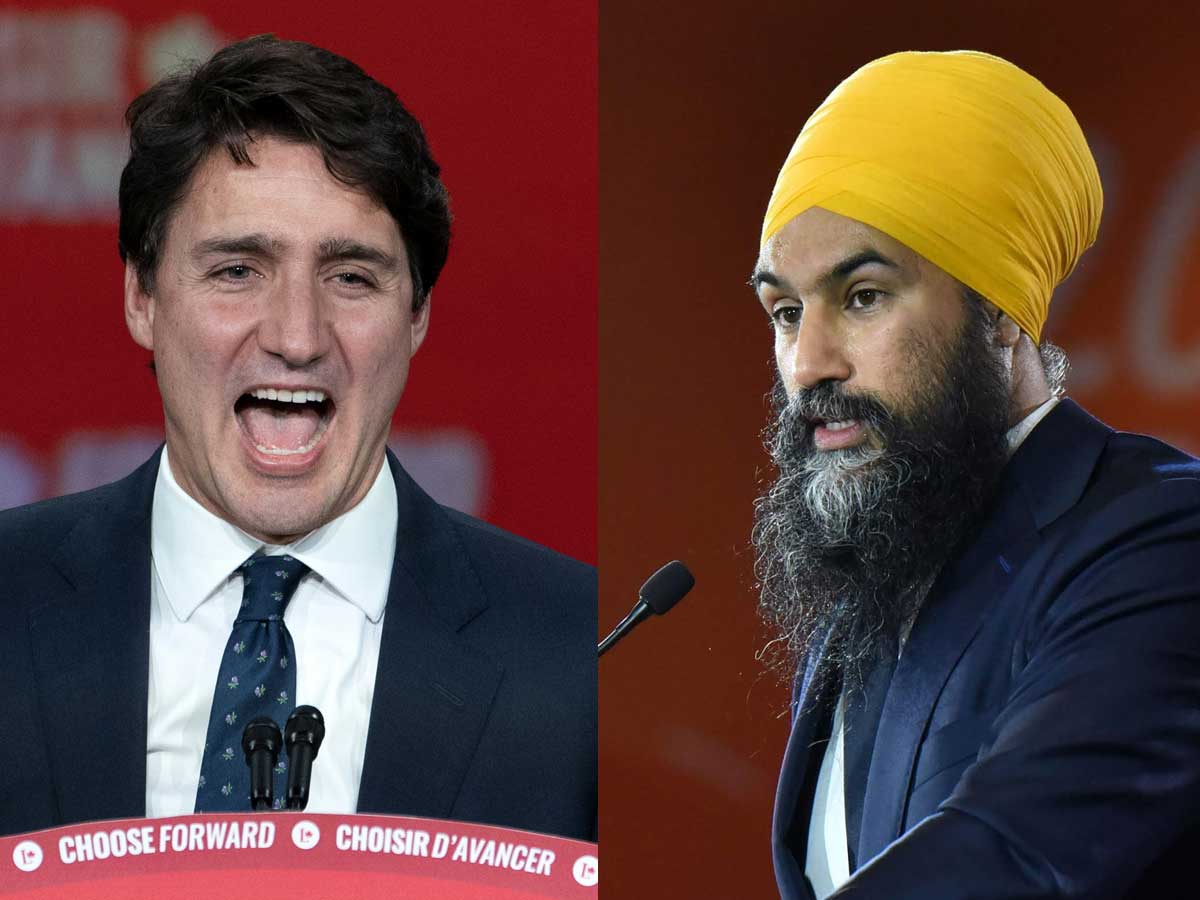 "We always have the right, if the government breaks any conditions of the agreement, if they don't follow through with what we forced them to agree to, we have then the power or the option of withdrawing our support," Singh told his caucus in early 2023.
But you haven't done it– even in light of alleged election interference by the Chinese government. Dollars-to-Tim Horton's donuts you never will, Mr. Jagmeet Singh.
Just this past week, Mr. Singh voted against a motion in the House of Commons calling for a public inquiry into Chinese government election meddling in Canada.
Whose side are you on, buddy-boy? The same side as the following members of Parliament, all of whom voted against the inquiry.
Omar Alghabra,  François-Philippe Champagne, , Fayçal El-Khoury, Mark Holland, Salma Zahid, Justin Trudeau, Melanie Joly, Stephen Guilbeault, Marco Mendicino, Sean Fraser, among others.
Not one of these people are in favour of getting to the bottom of the Chinese election interference scandal.
Then what's your Priority, China?
Now, let's come to the Khalistan connection of Jagmeet Singh.
Canada's New Democratic Party leader Jagmeet Singh drew flak on Twitter after he raised concerns over the Punjab police's massive crackdown in the state – to arrest Khalistan sympathiser Amritpal Singh – leading to the suspension of the internet.
Roll up your sleeves and get to work, Mr. Singh. Khalistan is calling. But wait, your butt is banned from entering India.
A Toronto Star article from 2013 states that "NDP MPP Jagmeet Singh has been refused a visa to enter India because of comments he made about that country's human rights record."
Jagmeet Singh— real name Jimmy Dhaliwal is the son of immigrant parents from the Punjab province in India.  According to a dossier prepared by Indian intelligence officials, "Jagmeet Singh, the Leader of Canada's second-largest party, remains a pro-Khalistani and a pro-Pakistani ringleader."
Coming to India, just this month, the government of India suspended Jagmeet Singh's Twitter account. Too many tweets slamming the Indian government for the liking of their nation's Hindu-dominated ruling party.
What does all this have to do with Canada? Everything, and nothing at all. While Jagmeet Singh is spending his time supporting China, Punjab and Khalistan, he is holding the key to the pseudo-dictatorship of Prime Minister Justin Trudeau. He keeps on giving China's final warning to the federal liberal party of breaking its alliance with the liberals but it's clear that's never happening owing to Jagmeet and Justin's underlying motives. Justin and Jagmeet are friends who pose to be foes by choice. Their relationship has been rocky but if we look at the greater picture they are bound in a marriage of compromise.