Coup in Georgia: As Ukraine's allies in Europe and around the world lined up to impose punishing sanctions on Russia over its invasion of Ukraine last month, there was one notable holdout: Georgia, which was itself invaded by Russia 14 years ago.
Justifying the move, Georgian Prime Minister Irakli Garibashvili said that joining Western sanctions "would only further damage our country and populace." Ukrainian President Volodymyr Zelensky recalled his ambassador to Georgia over the move, describing it as "immoral."
Coup in Georgia: US-backed Mikheil Saakashvili is back in the news
Upon closer examination, it appears that the main reason behind Georgia's decision to not impose sanctions on Russia may have been to avoid drawing the country into an armed conflict, as Georgia could potentially be the next target of a Russian attack. However, the Georgian government may have also seen Russia's current troubles as an economic opportunity. With trade routes via Russia closed and goods banned between the West and Russia, Moscow has been seeking alternatives in neighboring countries. This urgent situation has created opportunities for these neighboring states, including Georgia, to take advantage of Russia's isolation and gain economic benefits.
This decision by the Georgian government is not the first, nor the last, in their response to the crisis that has prompted outrage within the country and confusion among analysts. The Georgian government has also refused to allow volunteers to leave the country to fight in Ukraine, and prominent Kremlin critics and independent journalists have been turned back at the border, despite Georgia's visa-free travel regime with Russia.
Although there are no diplomatic relations between Moscow and Tbilisi, there have been recent attempts to thaw relations. On January 18, during a press conference, Russian Foreign Minister Sergey Lavrov stated that he was glad to see active development in contacts with Georgia, and mentioned that Georgia's GDP grew by 10 percent in 2022, largely due to tourism and trade relations with Russia. In recent years, Georgia's economy has become increasingly dependent on its northern neighbor, which is also connected to the massive influx of Russians who fled mobilization or the effects of sanctions and repressive state measures. According to a report by Transparency International Georgia, even in 2021, over 23 percent of the gas imported by Georgia (in 2018 it was just 2.8 percent) and as much as 94 percent of its wheat came from Russia.
Read More: After months of challenging Russia for a dual, Georgia goes Gandhi as the moment arrives
In an effort to further solidify Tbilisi's national interests, the president of Georgia has implemented two laws aimed at preventing foreign interference in the country. This move is seen as a response to the persistent pressure from the West for Georgia to denounce Russia. This ambiguous stance towards Russia by President Garibashvili, along with the implementation of these laws, has caused irritation among Western leaders. Their frustration is understandable, as Georgia's foreign policy has not always been neutral. Under the leadership of Mikheil Saakashvili, Georgia pursued closer ties with the West, seeking NATO and EU membership.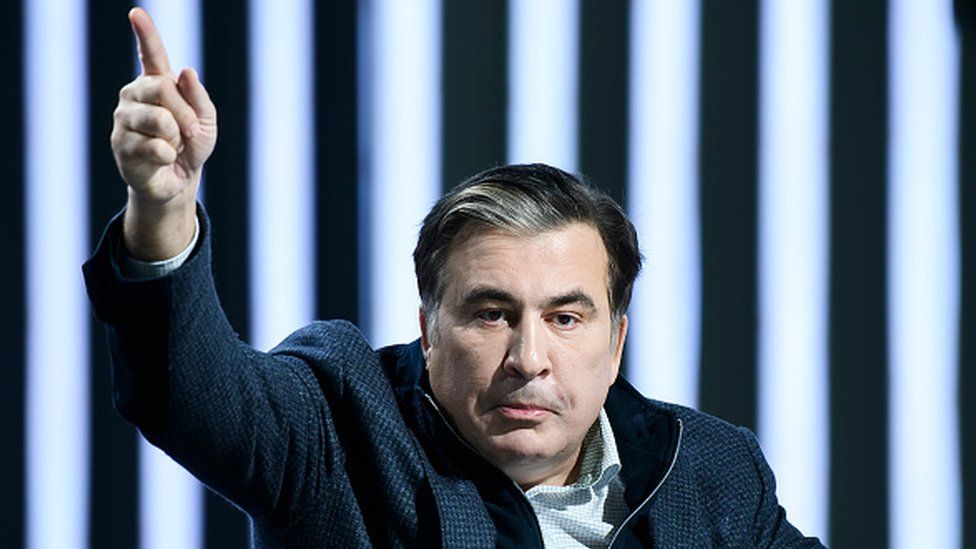 However, Saakashvili's decision to use force in an attempt to reclaim the Russian-supported breakaway province of South Ossetia in 2008 resulted in a disastrous war with Russia. In retaliation, Russian forces swiftly advanced into Georgia, coming within 30 miles of the city of Tbilisi, until a cease-fire halted the conflict after five days. Saakashvili was subsequently removed from office in 2013 after his party lost parliamentary elections and later fled the country after being charged with abuse of power and other crimes. He was tried in absentia and sentenced to prison in 2018.
Since then, Saakashvili has remained active in Georgian politics from abroad, using social media and Western media outlets to criticize the government and promote his agenda. Some observers view this as a legitimate form of opposition, while others accuse him of stoking tensions and destabilizing the country.
Read More: Mikheil Saakashvili was Zelensky even before Zelensky was known
Recently, Saakashvili has been gaining significant coverage in Western media outlets to disseminate his propaganda. In an article written in Politico, the former Georgian President referred to himself as a political prisoner in Georgia and extensively lamented about his deteriorating health condition.
Why are we suddenly seeing Saakashvili's reappearance? Well, this is where the game gets tricky. Frankly speaking, Saakashvili's growing popularity among media spaces is an attempt by Western authorities to create a space for the former President in the contemporary Georgian political landscape and to remove the current President Garibashvili, who has become a thorn in the flesh of Western leaders.
Let me explain how this meticulously crafted plan would unfold. You may be aware that propaganda through media outlets, political movements, and mass unrest are three factors that can contribute to the success of a coup attempt.
In order to successfully carry out a coup, coup plotters often need to create a favorable public opinion and undermine the legitimacy of the government they are seeking to overthrow. This is where propaganda through media outlets can play a crucial role. The coup plotters may use sympathetic media outlets to spread false information, manipulate public opinion, and delegitimize the government, creating an atmosphere of distrust and hostility towards it, which can make it easier for the coup plotters to gain support. This precisely explains the growing appearance of Saakashvili in numerous media outlets. Georgia is strategically very important for the West. The country is located at the crossroads of Europe and Asia, serving as a key transit route for energy resources and trade between the two continents. Additionally, it is in close proximity to the Caucasus region, which holds significant natural resources and geopolitical significance.
Read More: Georgia's foreign interference law leaves West crying but Putin laughing
Furthermore, Georgia's economic potential and strategic location make it an attractive partner for the West in terms of economic cooperation and investment. The West has actively supported Georgia's economic development through trade agreements and investment projects. As such, a puppet government in Georgia becomes imperative for the West's strategic interests. Saakashvili's history of pursuing a pro-Western foreign policy makes him a perfect fit, and this is precisely why Western countries have utilized their propaganda apparatus to facilitate his return. In fact, the United States has even sanctioned the judges who charged Saakashvili with numerous crimes.
In a plot twist that could rival a political thriller, the first act of the coup in Georgia has already begun. Buckle up, because a change in the Georgian leadership may be just around the corner. Stay tuned for more unexpected twists and turns in this high-stakes drama!