Whatever Poland does nowadays makes no sense, but yes, it leaves everyone scratching their heads. Some days, it is a friend of Russia; the very next day, it hates Russia. Some days, it loves the EU, but the next day, it despises it. It also wants to get into bed with Germany sometimes, then abhors Germany for its actions in the 1940s the next day.
Poland in 2023 will have become the Turkey of Eastern Europe, constantly flocking from one stance to another. This confusion undoubtedly creates further confusion. And it appears that it has done just that.
The public has started losing trust in the ruling Duda-Moraweicki duo. Poland's ruling Law and Justice party is experiencing a decline in support, as opinion polls indicate. This is a clear sign that their recent proposals to increase social spending are failing to resonate with the public.
Furthermore, it is an election year for Poland, where a new government must be elected. While the polls initially showed that the ruling party would win the parliamentary election expected in October, it seems they will fall well short of the majority needed to rule alone.
Duda knows that he has caused enough diplomatic damage to make everyone his enemy. As a result, he has begun preparations to somehow cling to power. The best way to achieve this is by creating so much confusion that people perceive him as the only viable option.
And now they have found the perfect scapegoat: Donald Tusk.
Duda Puts Tusk on Fire
According to media reports, the Polish ruling party PiS is pushing for the creation of a commission to investigate Russian influence in Poland. Reportedly, this commission will serve as a means to expose any hidden agendas.
However, critics view it as an attempt to create a powerful and unconstitutional tool that would enable the ruling party to maintain power even if they lose the upcoming elections this fall.
Some fear that the right-wing ruling party could exploit the planned commission to eliminate opposition leader Donald Tusk from political life. Tusk poses the greatest threat to the ruling party, Law and Justice, as they seek a third consecutive term in the upcoming vote expected in October.
The proposed bill envisions the creation of a state commission with the powers of a prosecutor and judge. This commission would have the authority to impose punishments, including 10-year bans on officials in positions that control the spending of public funds.
The backdrop of Russian aggression in Ukraine further complicates matters. The proposal to create the commission arrives amidst heightened tensions and concerns about Russian influence.
Read More: "To hell with your imperialism" Poland shrugs off EU's autocratic dream
Does Tusk have Chance?

It is crucial to note that Donald Tusk is currently the second-most-favored politician for the Polish presidency. Tusk, the former President of the European Council, has faced accusations of having pro-Russia leanings. 
Tusk has defended his record on Russia, emphasizing that he has always been a strong advocate for European unity and has worked to build a constructive relationship with Russia. However, his critics argue that his actions have undermined NATO and the EU, giving Russia the green light to continue its aggression in Ukraine.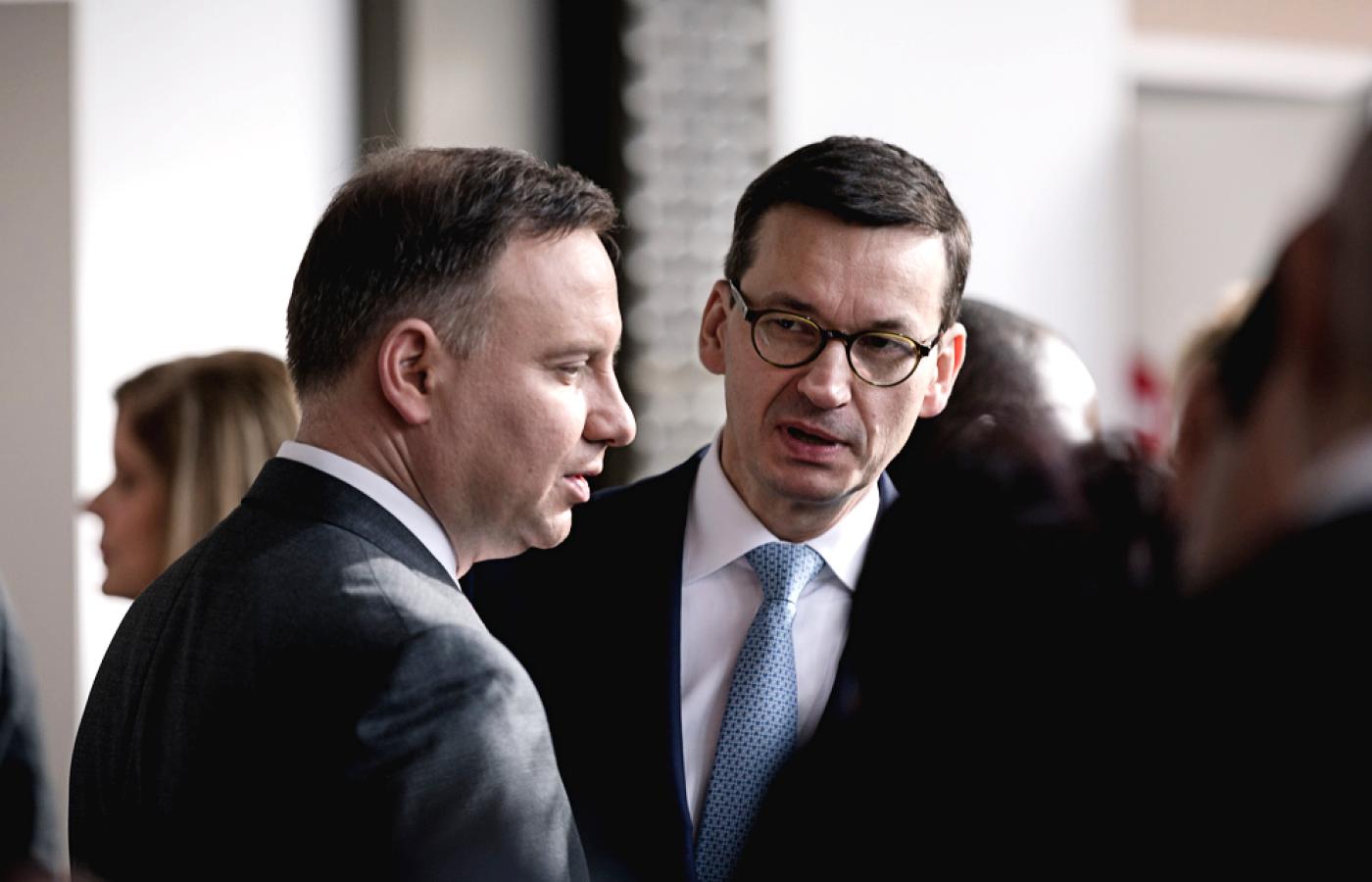 Another instance where Tusk was labeled pro-Russia was his early support for the Nord Stream 2 pipeline, which he later retracted. Now, Tusk finds himself in the crosshairs of Duda and Moraweicki, potentially facing a losing battle.
As the political saga in Poland reaches its climax, Duda and Moraweicki continue their desperate quest to regain favor with the disillusioned masses. Their recent attempt to hold Germany accountable for past transgressions might have made for a dramatic spectacle, but alas, their efforts seem to have been in vain.
Read More: Aww! Germany is heartbroken to see Poland's ever expanding clout
In the grand scheme of things, it is not the theatrics or political maneuvering that will ultimately shape Poland's destiny.
The true power lies in the hands of the people, as they exercise their right to vote and determine the course of their nation. So, let's put our trust in the collective wisdom of the Polish people for the time being, trusting that their decisions will usher in a time when policymakers put the real welfare of the nation and its people first. Not some inept leaders that continually switch their positions.
W
  atch More: