It has been a whirlwind of events since the staged coup by Wagner in Russia, and the truth behind the intrigue has finally come to light.
What appeared to be a pro-Putin action at first turned out to be a carefully thought-out scheme directed by none other than Vladimir Putin himself. Putin aimed at strengthening his hold on power and making himself the ultimate leader. He used the coup as a tactical move to destroy a party inside the Russian military.
As Putin sets his eyes on overhauling the nation's military, the effects of this bold action are already becoming clear. Putin has finally started to make reforms. And here's his first announcement.
Putin's Massive Claim!
"Wagner does not exist" Yes folks this statement by Putin came at a technological fair in Kremlin recently that raised eyebrows. While attending the event, Putin was asked whether Wagner will continue operating as a combat formation. To which Putin replied, "Well, PMC Wagner does not exist."
Putin told the Kommersant correspondent, "We don't have a law on private military companies. So it simply doesn't exist." "The group exists, but legally it does not," the president clarified. "It's a separate issue, related to legalization, that needs to be taken up by the State Duma and the government. A complicated question."
Read More: LOL! Russia's Wagner outsmarts the West on a Grand Scale
The Division and Unification
These statements speak volumes about Putin's intentions and confirm our suspicions. Wagner is nothing more than a facade, a ghost on paper.
Putin's strategy developed gradually. First, he ordered them to leave Russia and used the coup to get rid of Wagner's anti-Putin members. Because of this, a substantial component of the military moved to Belarus. Putin divided the group into two sections after dissolving Wagner. One faction relocated to Belarus and the other is now poised to be formally incorporated into that nation's armed forces.
Now that Putin has made his recent statement, Wagner's existence in Russia has officially come to an end. Putin's resolve to bolster his position of authority and modernize the armed forces under his command is demonstrated by the group's dissolution and subsequent incorporation into the country's military. The action acts as a masterstroke to get rid of any dangers and set up a unified command system.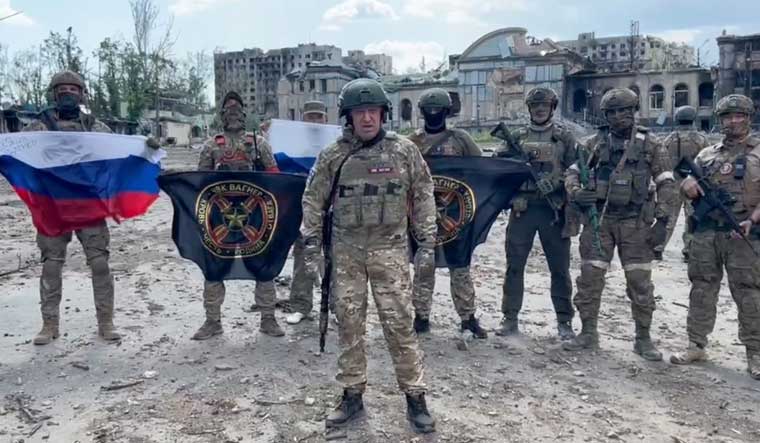 So, there you have it. It was a planned move to strengthen his status as the supreme leader and reorganize the Russian military. Now that the dust has settled, we can clearly see how Putin's activities have had an impact.
Even while the Wagner group technically no longer exists, its fragments spread throughout Belarus and the Russian military serves as a harsh reminder of Putin's continuous commitment to reshaping the military of the country to his preferences.
Read More: Ukrainian Head. Russian Finger. American Sniper
In the end, we are left to ponder the true extent of Putin's reforms and what lies ahead for the once-infamous Wagner group. Will it be fully absorbed into the Russian military, or will it evolve into a new entity altogether? Only time will tell. One thing is for certain: Putin's fingerprints are all over this calculated chess move, reminding us once again that when it comes to power and control, he is a master of the game.
Watch More: