Trudeau's liberal party appears to be dancing on thin ice as the political circus in Canada heats up once more. Watching the Liberal ship navigate choppy waters with the next elections still two years away is a true spectacle. It's not difficult to understand why voter support has reached an all-time low. 
Canadians are feeling the pinch in their pocketbooks and surprise, surprise, they are not thrilled with the prospect of shelling out more hard-earned loonies to the government. According to a poll by the Angus Reid Institute, 41 percent of financially troubled individuals are already eyeing other parties. 
And 44 percent of "financially uncomfortable" are Liberal supporters. Yeah, they're itching to switch teams too. You can almost hear the Trudeau campaign team collectively gulping.
Trudeau's troubles don't stop there. The Muslim community, once a staunch supporter, has taken a hard pass on the Liberal love fest. Woke policies have a knack for backfiring, don't they? It is almost evident that Trudeau's chances in 2025 are as much as a snowball's chance in hell. 
However, Politics has always been a game of gambling. And so, Trudeau's got his hands full trying to placate disgruntled supporters and appealing to new ones.
The Filipino Support 
For the first time in ages, the Liberal Party is cozying up to the Filipino community. Rechie Valdez has been granted a coveted seat in Trudeau's cabinet, making her the first Filipino woman to join the Canadian Cabinet. Quite an achievement and Valdez seems genuinely emotional about it. 
Behind this, the Liberal party has given the rationale that Filipinos have never been given the recognition that they deserve.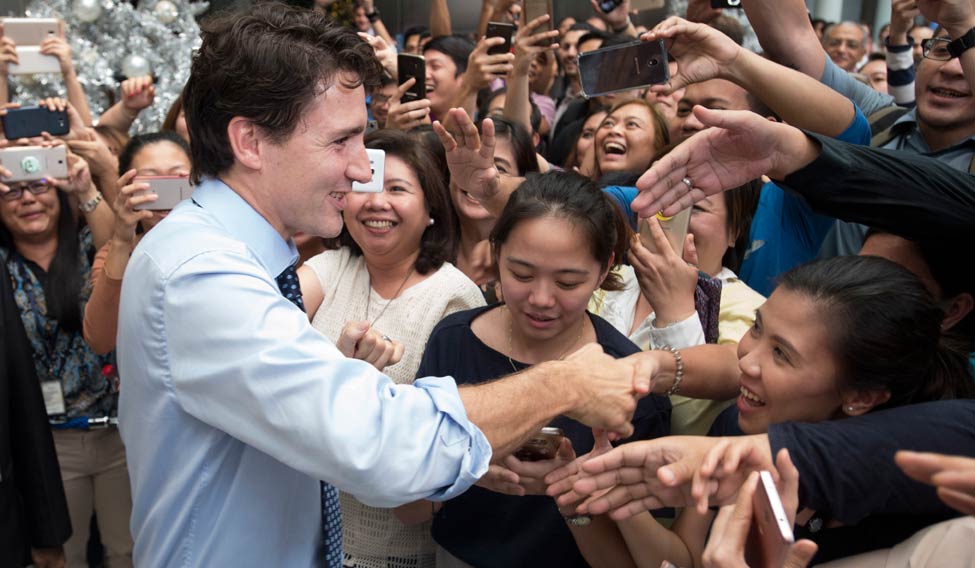 With the exception of Valdez, who was elected in 2021, the community of 960,000 Filipino Canadians has not had a single representative in Parliament since 2004. In 1988, Rey Pagtakhan was appointed to the Liberal government's cabinet and became the first Canadian of Filipino descent to be elected to the House of Commons.
In contrast, four out of the 40 ministers in Prime Minister Justin Trudeau's first cabinet were Sikh, representing the 770,000 Sikhs in Canada. Outside of the government, prominent Sikhs include Jasraj Singh Hallan of the Conservative Party and NDP Leader Jagmeet Singh.
Read More: Tucker Carlson may be out of FOX but Trudeau's worries aren't
Will the Plot Work? 
But will Trudeau's play for the Filipino vote be a game-changer? Let's analyze.
First on the agenda: wokeism. Now, the Philippines is a predominantly Catholic country, and let's just say that LGBTQ+ rights aren't exactly the favorite topic in Sunday sermons. Traditional gender roles and conservative norms still hold sway. So, Trudeau's liberal agenda might face some resistance in this conservative corner.
Secondly, demographics matter. Filipinos are indeed growing in Canada, and to tap into this potential vote bank, the liberal party has even set up special immigration offices in Manila. But here's the kicker: the Philippines has a reputation for being conservative, and Trudeau's liberal antics might not strike a chord with this community.
Let's be honest, Trudeau's all smiles now, waving to the Filipinos and hoping for their support. But it's a big question mark whether they'll bite the bait. After all, Trudeau's government hasn't exactly been a hit among Filipinos.
Read More: Trudeau cancels Ukraine's temporary visa and gives them permanent residence
So, will the Filipinos back Trudeau in his hour of need? The odds might be stacked against him. 
As the elections approach, Trudeau's Liberal party better have more than just a few flashy appointments up their sleeves. They'll need a lot more than token gestures to win back the hearts of disillusioned voters.
The clock is ticking, Trudeau and your gamble with the Filipinos might be riskier than you think. In politics, it's all about the numbers, and right now, your numbers aren't looking so good.
Watch More: